Gdansk On a Budget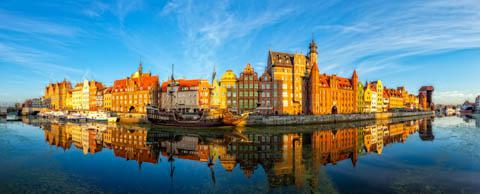 Gdansk is the capital and largest city of the Pomeranian Voivodeship in northern Poland. The port dates back a thousand years and was an influential city in the Hanseatic League during the Middle Ages. The city was essentially destroyed during World War II but has rebuilt into one of Europe's most beautiful port cities. The city now has a population of around 460,000 and is a popular tourist destination for visitors from around the globe. It is known for its impressive city center, its great museums, and its beaches that line the coast of the Gulf of Gdansk. In particular, it is a popular summer destination.
Gdansk's climate is temperate and it has cold and cloudy winters. Summers are mild with rain and thunderstorms common. It often feels damp throughout the city. There are four distinct seasons. Spring begins in March and starts out cold and windy but eventually becomes warmer and sunny. Summer starts in June and is usually warm with occasional heat waves. Sun is mixed with sudden rainstorms. Fall starts in September and begins with warm and sunny weather but quickly becomes cold, damp and foggy. Winter is between December and March, and snow is not uncommon. Temperatures can drop down to -15 degrees Celsius.
Sights
The city's main attractions are predominantly in the Srodmiescie district with a few scattered throughout the city center.
In the Main Town, or Glowne Miasto, you'll find Long Lane, Long Market, the Main Town Hall, Artus Court, the Maiden at the Window, Neptune Fountain, Suraw Crane, Long Bridge, Golden Gate, Green Gate, the Golden House, St. Mary's Street, St. Mary's Gate, SS Soldek,
Gdansk Shakespeare Theater
, and Uphagen House. In the Old Town, or Stare Miasto, you'll find the Old Town Hall, Great Mill, the Polish Post Office Museum, and the Monument to the Fallen Shipyard Workers of 1970.
Neighborhoods
Most tourists spend the majority of their time in the Srodmiescie district, which is the city's central quarter and where you'll find the majority of the main attractions and sights. This district can then be divided into the Main Town, or Glowne Miasto, and the Old Town, or Stre Miasto. There are also a handful of attractions that are outside of this area.
Activities
In addition to exploring the city, many visitors also enjoy taking a dip in the sea. You can take the tram to the last stop at Stogi Plaza. The water is usually very cold but the beach is large and clean. There are lifeguards and food stands as well. Other interesting options include taking canoe tours through the canals or taking a sailing trip.
Food and Dining
There are a variety of restaurants around town that are a range of prices. If you're on a tight budget then you can try a milk bar, which is a low cost restaurant that dates back to the communist period. Prices are quite low and the quality of the food is usually decent. One popular milk bar is Kmar Bar Mleczny on Pomorska, about a ten minute walk from the Oliwa SKM train stop. It's a great place to experience the local atmosphere. Another option is Bar Neptun on Dluga at the middle of the Long Lane. It's also a milk bar that offers very filling Polish meals at very reasonable prices.
Another option is to try a Pierogarnia. These are traditional Polish dumpling kitchens. A favorite is Pierogarnia U Dzika. It's a large restaurant that serves pierogarnia dzika, or their specialty wild boar dumplings. Other options are available as well.
Transportation
Gdansk's city center is generally compact and easily walkable. Most of the city's main attractons can be reached on foot, but if you're hoping to go farther away from the city center, then there is a good public transit system as well. There are trams and buses that run throughout the city. You can buy tickets at the machines that are next to each of the stops. Tickets can be purchased for either one ride or by travel time. You can get your ticket stamped at the yellow machines on the bus or tram right after you board. There is also a 24 hr pass that is good on all trams and buses.
In addition to the buses and trams, there are also two water tram lines. F5 runs from Zabi Kruk to Westerplatte and F6 goes from Targ Rybny to the National Sailing Center. These water trams only run between the beginning of May and the end of September. They require separate tickets.
Related
Many visitors to this amazing Polish city recommend that you spend at least a few days exploring. In fact, if you have more time, check out this
amazing guide to spending 3 days in Gdansk
. It covers everything from what to see and do to transportation. And if you're planning to see more of this amazing country, read
this guide to the best places to visit in Poland
.
Traveling alone to
Prague
or
Budapest
?
Looking for a party and need a
hostel in Prague
or
Budapest
?
Train and Bus Prices
The best prices for buses and trains in Poland
can be found on Omio
(formerly
GoEuro
). They let you search across all train, bus, and plane routes throughout the region.