Torun On a Budget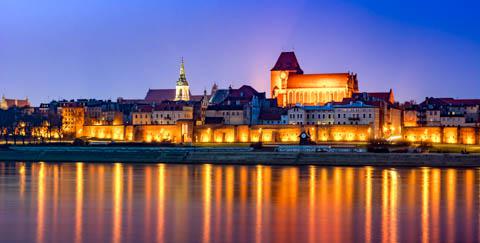 Torun is a city in northern Poland, on the Vistula River. This magnificently walled Gothic town on the Vistula should be high on every traveler's list, possibly as its delights seem low on everyone else's, leaving visitors who make it here to revel unrestricted in its wealth of red-brick buildings, Unesco-listed sites and medieval city defenses, all of which WWII mercifully decided to ignore. Beyond architecture, Torun is also well known as the birthplace of Nicolaus Copernicus. His name is all over town, and you can even buy gingerbread shaped in his image. This other Torun icon - its pierniki (gingerbread) - is famous across Poland.
Sights
Torun has the largest number of preserved Gothic houses in Poland, many with Gothic wall paintings or wood-beam ceilings from the 16th to the 18th centuries.
The Cathedral of SS. John the Evangelist and John the Baptist is well worth a visit. It is an aisled hall church built in the 14th century and extended in the 15th century. It is also home to outstanding Gothic sculptures and paintings inside (Moses, St. Mary Magdalene, gravestone of Johann von Soest). You can also find Renaissance and Baroque epitaphs and altars (among them the epitaph of Copernicus from 1580), as well as the Tuba Dei, the largest medieval church bell in Poland and one of the largest in Europe.
Other interesting churches to visit include St. Mary's church, a formerly Franciscan aisled hall built in the 14th century, and St. James's church (often mistakenly called St Jacob's), a basilica from the 14th century, with monumental wall paintings and Gothic stalls.
The Old Town Hall is another interesting place to see. It was inaugurated in 1274, then extended and rebuilt between 1391 and 1399, and extended again at the end of the 16th century; considered one of the most monumental town halls in Central Europe. You can also explore the ruins of 13th-century Teutonic Knights' castle.
Neighborhoods
A visit to Torun is very likely to center on the city's old town and with nearly all the sights, plus bars and restaurants, you may not even leave the historic center your entire stay. This is with good reason, as Torun old town is immensely pretty and pleasantly walkable. Everywhere you look there are remarkable buildings flaunting intricate Gothic architecture. A perfect place to start a visit is with the large Old Town Market Square in the center of Old Town. Very much the beating heart of Torun's old town, the square is where you will find some of the most beautiful buildings in the city, such as the Postal Building and the Arthus House. The square is a great opener and should get you in the mood to explore and enjoy Torun's charms.
Activities
The Vistula cruise - often referred to as the Queen of the Polish rivers - has also something to offer everyone. The city panorama and its surrounding area seen from the shipboard or a floating cafe are bound to provide unforgettable experience. The cruise might be a lovely diversion from regular sightseeing or a relaxing break.
The Rope Course Park is a combination of challenges constructed from ropes installed above the ground and strung between trees. It has been designed for a wide range of users, including people with no experience. Using the course is an unforgettable experience, ideal for those who seek adrenaline rush and like outdoor challenge.
Visit the Teutonic Castle ruins. Being the first Teutonic settlement on the Polish land, Torun could boast the castle of the Commander, one of the most important in the Teutonic State. It was destroyed by Torun burghers in 1454 and now the only surviving elements include the somber vaults, the Gdanisko tower and the walls of the ground floor and tower. The vaults contain an armory, a kitchen, a scriptorium and the chamber of fear, which might serve as an interesting diversion.
Visit the Gingerbread Museum. One of the indispensable activities on the must-do list for all visitors to Torun is learning the centuries-long history and traditions of Torun gingerbread. The city offers myriad opportunities, yet a visit to the Gingerbread Museum is particularly recommended. There, apart from interesting and colorful exhibitions, one can learn about the profession of an old gingerbread maker. Inside, the visitors can wear historical costumes, listen to the gingerbread legends, get to know gingerbread spices, bake and try gingerbread cakes, and play various gingerbread games.
Food and Dining
A great diversity in restaurants establishes Torun as a truly culinary city.
Visitors to Torun have at their disposal restaurants of different standards that feature both foreign and Polish cuisine. The majority of restaurants, cafes, night clubs, and pubs enjoy an unbeatable location - occupying historical interiors or medieval cellars, all painstakingly restored, but are also designed so as to stay in harmony with modern furniture. Visitors who are short of time and travelling on a budget may choose to eat in a canteen or fast-food bar. Those who enjoy good food in a pleasant atmosphere will not be disappointed in Torun. Some restaurants offer dishes of 'local cuisine'. On these menus you can find sour rye soup, roast, etc. cooked in a special manner that is characteristic for Torun. The most famous product of Torun that has been made for centuries and is one of the most popular Polish food products is Torun gingerbread. You may buy gingerbread anywhere in Poland, but nowhere else will you get such a variety of shapes and sizes and most important, taste.
Transportation
Bydgoszcz Ignacy Jan Paderewski Airport, located about 31 miles from Torun city center, is the closest airport and serves the whole Bydgoszcz-Torun metropolitan area, with a number of regular flights to European cities. With three main railway stations (Torun Glowny, Torun Miasto and Torun Wschodni), the city is a major rail junction, with two important lines crossing there. Two other lines stem from Torun, toward Malbork and Sierpc. Two bus depots serve to connect the city with other towns and cities in Poland. The city's public transport system comprises five tram lines and about 40 bus routes, covering the city and some of the neighboring communities.