The Algarve, located along the southern coast of Portugal, has been a firm favourite Portuguese travel destination for decades.
Given the glorious weather, gorgeous golden cliffs and beaches, charming Portuguese seaside and fishing villages, friendly and hospitable people and not to forget the delicious food, it's no wonder the Algarve has remained such a popular choice amongst travellers flocking to Portugal.
Not only that, but with so much to see and do in and around the region, the Algarve is the perfect beach getaway for all traveller types, including families looking for some fun in the sun!
In this guide I'll be outlining my pick of the 10 best family-friendly things to do in the Algarve with kids.
1. Benagil Cave Boat Tour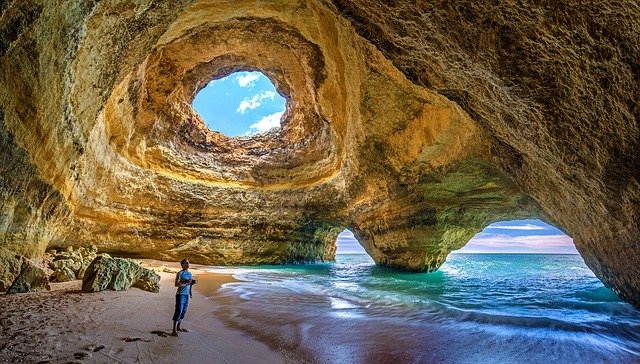 On our very first trip to the Algarve we absolutely knew that we had to visit the stunning Benagil Cave. This truly spectacular cave with its own beach inside, is probably one of the most iconic Algarve shots we've seen. And wow, were we blown away.
The one-and-a-half-hour boat tour we booked, started at Praia de Benagil, the beach adjacent to the cave, and followed along the stunning coastline with its rugged and imposing golden cliffs and rock formations.
Along the way we ventured into a couple of hidden caves too. But of course, the absolute highlight was arriving in the beautiful Benagil cave and beach, definitely a real treat and must do when visiting the Algarve.
For an even more exciting, kid-friendly tour, why not book one of the Santa Bernarda's tours, where you get to explore this coastline aboard a pirate ship, which the kids will no doubt love!
Location: Taruga Tours at Praia de Benagil, Algarve
Opening Hours: Daily, weather dependent
Price: 75-minute boat tour - Adults - €30 | Children up to 10 years - €15 | Baby up to 23 months - free of charge.
2. Explore the various Algarve towns, villages and cities
You may be mistaken for thinking the Algarve is all about sun, sand and sea, but that's not all that this region is known for. Scattered all across the Algarve, you'll find many charming seaside resorts, towns and fishing villages.
And what better way to explore than to wander around in these white-washed, historic town centres, admiring the quintessential Portuguese architecture and tiles that adorn some of the buildings.
Some of the more popular towns to explore include Lagos on the west coast, Vilamoura and Albufeira towards the central Algarve and Faro and Tavira located in the east, which is also not too far from Spanish border.
My personal favourites include Tavira and Lagos. In fact, we've visited Lagos several times now and never get bored. The historic town centre is quaint and really comes alive during the summer months, during which street performers entertain passers-by and where you can sit down at one of the many restaurants lining the streets and enjoy a delicious meal, whilst soaking up the Algarve vibe.
Despite the towns growing popularity and rising tourist numbers, it still somehow manages to retain a true authentic Portuguese feel.
Given the journey from
Lisbon to Lagos
is around 3 hours, or from Faro Airport, the Algarve's regional airport, to Lagos only around an hour, it's the perfect base from which to explore the very best of the Algarve.
3. Beaches
What better way to spend a family holiday than at the beach? And speaking of which, the
beaches in and around Lagos
are some of the most beautiful we've come across in the Algarve. These include Praia Dona Ana, Praia do Camilo and Ponta da Piedade, to name only a handful located here.
Of course, the
entire region is known for its golden sandy beaches
. But probably most impressive is the incredible rock formations and golden cliffs that you'll come across time and time again as you explore.
Some of the other most notable beaches include Praia da Marinha or even Praia da Falesia, which was named the 11th best beach in the world by Tripadvisor in 2019.
No matter where you travel along this beautiful coastline, you will no doubt stumble upon the most amazing beaches. Some are more rugged and unspoilt than others. But either way, when visiting the Algarve, this is a must do!
4. Visit Zoomarine Theme Park
For the Portuguese people, family is everything. Given that the Algarve is the preferred holiday destination for Portuguese families during the summer month of August, it makes sense that there are a ton of different child friendly activities and attractions located here.
Undoubtedly the most popular is
Zoomarine
, a large sprawling amusement park that offers not only a range of different shows, including dolphin and bird shows, but also an amusement park section as well as a water park with its own man-made beach and several different water slides to enjoy. Coupled with different amenities and attractions on sight, you'll no doubt have a fun filled day with the family.
Location: EN 125, KM 65, Guia, 8201-864 Albufeira
Opening Hours: The park opens from the 6th of March through to the 28th of November.
Price: Entrance tickets are based on Low versus high season.
Low Season: 06-Mar to 21-Jun and 27-Sep to 28-Nov | Adult (11-64 years) - €26 | Junior (1 meter to 10 years) - €19 | Seniors (65+ years) - €19 | Infants under 1,00 meter high - free
High Season: 22-Jun to 26-Sep | Adult (11-64 years) - €29 | Junior (1 meter to 10 years) - €21 | Seniors (65+ years) - €21 | Infants under 1,00 meter high - free
5. Water Parks
Nothing says you're on a family friendly holiday in the Algarve quite like spending a day at a water park. Thankfully, the Algarve has no shortage of awesome waterparks to choose from.
Some of the more well-known and popular waterparks include Aquashow Park in Quarteira, Aqualand Algarve in Alcantarilha as well as Slide & Splash Water Slide Park in Lagoa.
These waterparks are huge and all offer a wide range of different slides, pools, lazy rivers and rides that cater for a variety of different age groups. Coupled with all the amenities you'd come to expect from a top theme park, it will no doubt be a fun filled day out for the entire family.
Locations:
Aquashow Waterpark - EN 396, Semino 8125-303 Quarteira, Algarve - Portugal
Aqualand Algarve
- Estrada Nacional 125 - Sitio das Areias, 8365-908 Alcantarilha
Slide & Splash Waterpark - Vale de Deus 125, 8401-901 Estombar
Opening Hours:
Aquashow Waterpark - Open daily from 1st May to 20th Sep. Opening times start form 10:00am, with closing times between 17:00 pm - 18:30 pm depending on the month.
Aqualand Algarve - Open daily between Jun to Sep. In June the park opens between the hours of 10:00 am - 17:00 pm and from July to September from 10:00 am to 18:00 pm.
Slide & Splash Waterpark - Operates between the months of Apr - Oct. The park opens daily at 10:00 am and closes between 17:00 pm to 18:30 pm depending on the month.
Prices:
Aquashow Waterpark - Adult (11-64 years) - €29 | Junior (6-10 years) - €21 | Seniors (65+ years) - €21 | Babies (0 - 5 years) - Free
Aqualand Waterpark - Adult (11-64 years) - €29 | Child (5-10 years) - €21 | Seniors (65+ years) - €21 | Babies (0 - 4 years) - Free
Slide & Splash Waterpark - Adult (11-64 years) - €29 | Child (5-10 years) - €21 | Seniors (65+ years) - €21 | Babies (0 - 4 years) - Free
6. Water Sports
No trip to the Algarve would be complete without taking part in some or other form of water sport. Whether you and your family are thrill seekers, or not, you will almost certainly find an activity to suit your preferences.
Apart from the already mentioned Benagil Cave boat tour, you may also want to consider kayaking, paddle-boarding, a yacht or catamaran cruise, parasailing (perhaps not for the kids), a jet boat ride and many more water sport experiences on offer.
Location: Taruga Tours based at Praia de Benagil, Algarve
Opening Hours: Available daily, weather dependent
Price: Non-guided paddle board rentals cost €30 per adult / child for a 45 minutes rental. Non-guided kayak rental costs €15 per adult / child for a 45 minutes rental.
7. Dolphin Watching
Yet another popular outing, when visiting the Algarve, is to go on a Dolphin Watching boat tour. Whether you're based in Lagos, Vilamoura, Albufeira or Portimao, there are tons of reputable operators offering anywhere from 1.5 to 2.5-hour boat tours to see these majestic and magical creatures of the sea.
Of course, there isn't ever a guarantee that you'll get to see dolphins, but even if you don't, the tour encompasses so much more than just dolphin spotting. Cruising along the gorgeous Algarve coastline, you'll get to experience the beauty of this coast from a completely different vantage point.
The various operators also offer a choice of different cruise types ranging from a more chilled and relaxed cruise, through to a faster more adrenaline filled jet boat tour.
Location:
Albufeira
Marina
Opening Hours: Tour Available Daily
Price: A 2-hour Caves & Dolphin Watching Tour through Dream Wave Algarve costs €35 per adult (Ages 11+), €25 for children between the ages of 3 - 10 and €10 for babies between 0 - 2 years.
8. Horse Riding
Last, but certainly not least on my list of best family friendly activities in the Algarve is to go horse riding. Let's be honest, which child has not dreamt of owning a horse or a pony, and going on a horse or pony trek would no doubt be cause for much excitement.
The Algarve is home to many great riding schools, most of which offer horse riding options for both adults and kids. For children, these would normally include a half an hour ride being led by an experienced guide, whereas adults, depending on rider level, may enjoy a trek through the beautiful Algarve countryside.
A few of these riding centres in the Algarve are: Tiffany's Riding Centre in Lagos, the Albufeira Riding Centre in Albufeira, the Country Riding Centre in Silves or the Pinetrees Riding Centre located close to Quinta do Lago.
Location: Tiffany's Riding Centre - Vale Grifo, 1677-E Almadena, Luz, 8600-102 Lagos
Opening Hours: Oct - May: 10:00 am to 13:00 pm and 15:00 pm to dusk | June - Sep: 09:00 am to 13:00 and 15:00 pm to 18:00 pm
Price: 20 Minute Pony lead ride for children aged 4 - 12 years - €15. For adults, depending on your riding level and course selected, prices range between €33 for an hour long country ride up to €140 for a full day ride.
9. Parque Aventura
Are you looking for an adventure filled family holiday? Then why not take on the challenge and test your fear of hights as you make your way through a range of high rope courses at
Parque Aventura
?
Travel through the treetops as you cross bridges, zipline from base to base and face a myriad of obstacles along the way. The great thing about Parque Aventura is that they also offer different courses based on age level, with a minimum age starting at 4 years.
Afraid of heights? No problem, then why not try out some paintball action instead? Also on offer at Parque Aventura.
Location: Estrada de Santa Eulalia, 215, 8200 - 381 Albufeira
Opening Hours: 16-Nov to 14-Mar - weekends | 15-Mar to 15-Jun - 14:00 - 18:00 | 16-Jun to 15-Sep - 10:00 - 18:00 | 16-Sep to 15-Nov - 14:00 - 18:00
Price: Dependant on the course booked, prices range from €12 to €17 per person.
10. Go-Karting
Calling all adrenaline junkies. Another thrilling activity, suitable for slightly older children from the age of 12 and upwards, is to go go-karting at the Karting Albufeira Marina indoor go-kart arena.
Located in the Albufeira Marina, the arena offers a 400 meters course with karts up to 200cc power and caters for individuals, parties, groups or competitions.
So, why not rile up the competitive spirit and have your own fun family race.
Location: Albufeira Marina (Underground Car Park - 2 Passeio do Ouro, R. Marina de Albufeira, 8200-371 Albufeira
Opening Hours: Mondays to Sundays from 11:00am to 17:00pm
Price: Prices vary according to the length of time booked, starting at 15€ for 10 minutes and going up to €35 for a full 30-minute session.
If you have a limited amount of time for your journey, see our advice about how much time to spend here: Should I spend 1, 2, or 3 days in Lagos?, Should I spend 3, 4, or 5 days in Lagos?, Should I spend 1 or 2 weeks in Lagos? and Is Lagos Worth Visiting?