The Algarve, in Portugal, is home for some of the most beautiful beaches in the world and the holiday destination for a lot of Europeans in summer. From its wild and hard to access beaches to its calm and precious white sand beaches. The area of The Algarve is known as the Golden Coast, beaches delimited by orange & sandy cliffs directly ending in the Atlantic ocean.
Where is the Algarve located?
The Algarve region is located in the southern part of
Portugal
and borders
Spain
. With an area of 4,997 m2, it houses the most incredible beaches to relax and, in the west of Algarve, you'll find the top 3 surfing spots in Portugal.
After your journey to The Algarve, consider extending your trip doing a
road trip in the south of Spain
. It looks like the perfect match for your holidays! Or,
compare Spain and Portugal on this page
.
Well, now is time to drive you around Algarve and it's coastline, let's start!
1. Praia de Odeceixe (Aljezur)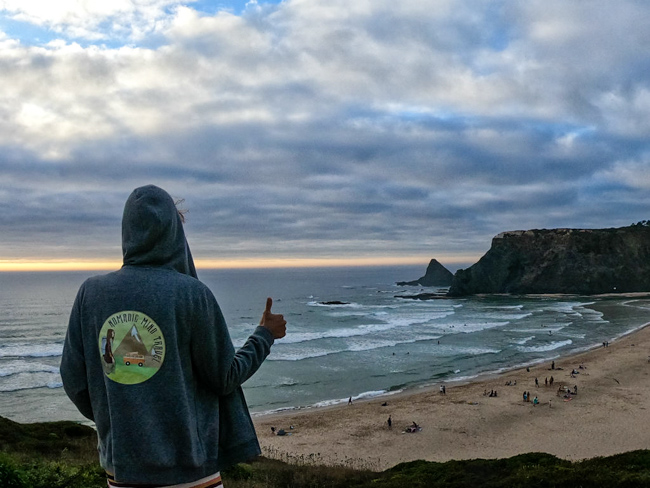 This is not only my favorite beach in Portugal but one of the best places for beginner surfers in the area. It is located in Ribeira de Seixe's mouth, which gives the beach a very peculiar and special shape. In the Ribeira de Seixe, you can also go canoeing and It is great fun! So it looks like this beach has everything: sea & river. At the southern end of this beach, you will find a great nudist spot.
How do you get to Praia de Odeceixe?
This beach is located 4 km away from Odeceixe (west coast of Algarve). In summer, it gets packed so I suggest walking to the beach instead of driving the car there. The walk to Praia de Odeceixe is a lovely walk down the coast, going through the extensive fields & crops of the area.
Where to eat near Odeceixe
Praia de Odeceixe has a wide variety of restaurants & bars for all the existing budgets. These two are my favorite places to go enjoy the tasty seafood & have a refreshing drink.
-
Bar da Praia
: This Charming bar is right on the top of the stairs that end up directly on the beach. Be ready to discover the most revitalizing juices after an entire morning in the sun. They have great ambiance music.
Estimated budget p/p : $13
-
Restaurante-cafe Dorita
: This is the place to go for dinner after a day in Praia de Odeceixe. Stunning views to enjoy the sunset and tasty food. My favorite: Seafood rice!
Estimated budget p/p : $20
2. Praia Dona Ana (Lagos)
Portuguese people say is the most beautiful beach of the Algarve and in the top 10 of the world. Perfect for you if you are looking for a quiet place that is usually calm and relaxed. As a proper beach in Portugal, the scenery is beautiful, its rocky topography is breathtaking.
How do you get to Praia Dona Ana?
You can get to Praia Dona ana by car or public transport but, the access to the beach is by some steep stairs so I won't recommend it for people with reduced mobility.
Where to eat in Praia Dona Ana
-
Lucas rooftop restaurant
: Famous for its views to Praia Dona Ana and not less for its food. A special highlight to their Cataplana!
Estimated budget: $23
-
Qwazi Hamburgueria
: Excellent meat quality and good price. Perfect location to go again back to the beach after a good meal!
Estimated budget: $12
3. Praia do Farol (Ilha do Farol)
White sand and crystal clear water, an unbelievable beach where you can only access by boat, only 150 persons a time. This beach is considered a natural reserve and is the way they have to protect the area and make it last well maintained for years and years. I promise it is worth it. Do not miss it on your journey to Algarve.
How do you get to Praia do Farol?
You can only get to this beach by ferry. The ferry departs regularly every day of the week and it is not pricy at all, available for all budgets!
Ferry ticket: $6 return
Where to eat in Ilha do Farol
-
Cafe snack Domino
: Excellent homemade Portuguese food and cheap prices! It is not good only for people traveling on a budget but for everyone. The quality of the food is so good!
Estimated budget (p/p): $10
-
MarAmais
: A special restaurant right in the beach where you can have from a beer with some aperitives to a full meal ending on a gin-tonic. Perfect for a group of friends or couples to have a great time!
Estimated budget (p/p): $15
4. Praia do Barril (Tavira)
One of the two officially nudist beaches in Algarve declared naturist in 2004. It has also been elected as one of the 7 Portuguese wonders.
How do you get to Praia do Barril?
To arrive by car here, you should get to Pedras del Rei, in Tavita, and park there. Once there, you can choose between a relaxing walk of 1,5 km or a train. Yes, you've read well, this train is a tradition in Tavira. It is an old and traditional train that has been chosen to drive tourists to this gorgeous beach in Algarve.
Train budget: $3 return
Where to eat near Praia do Barril
-
Museo do Atum
: One of my favorite places in Algarve, special and original restaurant on the beach. I cannot choose only one dish as everything is amazing, but I guess that if you are in Portugal you have to try their codfish!
Estimated budget (p/p): $19
-
A Casa
: Great place specialized in Portuguese seafood. The best dishes here are "seafood cataplana" and octopus. A good place to have lunch if you are spending a day in Praia do Barril.
Estimated budget (p/p): $21
5. Praia da Marinha (Caramujeira)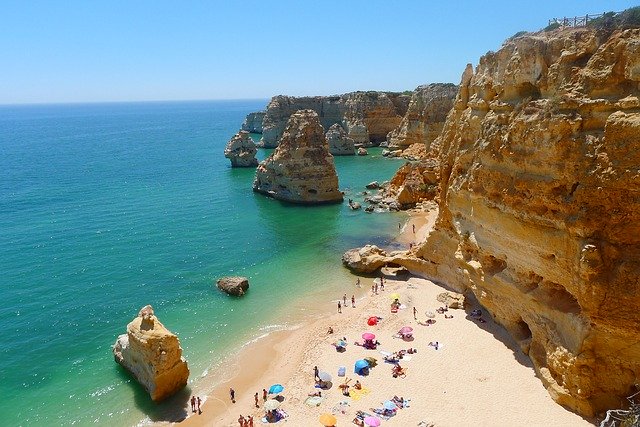 On my top 3 beaches of Portugal, besides going to get tanned to the beach I highly recommend to venture to discover the rocky landscape this beach has to offer, really nice walks around! You will especially enjoy this place if you like swimming and snorkeling, water is so transparent (and cold), I am sure you'll have a great time.
How do you get to Praia da Marinha?
You can easily arrive by car or public transport. Once parked, there are some steps until you reach the actual beach.
Where to eat in praia da Marinha
-
O Algar
: This is one of those traditional restaurants where you keep on going back every holiday for years and years. Perfect ambiance and friendly staff besides the good food.
Estimated budget: $18
-
Restaurante SUL MAR
: Located more inland but it is one of the best seafood dishes I've had in Algarve. And the best thing...cheap prices for quality food. Does it not sound amazing?
Estimated budget: $12
6. Praia da Gale (Gale)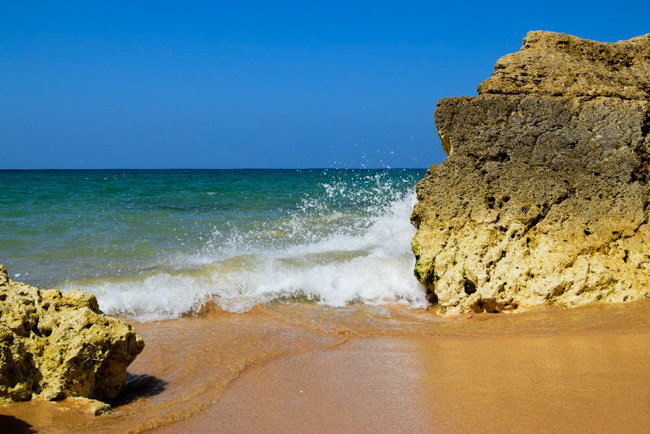 The main Gale beach could be very crowded in summer, but it's creeks are awesome. The rock formations in the middle of the beach give this place a wild character. If you are looking for a complete beach day, this is your place: availability of rental places for aquatic sports, beach bars & restaurants and the possibility of massages.
How do you get to Praia da Gale?
Easily accessible by car right at the end of Gale town.
Where to eat in Praia da Gale
-
Sao Domingos
: Great place to enjoy a perfect "Menu of the day" of a good quality/price relation. As a personal recommendation: sole fish is really good.
Estimated budget: $17
-
Docaria Almeixar, Bistro Restaurante
: Really good restaurant but excellent for sweet lovers. Their cakes and desserts are unbelievable! Also very good coffee.
Estimated budget: $19
7. Benagil cave (Benagil)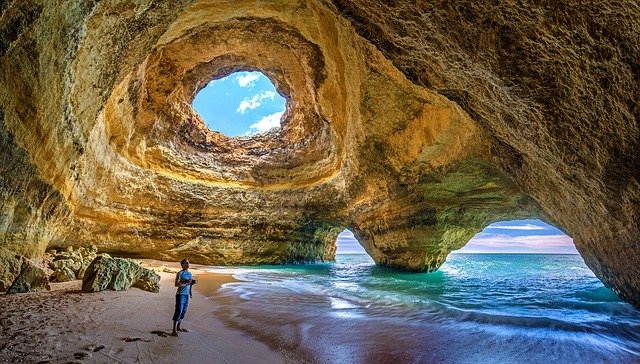 One of the most famous postcards images in Portugal is taken here: The caves of Benagil. Caves of natural formation with a small beach on the inside, needless to say, that is marvelous.
How do you get to the Benagil cave?
To explore this natural wonder you can either drive to the top of it, not recommended if you want to experience what is to be on a cave. The only way you have to go inside the cave is Swimming, Kayaking or with a boat tour. Cheapest way? Swimming, be careful, the ocean is very strong and even dough you are a very good swimmer you should think it twice before doing it. My favorite option? Renting a kayak and get to the cave! You can also book a boat tour to get here, also a very good option.
Boat ticket ( 2,5 hr tour ) : $40
Where to eat in Benagil
-
Brisa do mar
: Small bar right in the town of Benagil, perfect after a morning exploring the caves. Great fresh fish with fries!
Estimated budget: $13.50
-
Restaurante Jardim do Farol
: Outstanding fresh seafood in a charming restaurant. They usually have live traditional music and it makes your evening unbelievable.
Estimated budget: $22
8. Praia de monte Clerigo (Aljezur)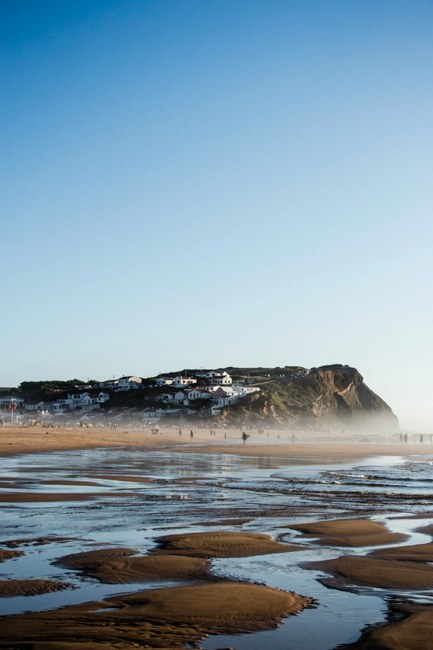 For all surfers: this is one of the top beaches to surf in the area. Its surfer & hippie vibes give this place a special touch. Outside of the touristic area, you'll find this wild beach with fine sand. The local fishermen make this place particularly exceptional.
How do you get to Praia de monte Clerigo?
You can arrive here by car or taxi but also, you have multiple and comfortable options for public transport.
Where to eat in Praia de monte Clerigo
-
Restaurante Chaparro
: Important to book always, it is a pretty famous restaurant. Although it gets really busy sometimes and the service is not the fastest, a lot of the clients are locals that repeat there once again in their holidays.
Estimated budget: $25
-
Taberna do Gabao
: Traditional Portuguese ambiance,precious building, and tasty food. The octopus is superb. If you are lucky and have a sunny day, they have a very nice terrace in front of the restaurant.
Estimated budget: $18
9. Praia do Camilo (Lagos)
Protected with clipped cliffs, probably the most famous beach in the Algarve, as you can expect, you have to go very early in summer to take place. But if you do not catch a place to lay down, is it still worth it to walk around and take some beautiful pictures of the landscape Portugal gives us.
How do you get to Praia do Camilo?
It is easily accessible by car. Public transport works regularly every day of the week to arrive at Praia do Camilo from multiple places of the Algarve.
Where to eat in Praia do Camilo
-
Restaurante Paraiso
: Better if you book in advance as It uses to get pretty packed sometimes. Charming restaurant end excellent customer service. Portuguese and Mediterranean food are their mains.
Estimated budget: $19
-
Al-Bravo Cafe & Shop
: Healthy and fresh food for a good price. Perfect for a quick stop in the middle of the day to savor the flavors of the area.
Estimated budget: $10
10. Praia da Fuseta (Olhao)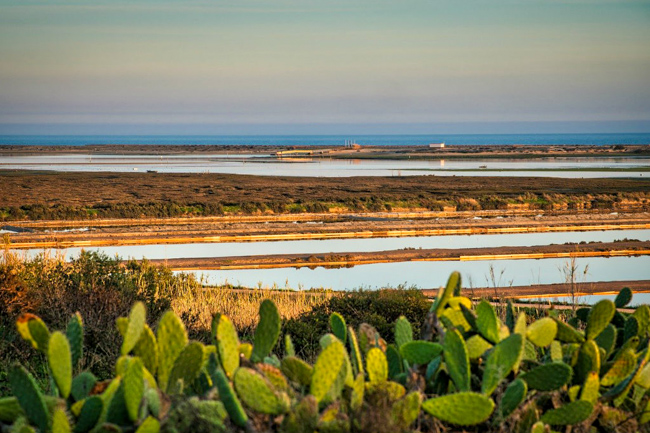 Although this beach is located on an isolated island, it has all the basic services you need to spend a wonderful day at the beach, from restaurants to bars & Coffees, hammocks service, and board rental services. It is worth it to wait patiently the queue for the ferry to get to this paradisiac island.
How do you get to Praia da Fuseta?
By boat! Yes, you need to get a boat from Fuseta town to arrive at Armona Island. Here, is where La Praia Fuseta is located, east of this dune island.
Ferry ticket: $4 return
Where to eat in Praia da Fuseta
-
Restaurante Santo Antonio
: Beach restaurant that will surprise you. The menu is quite simple but the quality of the food is impressive. It is located just on the opposite side of the island where the ferry drops you. Beautiful views and they also have vegan options!
Estimated budget p/p: $15
-
Armona 4
: Right in front of where the ferry drops you on the island. This is the best place to go for lunch or dinner before going back to Fuseta. Good Portuguese traditional dishes on the menu and good quality/price relation.
Estimated budget p/p: $19
FAQ's for the Algarve
How can I get to the Algarve?
Algarve is right in the south of Portugal. The closest local airport is
Faro
airport. The main international airport in Portugal is
Lisbon
, from there, 2.5 hrs would be enough to arrive at this incredible paradise. From
Porto
, I'll take 5 hrs to arrive.
When is the best time to go to Algarve?
The best month to go to the Algarve in September, not too hot and no cold at all. It is also the end of the touristic season. Try to avoid the busy months of summer ( from July to mid-August)
How many days are needed to visit the Algarve in Portugal?
Although I would stay here forever, If you have a very tight itinerary I would say that 3-4 days is enough to spend in the Algarve. Try to make the most of your days in this place by following this guide of the best beaches to visit.
Portugal is a country full of surprises, beautiful towns and mysterious landscapes and Algarve is by far one of my favorite places in this country. I hope you have everything clear to start planning your trip to Algarve and make the most of your holidays!