Lagos On a Budget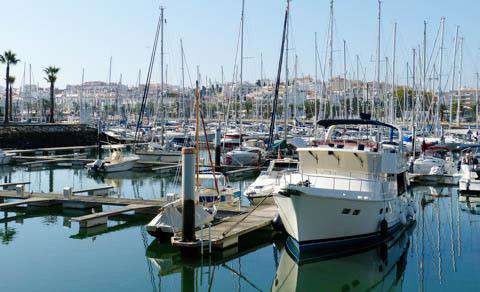 A coastal town in the south of Portugal, Lagos is known for its old world charm, plummeting cliffs, and Atlantic beaches. Many come to enjoy a full range of activities from beach-going and watersports to exploring cobbled streets lined with options for shopping and dining. Historic churches and castles add to the charm, as well as a clifftop lighthouse showing the way to Lagos for ships at sea.
Sights
The town of Lagos has a full range of sights to see, starting at the town center with traditional architecture, cobbled streets, and lively traditional colors of the region. From here, visitors can explore, shopping and dining to their heart's content. The ornate 18th-century church of Igreja de Santo António is another worthwhile attraction, sitting right across from the Castelo dos Governadores, a castle with a baroque facade and watchtowers. There is also plenty to see during the morning hours at the harbor and fish markets.
Moving out towards the cliffs, Ponta da Piedade is a beautiful spot with a lighthouse from where you can make boat tours to the natural caves down below in the Atlantic waters. And then there are the beaches, great spots to relax down by the shore, soak up the sun, and dive into refreshing ocean waves. Praia da Batata is one of the more popular beaches located right across the main road, though there are many coves worth exploring. Camilla Beach is also popular as is Meia Praia which is renowned as one of the best beaches in the region, widespread with easy access to beach bars.
Neighborhoods
As mentioned before, the town centre of Lagos is where the heart of the experience begins. Every alley and every square is enveloped in charming architecture and cobbled streets all lined with endless opportunities for shopping and dining. With southern Portugal being known for is ceramics, one can find just about every price range, style, and color available. Cork is also a famous Portuguese item, so you will also come across a full range of cork products from coasters and placemats to shoes, hats, handbags, and more. There are a full range of shops to get lost in, delicacies to indulge in, and old world architecture to admire - each adding to the attractive ambiance of Lagos.
Activities
Beyond the shopping, dining, and sight-seeing that can be found at the heart of Lagos, there are also many other activities to get out and about in the seaside city. You can rent surfboards and hit the waves, or rent mountain bikes and pedal to the highest point of the region. Sailing and boat trips are also popular for travelers in Lagos, as are water activities like dolphin tours, kite surfing, sea kayaking, and diving trips. The beaches are always there for vacationers to enjoy, as are opportunities to see caves, cliffs, and grottos by boat tour. There is even a zoo in Lagos with a picnic area, playgrounds, and a full range of animals perfect for any family outing.
Food and Dining
Being a little town on the sea, Lagos is known to be abundant in fresh fish and seafood. Sea bass, prawns, razor clams, scabbard fish, and more can all be found served grilled, in seafood stews, or in flavorful risottos. You can even have fresh oysters on a bed of ice and garnished with lemon. Other local specialties include squid stuffed with a spicy ham and sausage mixture called lulas recheadas, a dried salted cod called bacalhau, as well as an octopus salad. Beyond seafood, meat dishes are also available including items like frango piri-piri (chicken in a fiery pepper sauce), bife de vazia (sirloin steak) or costeletas de borrego (lamb chops). Accompanying each meal it is common to indulge in some of the local wines of Lagos, both red and white, produced locally. And then for dessert, try one of the honey cakes (morgados) made with figs and almonds or the 'Dom Rodrigos,' a sweet cinnamon-flavored confection.
As far as where to eat goes, the town center has restaurants, cafes, and bars down every street and in every square. You can find anything from traditional Portuguese cuisine to Mediterranean, Italian, Chinese, Indian, and Thai. There is also a good selection of bars and restaurants down by the Lagos marina.
Transportation
By plane, Faro Airport serves the region, connecting the area to other European destinations. The fastest route from Faro airport to Lagos follows the A22 toll expressway, taking about an hour to drive by car.
Public transportation options are also available from Faro to Lagos. Both the bus and train take about 1 hour and 40 minutes to make the journey. It is wise to arrange public transportation ahead of time as there are only eight daily train departures and six express bus services. The bus and train options also do not leave directly from the airport, so you will need to get to the center of Faro where the stations are located. You can get here by a public bus from the airport, or more immediately by taxi.
By train, Lagos is the final stop on the Algarve regional railway line, costing about 7.30 euro for one ticket.
Buses to Lagos are operated by Eva and cost about 5.90 euro for one ticket.