Prague is very small so luckily the slightly on the outskirts location doesn't matter! Metro is a ten minute walk and doesn't take long at all to get into the centre of Prague, plus the trams are 24 hour. Hostel was excellent quality, super clean and overall a very pleasant experience. Would definitely recommend to anyone wanting to stick to a budget. - Anonymous
What sets them apart?
This huge hostel on the outskirts of the city center is close to the metro station and offers plenty of nice amenities and a cheap price in a modern hotel-like setting.
Hostel Personality
Who's staying here?
As this is a huge hostel, it caters to many types of budget travelers. It's common to see larger school groups here, as well as families, couples, or younger backpackers and budget travelers.
Insider Tip
Take advantage of the huge buffet breakfast to start your day. It's a good deal.
a&o Prague Metro Strizkov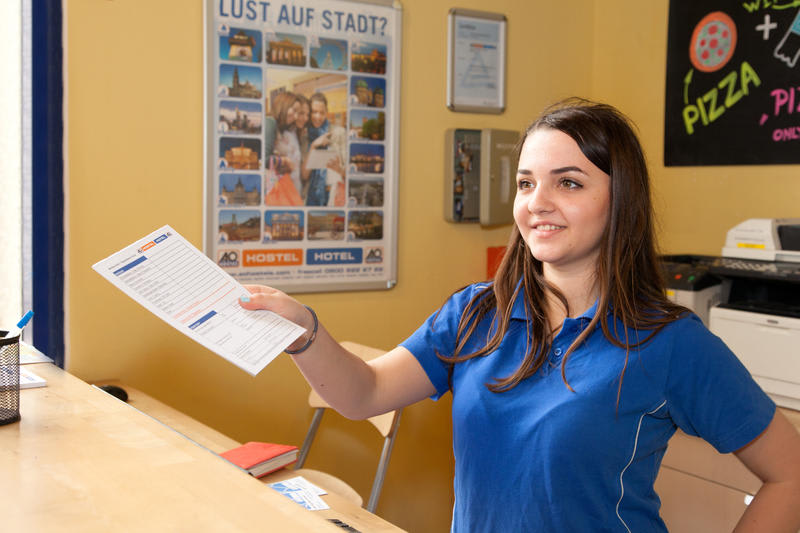 With a fairly convenient location just outside of the city center and very close to a metro station, this hostel can house large groups and every type of budget traveler. You can be in the city center in about 15 to 20 minutes from the door of the hostel. And with modern conveniences, plenty of space, a nice on-site restaurant and bar, as well as a game room and free Wi-Fi, everyone will be comfortable here.
The Facilities
Dorms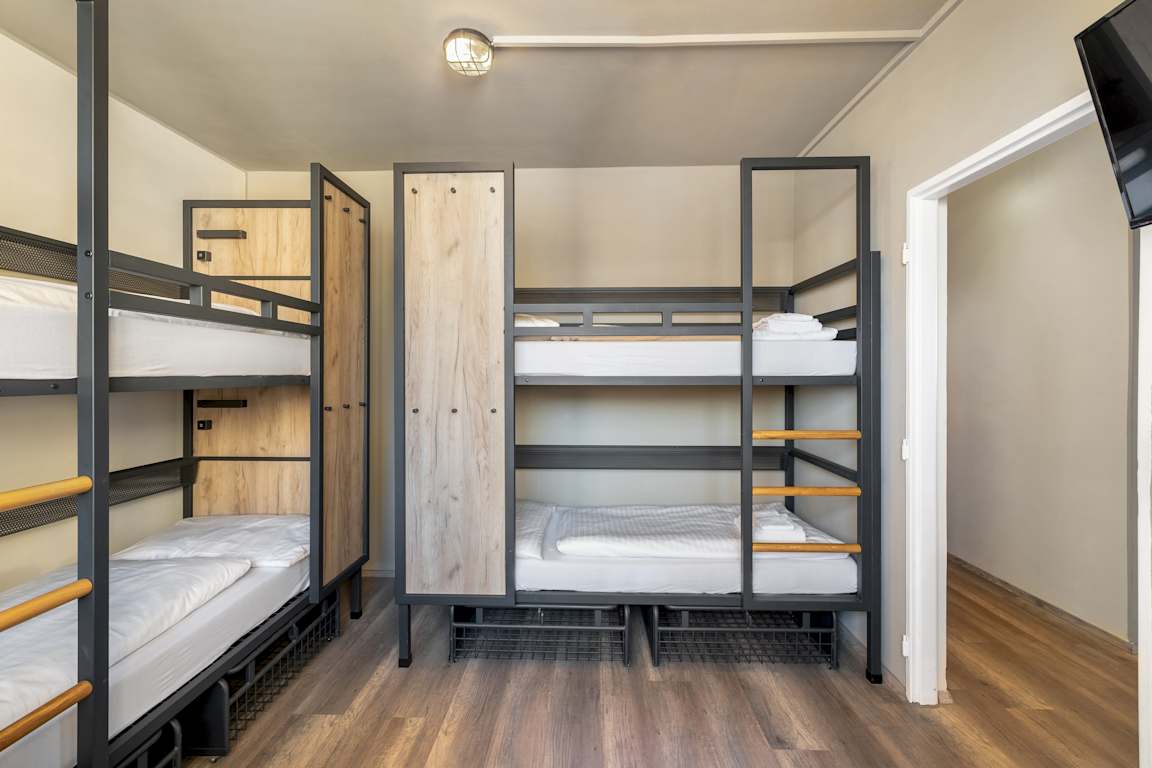 Dorms here are modern, safe, and clean. They come in sizes of 4 or 6 beds. An all-female dorm option is offered, too. All rooms have their own ensuite bathrooms. This modern hotel-like building has modern facilities with safe and comfortable features that you would expect in a hotel. In the dorms, the beds have their own lights and plugs. Lockers under the beds can be used to store backpacks or suitcases. Towels and linens have a small extra fee, which is a little annoying. The rooms have key-card access, too.
Private Rooms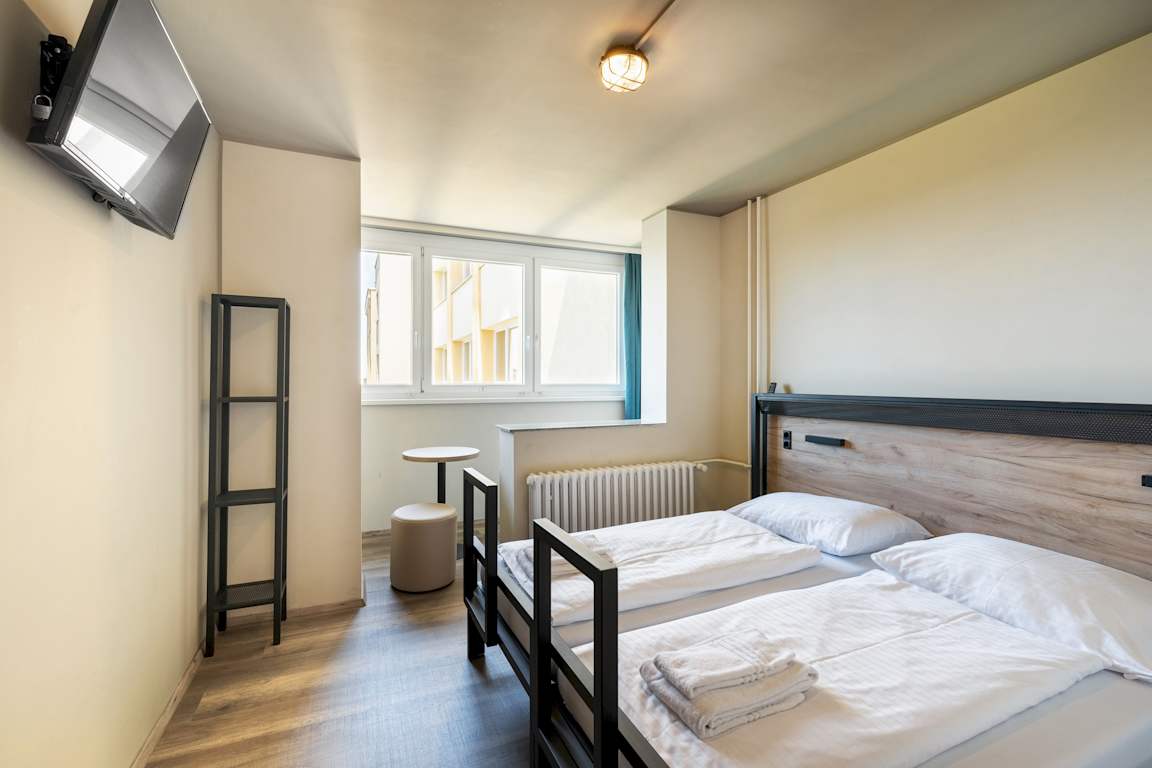 The private rooms here are great for singles, couples or families. With plenty of space and modern comforts, as well as their own ensuite bathrooms, everyone will be safe and comfortable here. The larger 4-bed rooms are great for families. Also, larger groups can book a private 6-bed dorm (or multiple rooms) for their stay.
Bathrooms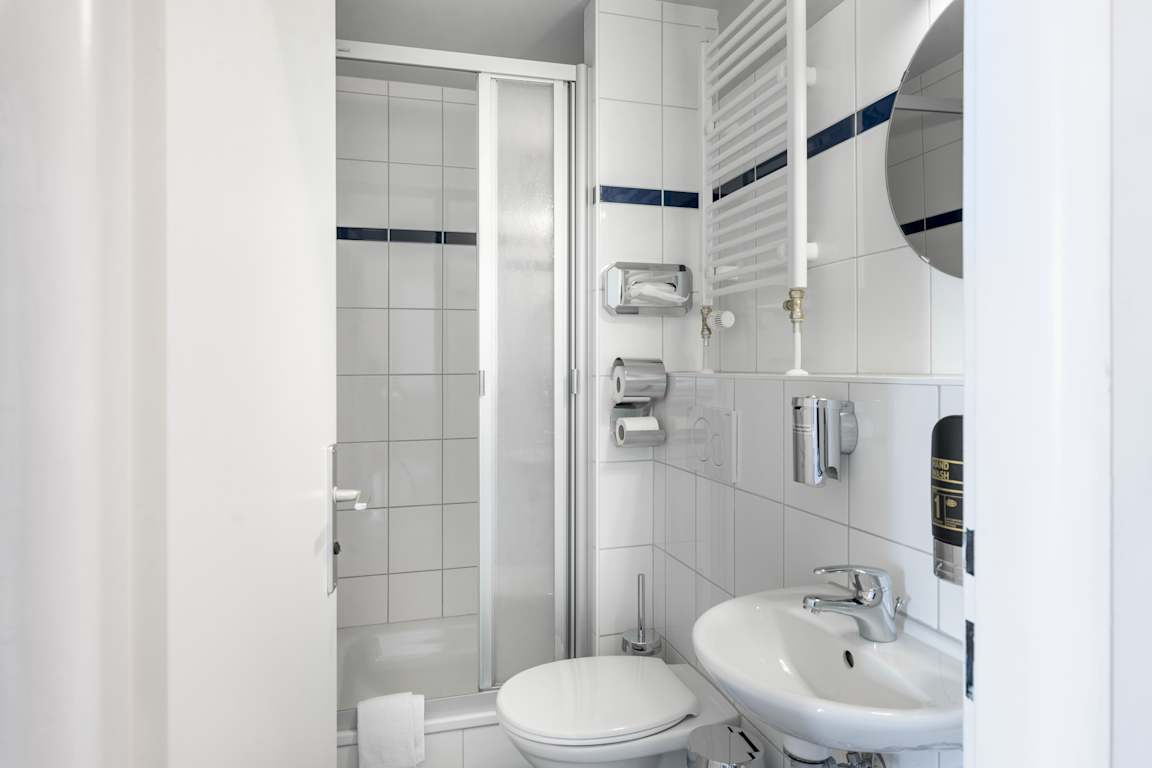 Every room has an ensuite bathroom. The bathrooms have plenty of hot water and good water pressure. They also have soap and shampoo as well as hairdryers.
Restaurant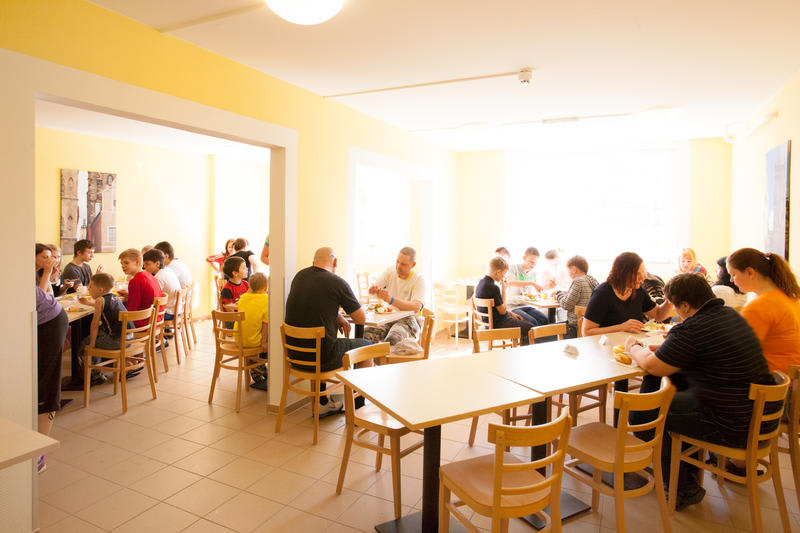 The on-site bar and restaurant serves meals, including a terrific and filling all-you-can-eat breakfast for a cheap price. The bar serves beer and drinks, too. Plenty of seating for all of the guests is available in the large dining areas. There's lots of space for everyone, including the large groups that come through the hostel.
Common Areas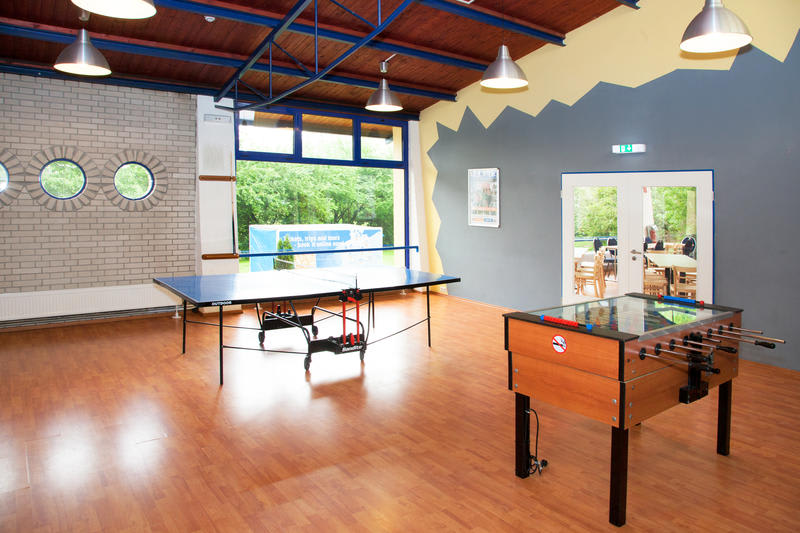 The main floor has a spacious common area along with the large dining room. Here you will find TVs, pool tables and foosball, and another large meeting room for groups to host a meeting, presentation, or just get organized for their outings in Prague.
The Location
Strizkov
This suburb of Prague is to the northeast of Old Town and has connections with public transportation.
What's Nearby?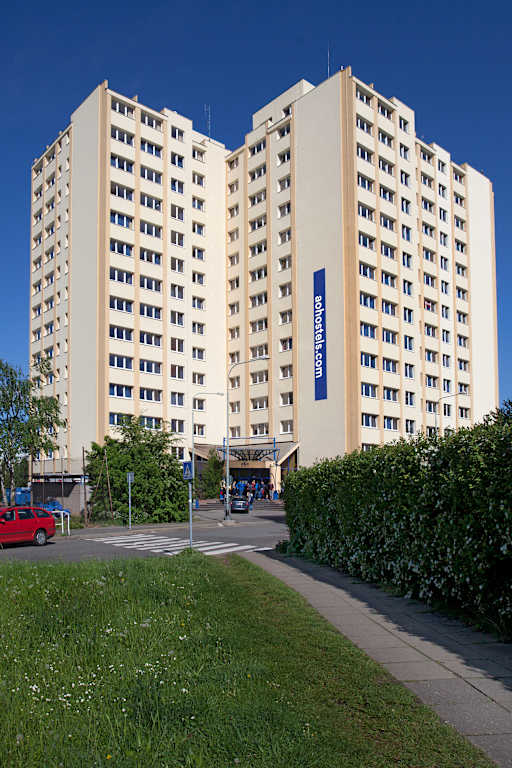 Surrounding the hostel is a residential area with shops and restaurants, and of course, the nearby metro station that provides access to the city center. Also nearby are the exhibition grounds, the O2 stadium, Hole Ovice showgrounds, and several parks and playgrounds.
Nearby Transportation
It takes about 5 minutes to walk to the metro station from the hostel through some nice parks. From here the train takes around 10 minutes to get to the city center on line C.
Several buses also run near the hostel, but these routes take much longer to get into the city.
Amenities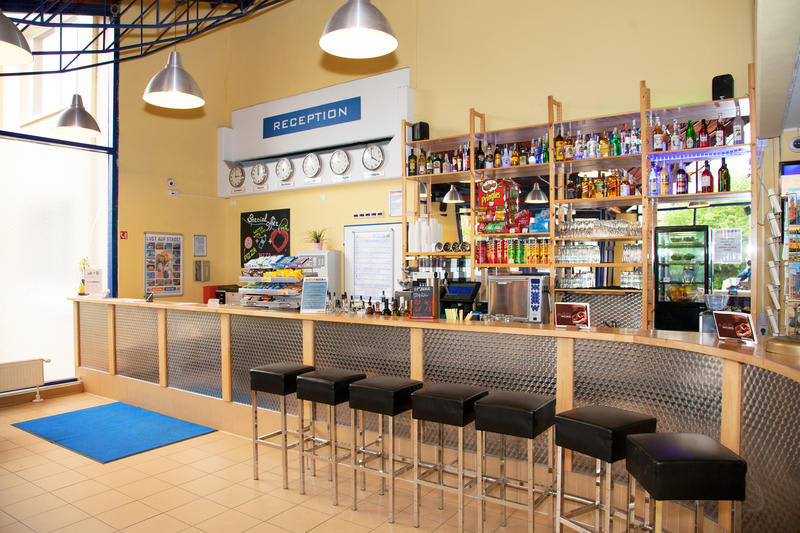 This very large hotel-style hostel has plenty of amenities. They have laundry machines, Wi-Fi, a tour desk, a bar and restaurant, parking for cars and buses (for a fee), vending machines, and more. They also have a kitchen for guests to cook in.
Staff
The staff is friendly, professional, and keeps the place clean. This a&o hostel is large - and it is well organized like a hotel. Don't expect the staff to be your best friends like at some other hostels, but they are on top of any issues to keep the hostel running well.
Heads Up
You have to pay extra for bed sheets and towels, so take this into account with the price.
The main concerns at this hostel are it's hotel-like feel (but many guests love that part about it) and the location is not in central Prague.
a&o Prague Metro Strizkov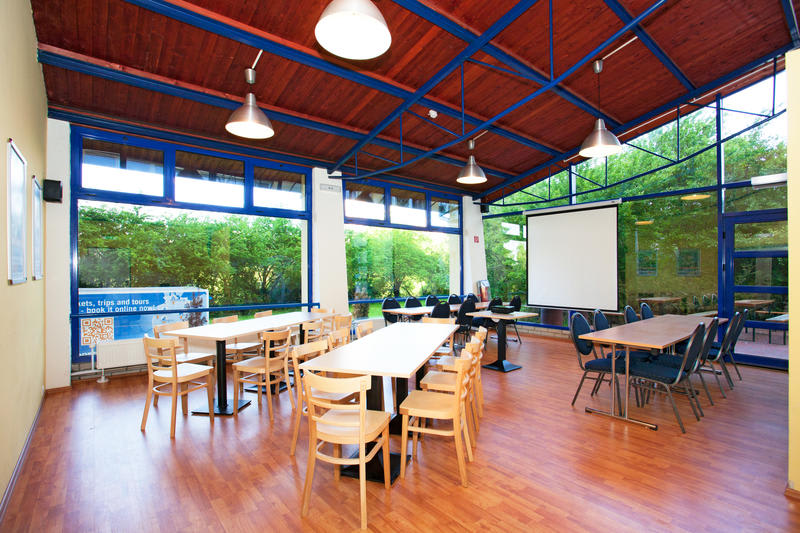 Do you have a favorite hostel that you would like to review? Let us know!