Brix is the kind of place where you keep extending your stay because or how great it is. The staff is amazing and the other guests that stay there somehow become family and it has a really homey good vibe that you're surrounded by. I highly highly recommend! - American Girl
What sets them apart?
This lively hostel with a fun bar has a great social atmosphere and some nice perks. Located in Zizkov, it's not far from old town and close to plenty of Prague nightlife and restaurants.
Hostel Personality
Who's staying here?
The Brix hostel caters mainly to younger backpackers, solo travelers, and long term travelers. They do have a female-only dorm, as well as private rooms with ensuites, so couples and groups of friends stay here as well.
Insider Tip
Some of the smaller dorm rooms are connected together to form larger rooms, so pay attention when booking.
Brix Hostel
With a nice location in Zizkov near nightlife and restaurants, plus a great bar and plenty of social activities, the Brix hostel has a long list of nice amenities and gets rave reviews from guests. The bar on the ground floor is quite popular with travelers and has live music, art exhibitions, and other fun events for guests. The hostel also organizes tours, pub crawls, and other activities so that guests can get to know one another and have a great time.
The Facilities
Dorms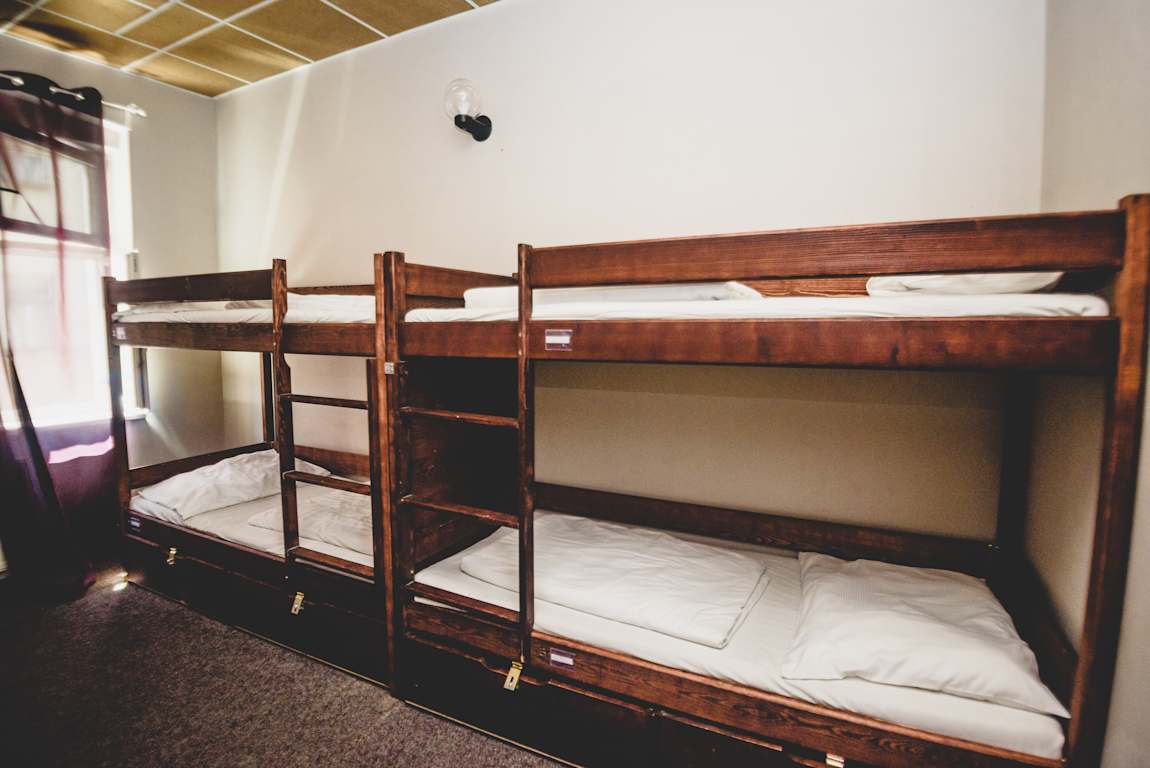 Dorms at the Brix Hostel range in size from 4 beds up to the large 18 bed room. Some female-only rooms are also offered. All of the rooms use the shared hallway bathrooms, and some of the rooms require passage through another room for access, essentially creating larger dorm rooms.
The bunks are custom built and comfortable. They have locker drawers in the bottom that are large enough for backpacks and suitcases. Most of the rooms have plenty of light and space for everyone to move around, although some are a little smaller.
Linens and towels are included.
Private Rooms
The private rooms here all have ensuite bathrooms and are nicely appointed. They have a budget-style hotel feel to them, and they are great for couples or small groups that want privacy. Two-person and three-person rooms are available. Linens and towels are included. The bathrooms for the private rooms are spacious and very nice. Some have large tubs plus a shower, and plenty of room to move around.
Bathrooms
The bathrooms for the dorms here are modern and spacious with plenty of room for all of the guests. Hot water is usually available and the water pressure is good. Towels are included with your stay. The staff works hard to keep them clean.
Bar
The bar at the Brix Hostel is the main area of activity. With a variety of beers on tap, mixed drinks, and even food, they have everything you would need. They also organize a number of events and activities from live music at night to art exhibits and other fun things to do.
Common Areas
The lounge area is a nice place to relax and hang out when you want some peace and quiet. With a TV and comfortable seating, this is a good spot to read, chat with friends, or just chill.
Outdoor Space
A nice patio has some outdoor seating and a ping pong table for entertainment. This is a nice spot to have a meal, share a beer with friends, and enjoy the nice summer weather in Prague.
The Location
Zizkov
What's Nearby?
Plenty of nightlife and restaurants and shops surround the Brix Hostel. The surrounding neighborhood is less touristy and more authentic than old town, which can be reached on foot in 30 to 40 minutes, or less if you take the nearby tram. The Vitkov hill and park area is also just to the north of the hostel. Here you can find some great views of the city, plus some historic sights and museums. A supermarket is only 2 blocks away, as are a variety of cafes.
Nearby Transportation
The tram line that runs into old town is just a few blocks to the south. Otherwise, a bus stop is located right outside of the hostel and can take you to a variety of places in town depending on which route you get on.
Activities
The hostel organizes a variety of activities, many of which take place in the bar. They have live music and pub crawls, as well as walking tours and various exhibitions.
Amenities
For those that want to cook their own meals, they have 2 great kitchens (and a nearby supermarket). They offer a small free breakfast, too. Otherwise, expect standard amenities here such as Wi-Fi,
Staff
The staff at Brix Hostel is said to be very friendly and helpful. Not only do they keep things organized, they also help everyone get to know Prague. More than that, they like to hang out in the common room with the guests and become friends, as many of them are travelers and backpackers themselves who are working at the hostel. Other long-term professionals are on staff to keep everything clean and running smoothly as well.
Heads Up
Generally, this hostel gets rave reviews and is very social. The main complaint is the location, as it is a bit of a walk to old town, but for some guests this is ideal.
Brix Hostel
Do you have a favorite hostel that you would like to review? Let us know!