Convenient location next to the bus station and an easy walk into town. I would stay here again. The place is clean and comfortable. The breakfast was great to start my day. - American Girl
What sets them apart?
This fairly quiet but social hostel near the bus station has a great location to explore central Prague. They have nice amenities and a variety of rooms for all types of budget-oriented travelers.
Hostel Personality
Who's staying here?
Many types of budget travelers stay here including younger backpackers, female travelers, couples, more mature travelers, and even small families. With a variety of room types and a quiet environment, everyone is welcome here.
Insider Tip
Bring earplugs, as the nearby train station can make some noise at night.
Florenc Hostel
This is a budget-friendly hostel that caters to all types of travelers. It's conveniently located close to the old town, Zizkov, and Karlin neighborhoods. They have nice amenities including a variety of room types and a free buffet breakfast. Also with a shared kitchen and a nice outdoor patio area, you can find a spot to relax here to plan your time in Prague.
The Facilities
Dorms
Dorms here hold 5 people, and an all-female dorm is offered. The rooms use the shared bathrooms. Bunks are comfortable and modern. Some rooms have bunk beds while others have all of the beds on the ground. Lights and plugs can be found at most of the beds, too.
Private Rooms
Private rooms as the Florenc hostel include singles, doubles, and triples. Some of the rooms have ensuite bathrooms, while others use the shared hallway bathrooms and are priced accordingly. The double rooms are a nice option for a couple, and a small family could even use the triple rooms.
Bathrooms
Bathrooms at the Florenc hostel are modern and have plenty of hot water and water pressure. Private rooms include towels, and the bathrooms have their own hairdryers, too.
Common Areas
The common areas are small but comfortable, and are a nice spot to chat with other guests or have a meal. The communal kitchen and breakfast area is a good place to plan your day in Prague or catch up on the internet with news from home. They have a pool table, some public computers and a relaxing sofa.
Outdoor Space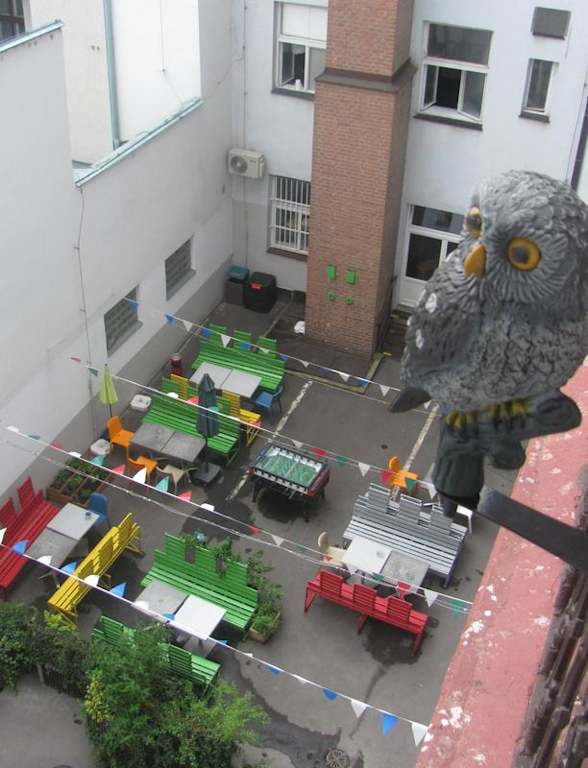 The spacious outdoor patio area is a nice spot in the warmer months. You'll find some tables to enjoy a meal or a beer, plus foosball and ping-pong. They also have a great BBQ.
The Location
Karlin
What's Nearby?
Located at the area near the train station where Zizkov and Karlin merge into the old town, this well-situated location makes it easy to get into other parts of Prague quickly. You can walk into the heart of old town Prague in around 10 minutes. Or head east towards all of the bars and resturants in Zizkov or Karlin. The large Vitkov park and hill area is very close to the hostel, and has great views over the city as well as some museums and historical sights. Some restaurants, shops, museums, and theaters are also nearby.
Nearby Transportation
Located very close to the main bus station (Florenc) and train station, you'll be well situated here to get in and out of the city. Public transportation is also close by, so you can take the tram or metro around town to see everything in Prague in a matter of minutes.
Activities
To help everyone make friends, this hostel offers some activities. They host pub crawls for those that want to go out at night (although this is not a party hostel). They also host other activities so that the guests can get to know one another.
Amenities
Typical hostel amenities can be found here including a nice kitchen, free breakfast, Wi-Fi, computers, laundry, luggage storage, and more.
Staff
The staff is very friendly here. They make sure that everyone is well taken care of, safe, and has fun. They work hard to keep this hostel clean and running smoothly. They also help guests plan their activities and learn their way around Prague.
Heads Up
Some guests say that the neighborhood around the hostel is fairly loud due to the trains and buses coming out of the stations.
Florenc Hostel
Do you have a favorite hostel that you would like to review? Let us know!