More of a traditional backpacker hostel located in the heart of the hip area of Sevilla rather than a commercial one located in the old town. The roof terrace can be a nice place to meet people as a solo traveller. - Anonymous
What sets them apart?
The friendly staff, rooftop terrace, hammocks, and jacuzzi all make this hostel a favorite for visitors to Seville.
Hostel Personality
Who's staying here?
This hostel has a backpacker vibe and a chill atmosphere. It's a great option for young travellers, backpackers, students, and small groups of friends.
Insider Tip
Get to the breakfast early if you want the widest selection of foods.
Triana Hostel
Triana Backpackers Hostel offers a relaxing retreat in a trendy part of Seville. It's located outside of the city's historic center, but is still walking distance to most sights an attractions. The hostel has an impressive rooftop terrace where you can soak up the sun and relax in a hammock. There's also a jacuzzi, which usually has cold water, which you'll appreciate after a day in the Andalucian sun.
This hostel has a true backpackers vibe. If you want to avoid the chain hostels that are mostly found in the old town, then this is a great independent option.
The Facilities
Dorms
This hostel has dorms that sleep four, six, or ten people. There are both co-ed and female only rooms available. The rooms are furnished with bunk beds and small lockers. The lockers aren't big enough for a whole bag, but they're fit a small bag or any valuables you might have with you.
Private Rooms
In addition to the dorm rooms, this hostel has twin private rooms available. The rooms have very simple furnishings and use a shared bathroom.
Bathrooms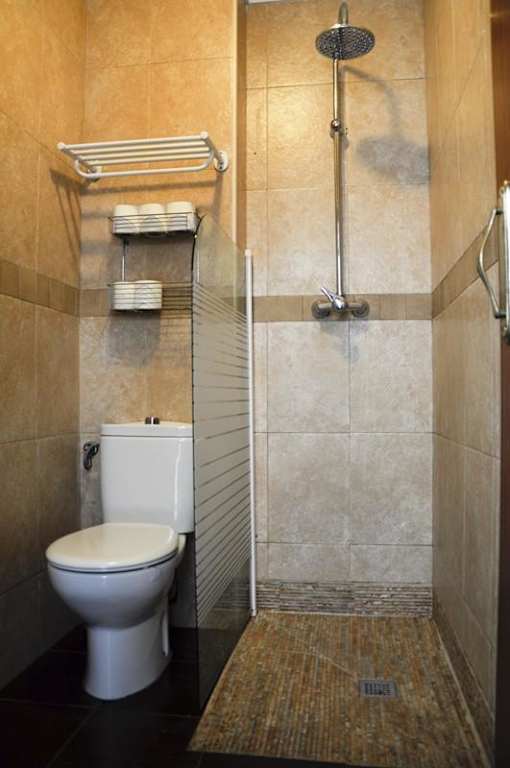 All of the rooms at this hostel use shared bathrooms. Unlike many hostels, there are plenty of toilets and showers available so there's rarely a wait, even during peak times.
Common Areas
Inside there's a small television room and several places where guests can hang out. Guests also appreciate the shared kitchen where you can prepare your own meals or grab a simple snack.
Pool
This hostel has a small jacuzzi tub on the terrace. They usually keep cold water in it, so it's the perfect place to cool off after a hot day exploring the city. It's a simple, but nice touch that you won't find at many other hostels.
Outdoor Space
The rooftop terrace really makes this place special. There are hammocks, a jacuzzi, and plenty of seating to relax and soak up the sun. There's also a nice mix of shade and sun, so you'll have your pick of where to hang out.
The Location
Triana
What's Nearby?
Located on the other side of the Guadalquivir River, this hostel is in a trendy but quieter part of Seville. It has a truly local flair and is a great option if you want to immerse yourself in local culture. Betis Street is a popular place to grab a drink and enjoy the view of the river, and it's only a two minute walk from the hostel.
The historical center of the city, where you'll find the Cathedral and the Alcazar is still just a 15 minute walk away, so despite being away from the tourist crowds, everything is still very accessible.
Amenities
This hostel has some great amenities, including a filling free breakfast (get there early), movies you can watch, and PlayStation. There are bikes available for rent, which is a great way to explore the city, and a shared kitchen where you can prepare your own meals.
Staff
The staff here are excellent and truly professional. They'll do their best to address any concerns you may have, and can offer suggestions of where to go and want to see. Don't hesitate to ask if you need anything.
Heads Up
Some guests feel the atmosphere at this hostel makes it hard to meet people. While many guests think the hostel is very clean, others felt it was too dirty. The ground floor rooms can get a bit loud but overall, this hostel gets very positive reviews.
Triana Hostel
Do you have a favorite hostel that you would like to review? Let us know!