One of the best hostels I've stayed at. Dinners are totally worth it, can't recommend this place enough. - Cristian
What sets them apart?
This hostel is truly one of the best in Seville and it's all about the community. It's a small but social hostel with lots of activities, group dinners, and a friendly staff.
Hostel Personality
Who's staying here?
This hostel is great for solo travellers, female travellers, and small groups of friends who want a social and welcoming atmosphere in a safe and secure setting.
Insider Tip
The bunk beds are taller than most, so if you're not comfortable being high up try to snag a lower bunk.
La Banda Rooftop Hostel
La Banda Rooftop Hostel is among the best in Seville. It's an independently owned hostel and the staff and community make it a truly friendly and welcoming place to stay. There are daily and nightly activities including group dinners on the rooftop with cheap drinks at the bar. They also host flamenco shows and happy hours, so it's really easy to meet other guests.
The hostel is smaller than most, but it's filled with friendly people so you won't have problems meeting guests. The building feels save and secure and it's conveniently located close to anything you'd want to see or do in Seville.
The Facilities
Dorms
The dorms here are clean and relatively large with space to put your belongings. There are security lockers available below the bunks, but you need to bring your own lock. The dorms have bunk beds which are taller than average, so some guests feel more comfortable sleeping on the lower bunks. The ladder is secure though and the beds are sturdy. The mattresses are high quality and you'll enjoy a good night's sleep here.
The dorms sleep either four, six, or eight people. Some rooms have attached bathrooms while others use shared bathrooms.
Bathrooms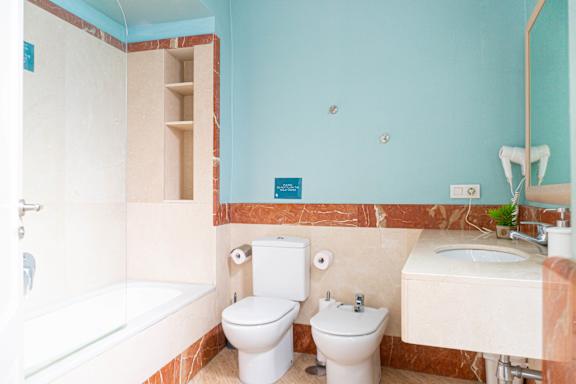 The bathrooms here are clean and modern. You can choose between a room with a shared bathroom down the hall or an attached bathroom. The facilities are good and the water is hot.
Bar
The rooftop bar is the place to meet people at La Banda Rooftop Hostel. There are cheap drinks and nightly happy hours. Many guests hang out here after the group dinner before eventually heading out into town. It's a chill but fun setting that's a nice place to relax after a busy day exploring the city.
Common Areas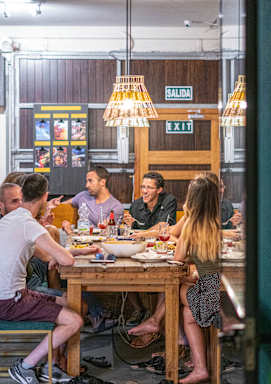 Inside there are several places to hang out with guests as well. You can relax and listen to music or just sit back with a good book. There are board games available if you want a relaxing night in, and if you're planning to cook your own food, there is a shared kitchen available as well.
Outdoor Space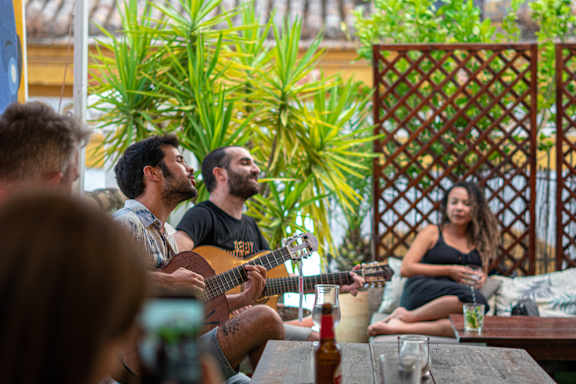 The place to be at this hostel is the rooftop terrace. When the weather's nice, this is where they host group dinners. The bar has cheap drinks, and the view can't be beat.
The Location
El Arenal
What's Nearby?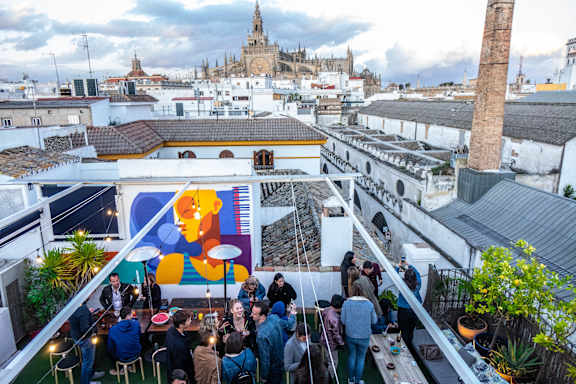 This hostel is in a central location in Seville near most of the city's top tourist attractions. It's just a short four minute walk from Alcazar and is a relaxing 20 stroll from Plaza de Espana. You can find great bars and local restaurants nearby as well. The hostel is also just next to La Maestranza Bullring.
Nearby Transportation
The Seville Airport is about 40 minutes away by public transportation. You can take the EA bus towards the city and then hop off at Torre de Oro, which is on Paseo de Colon. From there you can walk to the hostel in just five minutes.
Prado de San Sebastian Bus Station is about a fifteen minute walk away.
Activities
This hostel is all about the activities and sense of community. The nightly dinner on the rooftop is not to be missed. This is the time to meet other travellers and soak up the amazing view. You can also grab a cheap drink at the rooftop bar. There are regular activities available to guests including flamenco shows, paella nights, game nights, and more.
Amenities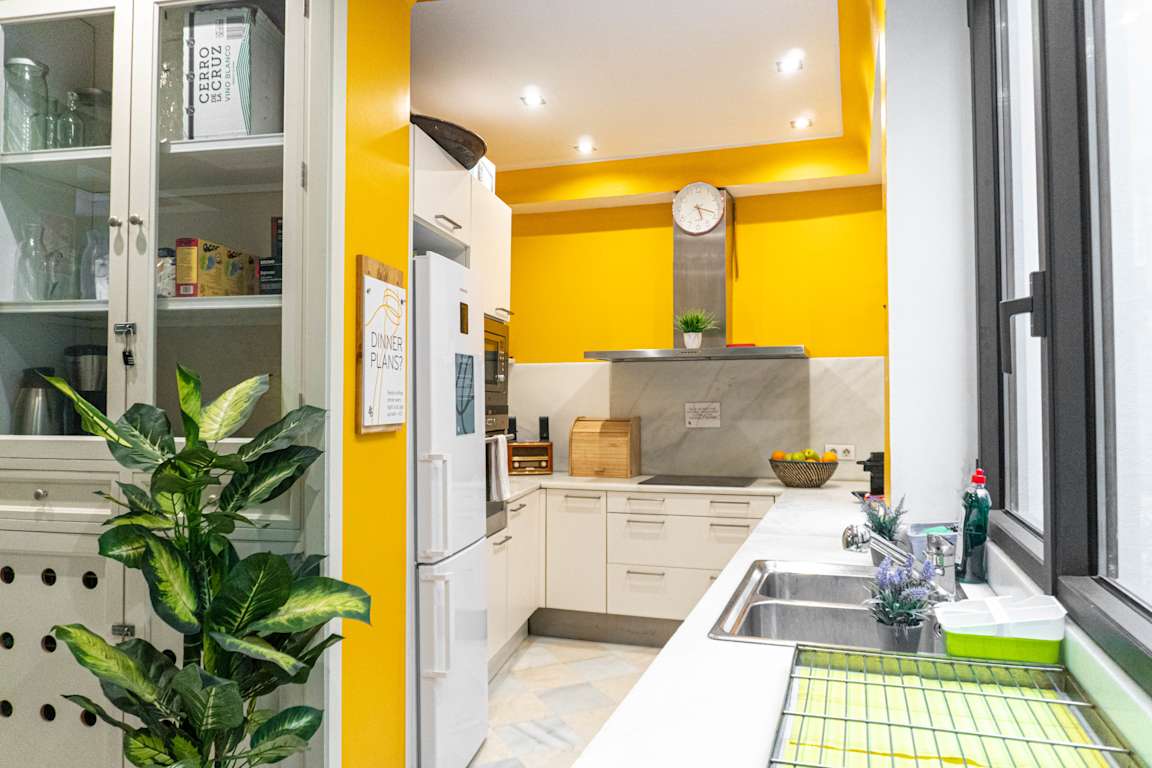 This hostel has all of the standard amenities plus more! It's a secure building with keycard access and 24 hour reception. There's luggage storage, bicycle rental, reading lights, and laundry facilities available as well. An elevator makes the rooms accessible and all kinds of travel information is available. If you're hungry, grab a bite from the restaurants, a snack from the vending machines, or cook your own meal in the shared kitchen.
Staff
This hostel is all about the staff. They're fun, friendly, and helpful. They're also available 24 hours a day with all kinds of advice and information, so don't hesitate to ask. The hostel is responsive to concerns, so let them know if there's a problem, and it'll be addressed quickly.
Heads Up
Like most hostels, the atmosphere here can really depend on the fellow guests that around during your stay. Some guests felt the hostel was a bit loud and with a party hard atmosphere, while others found their experience more chill and laid back.
La Banda Rooftop Hostel
Do you have a favorite hostel that you would like to review? Let us know!