Beautiful hostel! The garden terrace is such a nice place to sit and chill, kitchen is basic but works, no bunk bed!!!! Location is amazing. Loved my stay there - Lili
What sets them apart?
This hostel's excellent location, friendly staff, and free breakfast make it a popular option for backpackers and travellers.
Hostel Personality
Who's staying here?
This hostel is best for people who want to be in the middle of the action. There are many bars and restaurants nearby, and the most popular sights are just a short walk away.
Insider Tip
Check out the terrace to relax in the sunshine.
The Spot Central Hostel
The Spot Central Hostel is really in the middle of everything. There are plenty of bars, restaurants, and markets in the immediate surroundings. It's also a very short walk to most of Seville's top tourist attractions.
The hostel staff is super friendly and helpful, and it's not uncommon for them to bump you up to a nicer room. You'll be greeted with a welcome drink when you arrive and quickly feel right at home.
The Facilities
Dorms
Dorms sleep four people and have a decent amount of space. The beds are comfortable and the rooms are generally kept clean. The rooms are very secure with key card access. Many have natural light from windows that keep them well lit and comfortable.
Private Rooms
Many guests stay in private rooms at this hostel. There are single, twin, double, and three bed room to choose from. Each room is a little different with it's own layout, but they all have simple but decent furnishings and a comfortable vibe. Some rooms even have balconies.
Bathrooms
All of the rooms at this hostel use shared bathrooms. The bathrooms can get a bit crowded and feel a bit dirty by the end of the day, but they're cleaned daily and have reliable hot showers.
Common Areas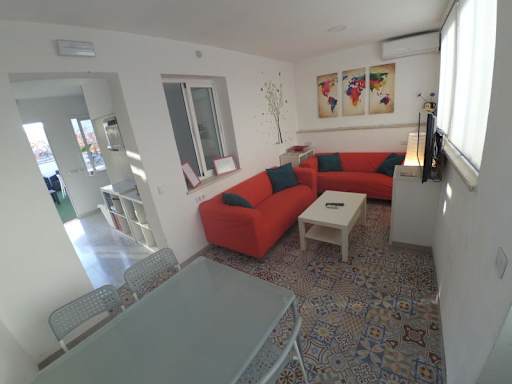 In addition to nice outdoor space, this hostel has relaxing common rooms where you can watch television, read a book, or use the wi-fi. Many guests keep to themselves at this hostel, so there aren't always people hanging around the common space, so it's a quiet place to enjoy some time to yourself.
Outdoor Space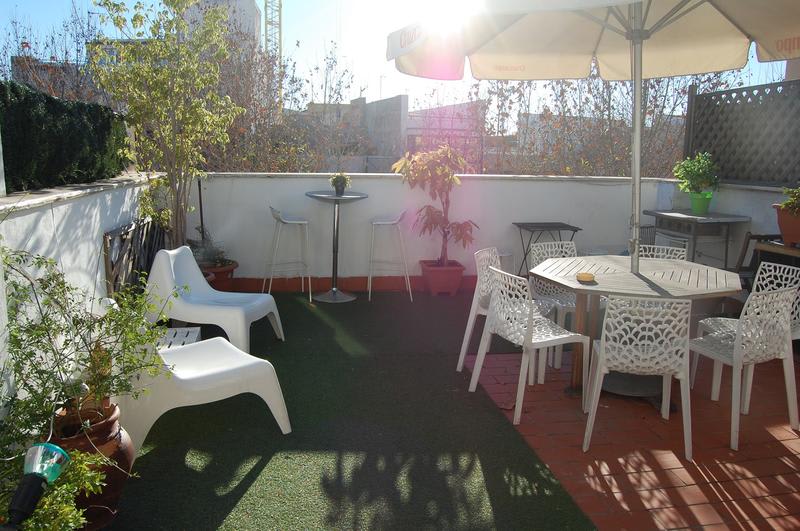 The rooftop terrace is excellent, and the perfect place to soak up the Andalucian sun. There are tables and chairs, and even a bit of shade where you can relax with a cold drink. It's also nice to prepare some food and enjoy it upstairs in the outdoor setting.
The Location
El Centro
What's Nearby?
This hostel's location really can't be beat if you want to be near everything. It's just a few minutes walk from top attractions such as the Giralda and the Cathedral. It's also right by the Plaza de Toros de La Maestranza.
In the immediate neighborhood you'll find plenty of bars, restaurants, and shops. There are markets where you can pick up your own food and its easy to reach some of the city's best nightlife.
Nearby Transportation
You likely won't need much public transportation, as this hostel is located in the main tourist area near most of Seville's sights and attractions, but if you need it, you're close to bus stations and a taxi stand. Santa Justa Train Station is also about 1.5 miles away.
Amenities
Start your stay here with a welcome drink and a friendly conversation with the staff. This hostel has some nice amenities available to guests including all kinds of travel information, a book exchange, laundry facilities and bike rental. There's a shared kitchen that guests can use. It really only has the basics, but it still gets the job done. Breakfast is also available every morning for free.
Staff
The staff here are really helpful, and they can give you all kinds of tips for exploring the area. They are very responsive to concerns and problems, and on occasion they even bump guests up to nicer rooms.
Heads Up
Some guests feel the facilities here are a bit older and the bathrooms in particularly get a bit overrun by the guests. It's not always easy to meet other guests here either, so if you're looking to make some friends, this may not be the best hostel.
The Spot Central Hostel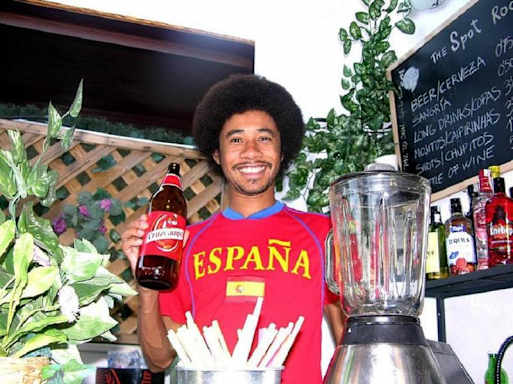 Do you have a favorite hostel that you would like to review? Let us know!