South Africa On a Budget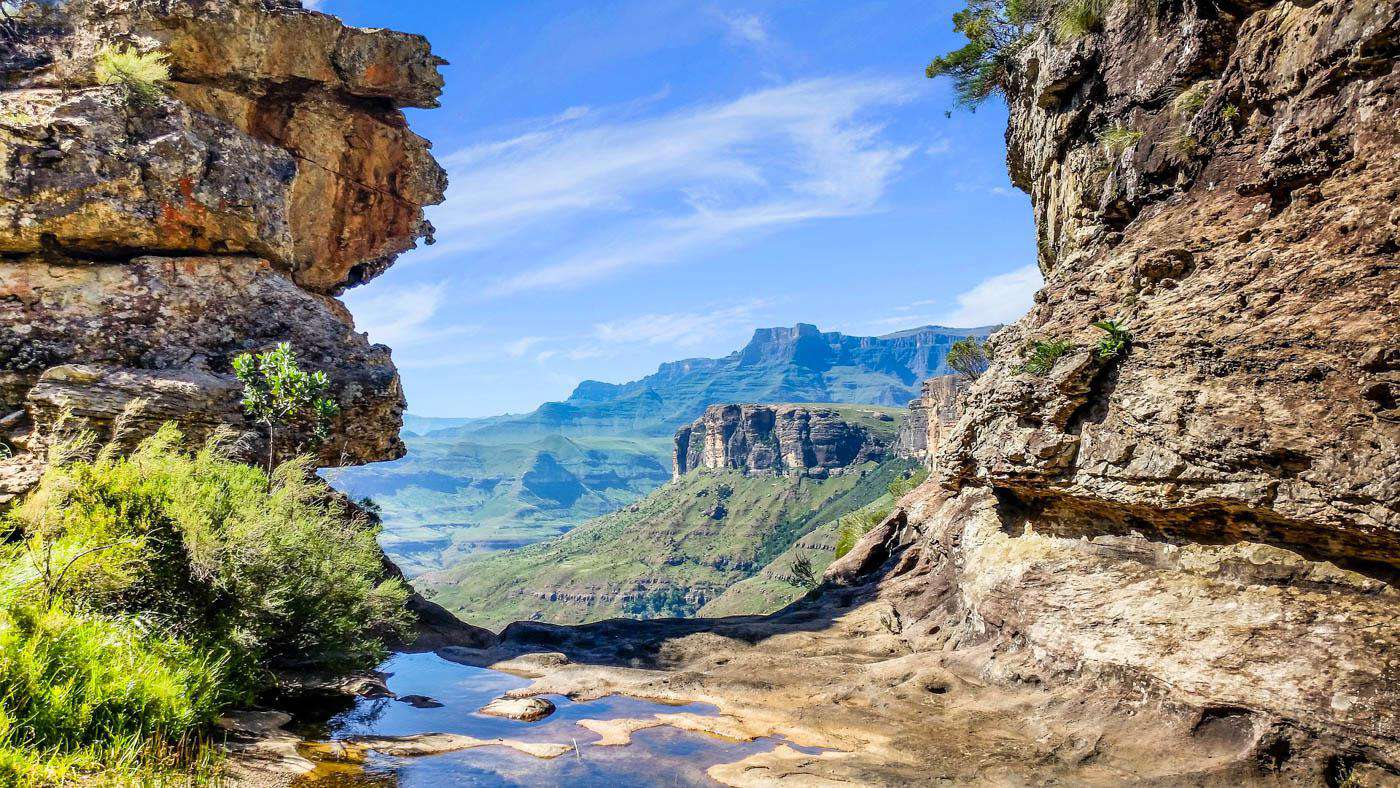 South Africa is a great place to immerse yourself in the African culture. It's a large country that's located on the southern tip of the continent. It has a large diversity of landscape, culture and industry. It also has one of the strongest economies on the continent, and as such it is an influential political power in the area. Many people visit South Africa for its wonderful and diverse wildlife, but there are so many other things to see and do here. Kruger National Park is one of the most visited parks in all of Africa and you can spend days, or even weeks, exploring it's ecosystems. The cities are multicultural and cosmopolitan so there are many museums, restaurants, and entertainment options nearby. The beaches are beautiful and there is no shortage of adventure sports, whether you want to swim with a great white shark, surf some of the best waves around, or go whitewater rafting on the Orange River.
The country is divided into nine different provinces, each of which has something unique to offer visitors. You'll find Johannesburg in the Gauteng Province. This is where you will most likely enter the country if you're are arriving by plane. The Western Cape is one of the most popular provinces for tourists. This is where you will find Cape Town, Table Mountain, the Garden Route, and any number of great wineries. The Garden Route also crosses into the Eastern Cape which is also home to several great surfing beaches and a few national parks. The Northern Cape has the lowest population despite having the largest size. Free State is where you'll find the World Heritage Site of Vredefort Dome. KwaZulu-Natal is a great area for hiking and waterfall spotting and the North West has Pilanesberg Game Reserve. You'll have to cross through Mpumalanga if you're headed to Mozambique, and if you're looking for Kruger National Park you'll find it in Limpopo.
South Africa is a popular starting point for those who are hoping to explore the entire southern region of Africa. It's the easiest country to reach with international flights and is a great introduction to the region. Whether you plan to spend your entire holiday in South Africa, or are using it as a jumping off point to explore other countries, it's sure to leave a lasting impression on you.
At A Glance
Many people choose to rent a car during their time in South Africa. This provides you with more freedom and flexibility during your travels, but there are some things which you should be aware of. Rental cars are available almost exclusively with manual transmissions. If you want an automatic they are often very expensive and in short supply. Prior to renting the car, also make sure you understand any restrictions you might be under like driving on dirt roads or geographic limits. Many rental cars also limit the waiver they provide on damage. Inquire about this prior to signing a contract.


Road signs in South Africa are different from those found in most places. If you plan to do any lengthy driving make sure you familiarize yourself with what the signage means. Vehicles also drive on the left hand side of the road. If this is new to you, it may be tricky in the beginning.


Cycling in the rural areas is a wonderful way to experience the country. It is generally best to avoid riding a bike in the major cities because of reckless drivers and crime, but on rural roads it is a beautiful and fun experience.


It's a good idea to use precautions anytime you travel wherever you are. Try to use ATM's that are inside of buildings such as shopping malls or banks. Also make sure that nobody can see you enter your pin number. If someone offers you assistance, tell them no thanks and wait until they leave before you continue your withdrawal.


If you're shopping in an indoor store, the prices are usually fixed and non negotiable. If you're in an outside market however, there will likely be some room for haggling.
Related
Looking for a
hostel in Marrakesh
,
Cape Town
,
Nairobi
, or
Zanzibar
?
Top Tourist Attractions
The country of South Africa is full of sights and activities. From natural beauty such as the wildlife and mountains to the historical sights found in Johannesburg or Cape Town, this dynamic country offers something for everyone. Many people suggest that you spend
two weeks in South Africa
, or more, just to see it all. Below are some of the highlights.
Kruger National Park:
This park is one of the most popular national parks in Africa. It is one of the best places to do a safari. It's located in the northeastern part of the country and is quite diverse in its landscape and wildlife. It has many different sights and a great infrastructure which makes it easy to explore.
Cape Peninsula:
This is a beautiful area that is made from a rocky peninsula that juts out into the the Atlantic Ocean. On it you will find many different places of interest including Table Mountain, scenic beaches and excellent shopping. On the southern end you will also find Cape Point and the Cape of Good Hope.
Garden Route:
This is a region with incredible beauty and great opportunities for outdoor sports and activities. It runs between Mossel Bay and St. Francis along the Indian Ocean and it is one of the top tourist attractions in the area.
Popular Foods
South African cuisine has been influenced by both its colonial past as well as its indigenous cultures. It's very multicultural in nature in large part because of these diverse influences. Countries that have somehow impacted this country's cuisine include Great Britain, the Netherlands, Germany, India, Malaysia, and Portugal. You'll see all of the flavors represented in traditional South African dishes.
Braaivleis:
This is a common way of preparing meat during social gatherings or on the weekends. The meat is grilled over an open fire that is made from either wood or charcoal. It is then served with a variety of side dishes.
Potjiekos:
This dish is typically prepared along side of Braaivleis. It's a meat and vegetable stew that is prepared in a cast iron pot over an open fire.
Boerewors:
This is a fast food style dish that is made with spicy sausage that is served on a hotdog bun. It is usually garnished with onions and tomato relish.