Durban On a Budget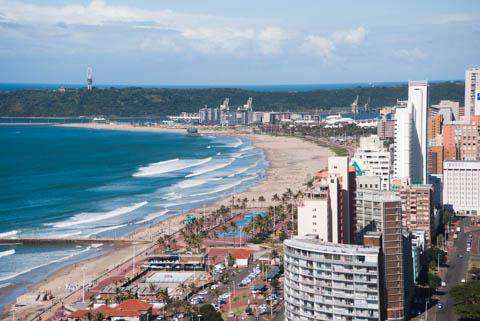 The third largest city in South Africa, Durban sits on the east coast of the country in the province of KwaZulu-Natal. The city also has the country's most active port. The city's comfortable weather and vast beaches make it one of the country's major tourist centers. There's a population of about 3.5 million in the entire metropolitan area that spreads over 2,295 square kilometers.
Durban was originally founded by British settlers but today there is a large Indian population whose ancestors originally relocated here to work the sugar cane plantations. You'll find both English and Zulu spoken in this city.
Durban's climate is humid subtropical. There are hot and humid summers and warm and dry winters. Summer highs usually stay in the low to mid 80s Fahrenheit while winter highs are in the low to mid 70s Fahrenheit.
Sights
There are a handful of sights and attractions in Durban including the Durban Botanical Gardens, the Mahatma Gandhi Settlement, KwaZulu Natal National Parks and Durban North Japanese Gardens. Also make sure and visit the Golden Mile, which has great beaches and world famous surfing. Crocodile Creek is a great place to see crocodiles as it has over 7000 Nile Crocodiles, Alligators, Caiman, snakes, and other reptiles. Berea is a ridge that looks out over the harbor, city center, and beaches and offers wonderful views of the area.
Neighborhoods
Downtown Durban is where you'll find a large number of tourist attractions including museums and the City Hall. The Golden Mile is the most prominent part of the city. This area has vast stretches of beach that attracts sunbathers, surfers, and bodybuilders. If you're interested in trying surfing for the first time, head to Addington Beach. Three miles from the city center is Kit Beach. This area has the world's best kite-surfing. There are also several more private beaches north of the Golden Mile. These include Country Club Beach, Tekwini Beach, and Laguna Beach. On the southern side of Durban is a Bluff that looks out on the harbor. The area also has Brighton Beach, Cave Rock Beach, Anstey's Beach, and Garvies Beach.
Activities
There are countless activities that you can enjoy in Durban. Water sports are common and you can enjoy surfing, canoeing, snorkeling, and scuba diving. There are some great places to go scuba diving in the area.
It is also worth visiting the Shark Institute, which offers boat tours of the area and will take you out to see the shark nets that protect swimmers and surfers from frequent shark attacks.
Other activities in the area include skydiving, yoga camps, golfing, and shopping.
Festivals in Durban include Poetry Africa, Time of the Writer, the Durban International Film Festival, Jomba! Contemporary Dance Festival, Awesome Africa, Fashion Week, and any number of Hindu Festivals throughout the year.
Food and Dining
Because of the large Indian population, there is no shortage of excellent Indian restaurants throughout the city. Durban curry is a popular dish that can be either hot or mild. Bunny Chow is also a popular local specialty. The dish is made with a hollowed out piece of bread that is filled with a curry of your choosing. The most authentic Indian food can be found at the Indian neighborhoods around Victoria Market.
If you're looking for trendy cafes, head to the Morningside restaurants along Florida Road. This area provides outdoor seating and caters to upscale businessmen.
Transportation
Although there is a bus system in Durban, it is not efficient and generally shouldn't be relied upon. The best way to navigate Durban is by car, but if you plan to rely on a GPS device, or even a street map, make sure it is up to date as it seems many street names have recently changed.
Taxis are a good option for travel if you don't have access to a personal car. Make sure you use a registered taxi, and you will have to call ahead as you can't pick a taxi up from the curb by simply waving it down. Some reliable taxi companies include Umhlanga Rocks Taxis, Eagle Taxi's, Zippy Cabs, and Mozzie Cabs. If you plan to rely on taxis, carry the numbers around with you as you never know when you will need them.
There are also minibus or group taxis. These usually travel a set route on a schedule and are less expensive than metered taxis. They are not particularly convenient for tourists as they usually take locals to and from work.
In the beachfront area there are rickshaws available that are specifically targeted at tourists. They generally offer a ride for entertainment as opposed to convenience.
Related:
Looking for a
hostel in Marrakesh
,
Cape Town
,
Nairobi
, or
Zanzibar
?