Cape Town On a Budget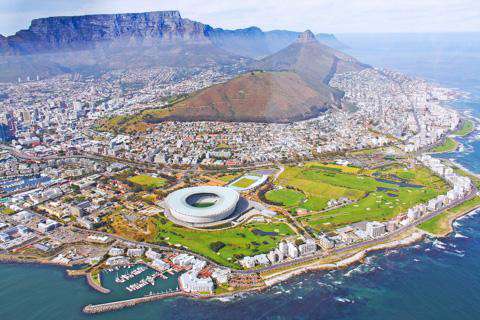 Picture your travel bucket list. Is Cape Town on it? Yes, most people dream of visiting the "Mother City" of South Africa. As one of the most iconic places in the world, Cape Town is a world-class cosmopolitan city full of bustling nightlife, historical backdrops and a large gay community.
Cape Town is the most southern city in Africa with seasons turned upside down. In the southern hemisphere they experience the summer from December to February. During these months days can be hot and dry so be sure to gather in the shade and wear plenty of sunscreen. The winter from June to August is full of rainy days and cold nights.
Sights
As one of the most picturesque places on the planet, no web page could cover the amount of things to see in Cape Town, South Africa. But here are just a few highlights:
To begin your visit, learn about the city's racially turbulent city at the District Six Museum. You'll get an overview of the city's history and how it was destroyed during apartheid.
If lounging around on the beach is your number one goal, tell your cab to head straight for Clifton Beaches. This stretch of four beaches is separated by giant rocks, but is easily accessible for all tourists. Beaches 1 and 2 and are for your everyday sunbathing tourists. Beach 3 is the gay beach - though straight people are always welcome, and beach 4 is typically full of families. When you go to dip your toes in, keep in mind those waves are rolling in from Antarctica - it's quite frigid!
For a breathtakingly scenic view, take a leisurely cable car ride to the top of
Table Mountain
. This 1086 mile high peak is a perfect lookout any given afternoon - unless it's too windy. In that case, the cable cars won't be operating.
To get really in touch with Mother Nature, head over to
Kirstenbosch Botanical Garden
. It's a stunning gathering of plants and wildlife in a 52,000 square kilometer area. Free, guided walks are available.
Plenty more activities are available in Cape Town such as visiting Bo Kaap, Robben Island, Boulders Beach, or the Bay Harbour Market. It's a great place to visit at any time of the year. If you don't believe it, check out all of these
things to do in Cape Town today
or this other amazing
list of the top 10 things to do in Cape Town
.
Neighborhoods
Cape Town is a very large city with a relatively small city center sitting right between Table Mountain and Table Bay. Off to the east is Durbanville and Somerset West. The north is where you'll find Atlantis while the south is home to Cape Point.
Activities
Just like with sightseeing, there's never a lack of adventures to be had in South Africa. One of the most exciting and scenic journeys you can take is to drive, cycle or walk along the "Chappies."
Chapman's Peak Drive
is a 5 kilometer toll road full of picnic spots and viewpoints. It's one of the most amazing coastal highways in the world complete with a bronze leopard statue to commemorate the wildlife of the area.
Just outside of Cape Town is the city of Hermanus where you can see the most majestic whales at the height of mating season. From July to November, tourists can enjoy a land-based viewing spot to witness the Southern Right Whale and even seals and dolphins. But if a rugged, outdoor hike is what you're after, try Table Mountain without the cable car. This multi-day hike is full of beautiful scenery and magnificent wildlife.
Also, check out this
terrific itinerary for visiting South Africa with kids
.
Cape Town is also home to plenty of festivals. Whether it's
Ultra South Africa
, the Jazz Festival, or
Rocking the Daisies
, there's plenty of excitement to be found. Don't miss this
guide to the best festivals in South Africa
for more information.
Food and Dining
You can get any variety of food you'd like in Cape Town, but be sure to get your hands on some good seafood - especially things like local line fish or oysters.
Moreover, though, Cape Town has some of the world's finest wine producing vineyard. With more than 250 wine farms, you'll have plenty to taste. Ensure a safe and sober ride every time, however, set up your visits with a dedicated wine tour company.
While the food in Cape Town is delicious and high quality, beware of buying the fruit from street vendors. It has been known to make tourists sick. Further, make sure you always ask about the price of any delicacies. There are only a few, but very high profile cases of extreme overcharging tourists when prices aren't listed.
Transportation
Cape Town is very large, so unless you only plan on being in the city center, you'll want to arrange your own transportation. Renting a car is certainly an option, but remember that in South Africa they drive on the left hand side of the road. Also, you might have a hard time finding a car with automatic transmission. Scooter and motorbike rentals are also good options.
The metered taxis are controlled by the city council and are considered to be very safe and reliable. Minibus taxis, however, are the most extensively used mode of public transportation. Be careful, though, as they are not always the safest option and there's no route map.
Related
Looking for a
hostel in Marrakesh
,
Cape Town
,
Nairobi
, or
Zanzibar
?