Pretoria On a Budget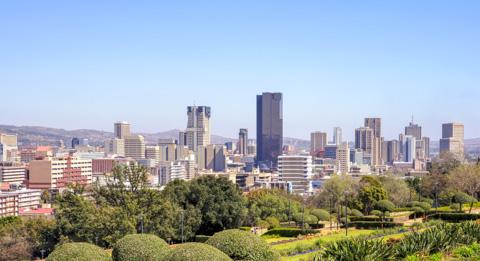 Located in Gauteng Province, Pretoria is the administrative capital city of South Africa, making it home to many government buildings and three universities. It is actually one of three capital cities, being home to the executive branch, with Cape Town as the legislative capital and Bloemfontein as the judicial capital. Within South Africa, Pretoria is also known as the "Jacaranda City" due to the thousands of jacaranda trees lining its streets, parks, and gardens.
Sights
Many of Pretoria's attractions revolve around the natural world. Even its governmental Union Buildings are designed with beautiful gardens. Other top nature sights include the Pretoria National Botanical Gardens, which is home to succulents, herbs, a wetland area, arboretum, and wildlife, as well as the National Zoological Gardens of South Africa, which includes a 210-acre zoo and research hub that features a reptile park, aquarium, and exotic tree collection. Combining the best of history and nature, another popular attraction of Pretoria is the Wonderboom Nature Reserve, a public park with a 19th-century fort, Stone Age site, and a 1,000-year-old fig tree.
As far as historical monuments and museums go, the Voortrekker Monument commemorates the Afrikaans settlers who arrived in the country during the 1830s. Other important sights include the Ditsong National Museum of Natural History (formerly known as the Transvaal Museum), the living history Victorian settlement at the Pioneer Museum, Freedom Park memorial and museum dedicated to those killed in past wars, the Melrose House Victorian mansion, and the Pretoria Art Museum which features a collection of Dutch masters and South African works.
For those interested in higher education, Pretoria is also home to the University of Pretoria, University of South Africa, and Tshwane University of Technology.
Neighborhoods
Pretoria is divided into 5 regions: Eastern, Southern, Central Western, North West, and North East. Much of the city is made up of sprawling suburbs that feature corporate offices, small businesses, shops, and government departments. The traditional center of government and commerce, however is concentrated in the central business district. The city center also consists of many banks, large corporations, shopping centers, and other businesses. With a few towering skyscrapers, this area of Pretoria additionally features historical buildings, monuments, and museums like the Pretoria City Hall, Pretorius Square, Church Square, the Ou Raadsaal, and the Transvaal Museum. Other attractions include the National Zoological Gardens of South Africa, Melrose House Museum, Pretoria Art Museum, and the African Window Cultural History Museum-again all concentrated in the city center.
Activities
Pretoria has plenty of opportunities to get out and do some sightseeing-from historical museums and art galleries to nature reserves, gardens, and zoos. Beyond the list mentioned above, a few additional popular places to visit include the Fort Klapperkop Heritage Site (which encompasses a museum and nature reserve), the Austin Roberts Bird Sanctuary, and Groenkloof Nature Reserve which features wildlife like zebra and giraffe as well as plenty of hiking and biking trails.
Food and Dining
Cuisine of South Africa is characterized by a combination of indigenous, Dutch, French, and Indian influences. The indigenous side of things mainly consisted of harvesting fruits, nuts, bulbs, leaves, and other items gathered from wild plants as well as the hunting of wild game, though eventually domestic cattle were introduced as well as grain crops like maize. Today, a staple meal remains mieliepap-a kind of porridge or polenta made from ground maize. Meat also remains central to the South African diet with braai (barbeque) and biltong (dried & preserved) being the most common methods of preparation. Beef, mutton, goat, and chicken are all found in South African dishes. As far as foreign influences go, the Dutch brought spices like nutmeg and chili peppers as well as pickled fish and a variety of fish stews, the French brought wines and traditional recipes from France, and the Indians brought curry dishes, chutneys, and fried snacks, amongst other items. Being a major city, Pretoria features restaurants of both local and international cuisine, as well as popular franchises.
Transportation
O.R. Tambo International Airport, formerly called Johannesburg International, is the nearest airport serving the area. It is located about 21 km (or 13 mi) from the city center of Johannesburg, and is the busiest airport in Africa as well as the connecting hub for flights to other cities in Southern Africa. The Albertina Sisulu Highway or R21 leads from the airport to Pretoria. It is also possible to take a taxi or walk to Isando, 1.5 km from the airport, and take a MetroRail suburban train to Pretoria (the train ride is about 55 minutes).
Airport shuttles are also available at the airport or can be pre-booked. Additionally, there are a number of major bus lines that connect to all major cities in South Africa.