Kruger National Park On a Budget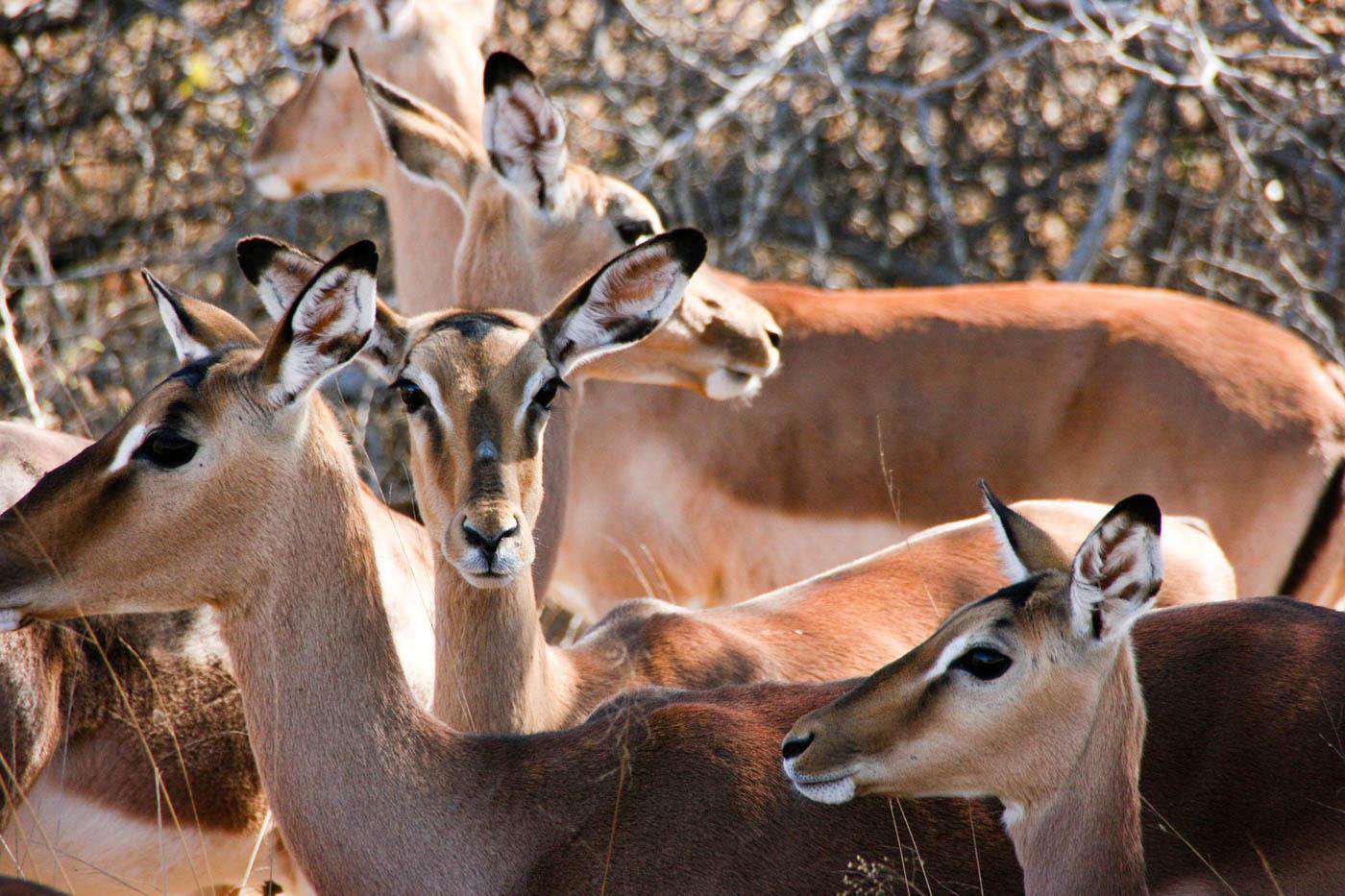 Kruger National Park, in northeast South Africa hugs the border of Mozambique in the east, Zimbabwe in the north, and the Crocodile River to the south. Covering nearly 20,000 square kilometers, it hosts a variety of habitats with a thriving population of wildlife and indigenous plant species, making it a safari destination like no other.
Sights
As one of Africa's largest game reserves, Kruger National Park is home to a dense population of wildlife, including the "big 5" - lion, leopard, rhino, elephant, and buffalo. Hundreds of other mammals like zebra, giraffe, and hippo inhabit the area, as well as diverse bird species including vultures, eagles, and storks. Day or night, the reserve is humming with wildlife. The southern part of the park features some of the best flora and fauna, while the northern reaches offer more of a birding paradise.
Park Areas
Kruger National Park hosts a number of northern camps, central camps, and southern camps, depending on the part of the park one wishes to explore. Lower Sabie, Punda Maria, and the Crocodile Bridge rest camps are probably the most popular with visitors. Lower Sabie Rest Camp is situated on the banks of the Sabie River and surrounded by leafy riverine vegetation and set against the backdrop of the Lebombo-Mountain-skyline. Punda Maria in the northern reaches of the park is terraced with white bungalows and equipped with safari tents amidst a wealth of indigenous vegetable and opportunities for bird watching. Crocodile Bridge, at the park's most southern end, is noted for the population of lions that hunt in the area around the banks of the Crocodile River. There are many more camps scattered throughout the park as well as lodges both within and outside the borders. Some of the top luxury lodges include the Kapama River Lodge, Jock Safari Lodge, and Rhino Post Safari Lodge. No matter where you stay, there will be plenty of opportunities for spotting wildlife.
Activities
One way of experiencing the park's wildlife is to tour the park by car during daylight hours. Other activities are run by rangers, some of which include bush drives and night drives. Both offer a more guided experience and great opportunities to learn more about the native wildlife and how to spot it. The night drive is an especially unique experience to see nocturnal animals, as the roads are closed to visitors after hours.
There are also a number of trails, either ranger-led or check-in necessary, that are great for getting up close to the native species. One of the most immersive is the Wilderness Trail-a ranger-led hiking tour that lasts a total of three days in the park's wilderness, each night returning to the safety of a camp.
Food and Dining
There are a number of picnic areas within the park for those bringing in their own food, each with "braai" or barbeque facilities and tables. There are also camp shops which sell, food, drinks, and firewood for those staying in the park, and many of the camps have small restaurants, though the menus are generally limited. A staple meal of South Africa is mieliepap (a kind of porridge or polenta made from ground maize), though meats are also central to the diet. Some South African specialties include things like wart hog sausage, springbok tenderloin, ostrich steak, and biltong (dried and preserved meat) made mostly from game animals. Those staying in the camps will generally cook their own food, while lodges in and around the park will have restaurants.
Transportation
By plane, there are three commercial airports with flights near Kruger National Park. All three are served by South African Airlines and have car rental services available. Kruger Mpumalanga International Airport at Nelspruit receives flights from Johannesburg International Airport, Durban, Cape Town, Livingstone, and Vilanculos. Depending on the entrance gate you wish to pass, the drive from here to the park can be anywhere from 1 to 4 or more hours.
Eastgate Airport at Hoedspruit has a couple of flights a day to Johannesburg. Hoedspruit is fairly centrally located in relation to the north-south orientation of the park.
Phalaborwa Airport is located about 2 kilometers from the Phalaborwa gate of Kruger National Park and serves as an entry route to the northern camps, including Letaba, Olifants, Punda Maria, and Shingwedzi. Phalaborwa is well connected to Johannesburg International Airport with two flights per day during the week and a single flight on Saturday and Sunday.
By car from Johannesburg, take the N4 highway. Upon reaching Nelspruit, continue on to any one of 9 entrance gates. From here, the journey will be anywhere from 1 to 4 or more hours. The gates from the southern end to the north are Crocodile Bridge, Malelane, Numbi, Phabeni, Paul Kruger gate, Orpen, Phalaborwa, Punda Maria, and Parfuri.
Related:
Looking for a
hostel in Marrakesh
,
Cape Town
,
Nairobi
, or
Zanzibar
?