Soweto On a Budget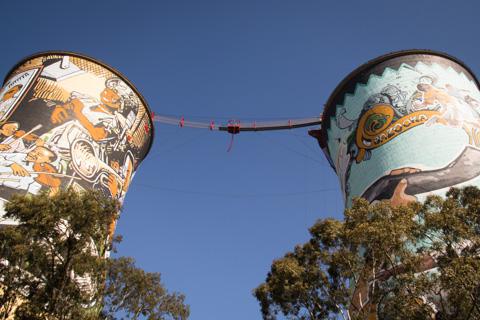 The name Soweto is an acronym for South Western Townships, first used in 1963 to describe the groups of townships to the south west of Johannesburg. It is a city of contrasts, featuring anything from tin shanties to luxurious mansions, and is probably best known for being the home of two Nobel Prize winners.
Sights
One of the top attractions of Soweto is the Mandela Family Museum, located on Vilakazi Street. The structure itself was the home of Nelson Mandela from 1946-1962. Today it is a museum run by his former wife Winnie Madikizela-Mandela, and contains memorabilia from the short time they lived there together before Mandela went into hiding. The house of Nobel Prize winner Archbishop Desmond Tutu is also nearby as is the Hector Pieterson Museum, which chronicles the 1976 Soweto student uprising and is named for its first victim, a 12-year-old boy.
Another top attraction of Soweto is the recently restored Credo Mutwa Village (with its Zulu and Sotho homesteads). It is an outdoor museum dedicated to showcasing the sculptures and other works of artist and traditional healer Credo Mutwa. Other sights in and around Soweto include the Regina Mundi Church (site of anti-Apartheid activism), the Apartheid Museum, Gold Reef City amusement park, Thokoza Park, and the Klipriviersberg Nature Reserve.
Neighborhoods
The area of Soweto consists of more than 80 townships. Klipspruit is the oldest of the townships, originally created in 1904 to house mainly black laborers who worked in mines and other industries in the city of Johannesburg. From there the adjoining towns grew, eventually making Soweto the most populous black urban residential area in the country. Many of the popular attractions are located in the Orlando West neighborhood of Soweto. Vilakazi Street, for example, is the only street in the world that features the old homes of two Nobel Prize laureates-Nelson Mandela and Archbishop Desmond Tutu. Also nearby is the Hector Pieterson Museum. Old townships like Old Diepkloof and Orlando are generally barren with small, simple brown houses, while the newer "extensions" like Diepkloof Extension and Pimville Extension are characterized by relatively affluent houses with tree-lined streets, good roads, playgrounds, and schools.
Activities
Most people visit Soweto to see the historic sights, especially the homes of the Nobel Prize winners Mandela and Tutu. These can be explored by one's own adventure, or by booking a guided tour. Most choose to visit Soweto as part of an official tour group led by a Southern Africa Tourism Services Association (SATSA) accredited tour guide.
There are also plenty of options as far as nightlife goes. Wandie's Place in Dube, for example, is a cozy restaurant-bar-lounge popular with tourists, as are places like Pallazo Distella in Dube and Club 707 or Ubuntu Kraal, both in Orlando West. In addition to the popular tourist spots, there are also many shebeens or local drinking places to try out.
Food and Dining
Cuisine of South Africa is characterized by a combination of indigenous, Dutch, French, and Indian influences. The indigenous side of things mainly consisted of harvesting fruits, nuts, bulbs, leaves, and other items gathered from wild plants as well as the hunting of wild game, though eventually domestic cattle were introduced as well as grain crops like maize. Today, a staple meal remains mieliepap-a kind of porridge or polenta made from ground maize. Meat also remains central to the South African diet with braai (barbeque) and biltong (dried & preserved) being the most common methods of preparation. Beef, mutton, goat, and chicken are all found in South African dishes. As far as foreign influences go, the Dutch brought spices like nutmeg and chili peppers as well as pickled fish and a variety of fish stews, the French brought wines and traditional recipes from France, and the Indians brought curry dishes, chutneys, and fried snacks, amongst other items.
Transportation
Most people visiting Soweto enter via Johannesburg. O.R. Tambo International Airport, formerly called Johannesburg International, is the main airport serving the area. It is located about 21 km (or 13 mi) from the city center of Johannesburg, and is the busiest airport in Africa as well as the connecting hub for flights to other cities in Southern Africa.
From Johannesburg, visitors can take a tour via their hotel or explore on their own via car or suburban rail. By metro rail, take the train from Johannesburg Park station bound for either Naledi (for northern Soweto), Oberholzer, or Vereeniging (for southern Soweto). Other Soweto train stations are at Merafe, Inhlazane, Ikwezi, Dube, Phefeni, Phomolong, Mzimhlophe, Mlamlankunzi, Orlando, Nancefield, Kliptown, Tshiawelo, and Midway.