Sweden On a Budget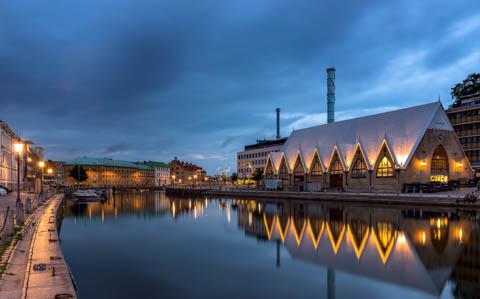 Sweden is the largest of the Nordic countries in Northern Europe. Although up until the 17th century it was a very strong military power, for the last couple of hundred years, Sweden has proudly remained neutral in all military conflicts. It is a very peaceful country, with friendly and welcoming people that are eager to show you their country and culture.
Sweden has a comfortable summer and harsh winters. While most tourists head to Sweden during the pleasant summer months, if you do find yourself in Stockholm during the winter you can be assured that there are plenty of bars where you can pass the cold winter evenings. is a bustling city with plenty of bars to pass the cold winter evenings. During the summer months camping is a popular way to vacation throughout the country. International tourists and Swedes alike head into the countryside to enjoy a pleasant evening under the stars.
Although Sweden is a relatively large country, most visitors spend the bulk of there time in the southern region which has most of the popular cities and tourist sights. Distances between destinations in the south is relatively short so there is little need to take a domestic flight unless you are very short on time. Regardless, transportation in Sweden is quite expensive. There is an extensive train system that travels throughout the country. The best way to ensure you get a good deal is to book your tickets well in advance. Buses are a slightly cheaper alternative, particularly if you qualify for the youth discount.
Traditional Swedish cuisine is very hearty, taking into account the cold climate. Meatballs, hash, soup, and pickled herrings are some common staples. Restaurants can be somewhat expensive throughout Sweden. Your cheapest options will be the pizza and kebab restaurants that are common place throughout the larger cities. Coffee drinking is also a popular activity in Sweden. Many people pass the time sipping coffee in the cafes that are ubiquitous in most cities. The cafes often a wonderful social setting where you can chat and interact with friends or family. The coffee itself is actually much stronger than the American variety. You can also find most Italian varieties in most cafes throughout the country.
Related:
Traveling alone to
Moscow
,
St Petersburg
,
Stockholm
or
Riga
and need a hostel?
Looking for a
party in Copenhagen
or
Tallinn
?
Looking for
budget hostels in Scandinavia
?
Find a
Contiki tour
to Europe.
Top Tourist Attractions
Lake Siljan:
This lake is a popular vacation spot for Swedes in the summer. It's in the middle of the country in the Dalarna area and is the focus of much folklore and tradition. Although it's only the sixth largest lake in the country, it still see a high number of visitors every year.
Vasamuseet:
This is an incredible wooden sea ship that sunk in the 1600s and has since been recovered and restored. Located on the island of Djurgarden in Stockholm, it's housed in an impressive museum that opened in 1990.
Falu Kopparbergsgruva:
This is a historic copper mine from the 17th century that had a major impact on the Sweden economy. It is now a UNESCO World Heritage Site.
Popular Foods
Swedish Meatballs:
A Swedish staple, meatballs are served with a creamy gravy and a fruit jam. They're available in most restaurants, particularly those that offer traditional Swedish dishes.
Blabarssoppa:
This is a traditional Swedish drink that is made from bilberries. It can be served either warm or cold and is usually thickened slightly with a starch. Bilberries are a fruit that grow in the wild throughout Scandinavia. The word is literally translated to mean "blueberry" although the actual fruit is not a blueberry.
Kroppkakor:
This is a potato dumpling that is stuffed with pork and onions. It is most common in the southern regions of Sweden where it is served with butter, cream and lingonberry jam.