Malmo On a Budget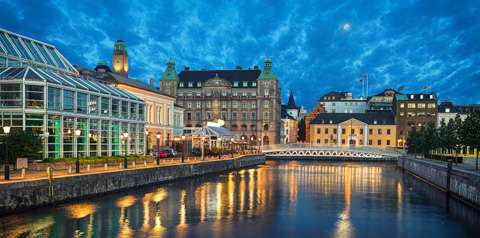 Located on the southern tip of Sweden, in the province of Skane, Malmo is Sweden's third largest city. It has a very international population with about a third of the residents being from countries other than Sweden. This diversity is evident within Malmo, which is rich in culture, interesting food, and an array of entertainment options. Historically, Malmo was an industrial city with a ship building company, Kockums being the area's largest employer. Today, however, the city is much more economicaly diverse with many eco friendly neighborhoods and plenty of suburban style housing.
Malmo has an oceanic climate and is relatively mild in temperature given its northern location. It is influenced by the Gulf Stream, which keep the temperatures warmer than you might expect. Average high temperatures during the summer months are about 20 degrees Celsius, although it is not uncommon for temperatures to reach 30 degrees Celsius. Winters are quite cold and temperatures hover around freezing. Snow can occur during the months of December through March, but the snow cover usually doesn't last long. During the summer months, the northern location means that the city has about 17 hours of daylight. Alternatively, during the winter months, daylight is limited to 7 hours a day.
Sights
The city of Malmo has plenty to see and do. In the middle of town there are three squares. Gustav Adolf's Square, the Big Square (Stortorget) and the Little Square (Lilla torg). The Big Square and the Little Square are connected by a corner and there is a pedestrian only shopping street that runs between them and Gustav Adolfs torg. The Little Square is a popular area for socializing and dining, as there are many restaurants with outdoor seating.
Other interesting highlights around town include Malmohus Castle, the Technology and Maritime Museum, the Castle Garden, Turning Torso, which is the tallest building in Scandinavia, and Davidshallstorg.
Neighborhoods
At the heart of the city are three central squares, Gustav Adolf's Square, the Big Square (Stortorget) and the Little Square (Lilla torg). These squares are popular places for eating and shopping. There are many restaurants in Little Square and there is a pedestrian only street that is lined with shopping between the squares.
Another interesting part of town is Gamla Vaster, which is between Lilla Torget and Malmohus. This is a quiet area that has many high end galleries, design shops and restaurants. It also has some old and impressive architecture. Davidshallstorg is another square where you'll find many shops and restaurants. It has a high end atmosphere. Mollevangstorget is a diverse part of town where you'll find an open air market on weekends. It is located south of the city center and has many Asian and Middle Eastern shops, restaurants, a grocery stores. There's also a great night life scene in this area.
Activities
There are several good parks that are worth exploring in Malmo. Folkets Park has some rides for younger kids and is a nice place to soak up some sun. Ribersborgsstranden is a two kilometer long sandy beach. It is a good place to sunbathe and swim during the summer months. During the winter months some people go here to ice swim, which is often followed by a visit to Kallbadhuset's sauna. If you're a golf enthusiast then there are also some good golf courses around town.
If your timing is right, there are also some great festivals that come to town, many of which are actually free. The peak season for festivals is during the summer months when the weather is at its best.
Food and Dining
There are many restaurants around Malmo that cater to people of all different budgets. Lunches are usually much more affordable than dinners because many of the restaurants offer discounts between the hours of 11 am and 3 pm on weekdays that appeal to people on their lunch breaks. It is also a general rule that restaurants that have their alcohol license usually charge more for their food than those that don't serve alcohol. Falafel is also an excellent budget food option. Malmo is sometimes referred to as "Falafelstaden" or Falafel city because of the many vendors that sell it throughout the town. They're particularly common around Bergsgatan/Mollevangstorgeet. Falafel is usually served as a wrap with lettuce, tomato, onions, gerkin and other pickles. There are several sauces you can choose from as well. Some vendors also offer kebabs, shawarma or deep fried halloumi cheese as well.
Transportation
It is possible to reach the city by either plane, train, bus, or even ferry. Connections are generally frequent, so the city is quite accessible to travelers. Once you arrive, the most fun, and easiest way to explore Malmo is on bicycle. The city has been laid out with bicyclists in mind and you will find many interconnected bicycle roads. If you're not up for cycling, you do have the option to take a bus. The local buses are green in color and referred to as Skanetrafiken. Do take note that they do not accept cash or credit card, so you must have a ticket. These can be bought at vending machines or any of the ticket offices. Alternatively, the most expensive option would be to take a taxi which will cost you anywhere from 49 to 79 SEK depending on the distance.
Related:
Traveling alone to
Moscow
,
St Petersburg
,
Stockholm
or
Riga
and need a hostel?
Looking for a
party in Copenhagen
or
Tallinn
?
Looking for
budget hostels in Scandinavia
?