Sundborn On a Budget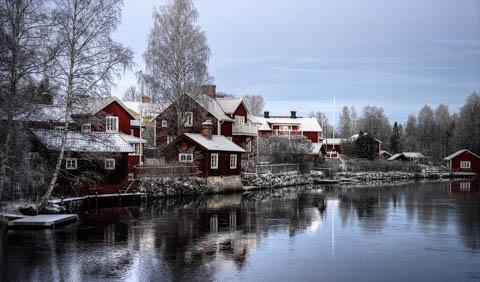 Sundborn is a locality situated in Falun Municipality, Dalarna County, Sweden. Most visitors come to the small town to see the residence of one of Sweden's most loved artists, Carl Larsson, who lived there with his wife Karin, also a well-known artist and designer.
Sights
As far as attractions in Sundborn go, it is a place known to Carl Larsson fans and those interested in Swedish design. As a painter, Larsson drew inspiration from Swedish folk art and the unique and beautiful surroundings of Sundborn. When he and his wife moved to the village, the couple took on a joint art project in the little picturesque house called Lilla Hyttnas in 1888. It became one of the world's best-known artist's residences, and is still owned by Larsson descendants who have opened the house to visitors. Today the home attracts art lovers and anyone with an interest in design and gardening. Inside and out, Lilla Hyttnas is a work of art, with textiles handmade by Karin and furniture and murals crafted by Carl. The house even became the subject of many of Carl's famous paintings, where he completed watercolors of the house itself as well as his family who inhabited the place. Carl Larsson-garden is also a part of the property, where visitors are welcome to join a guided tour of the famed home's garden.
Neighborhoods
By itself, Sundborn is a small village with just a handful of things to see and do. The nearest populated center is Falun to the southwest, a town whose growth was due to an old copper mine which was operational as early as the 11th century. Today, with the mine at last depleted, it has become a tourist attraction and UNESCO World Heritage Site, with accompanying museum. The red color of the copper was used to make a brownish red paint that has become hugely popular in Sweden, known as Falu Red Paint or Falu rodfarg. It is used to paint the traditional Falu red wooden cottage with white corners that have become so iconic to the region.
Borlange is the most populous city in the province with all the shopping, dining, and entertainment comforts of your average-sized Swedish City, while Stockholm is the nearest major city (about 3 hours southeast by road).
Activities
As mentioned earlier, the main attraction for those visiting Sundborn is that of the famous Larsson house and gardens. Here visitors have the opportunity to tour the location, browse the shops, or indulge in some Swedish cooking at the on-site restaurant and cafe. Beyond this, the village and its natural scenery is beautiful to admire. For visitors wanting the best of both worlds, there is plenty to see and do in the more populated centers located in Farlun, Borlange, and Stockholm.
Food and Dining
Throughout Sweden, the famed condiment of choice is lingonberry jam, served with anything from Swedish meatballs to pancakes, porridge, or black pudding. The lingonberry is a tiny tart fruit abundant in Sweden's forest, and is often made into the popular preserve. You may have also heard of the smorgasbord, originating in Sweden, which consists of a meal served buffet style with various options of hot and cold dishes. Some of these might include Swedish meatballs, mini sausages, cured salmon, smoked salmon, and the national favorite-pickled herring, which comes in a variety of flavors. It is often eaten with boiled potatoes, sour cream, chopped chives, sharp hard cheese, sometimes boiled eggs, and crispbread (another Swedish specialty). Crispbread has been baked in Sweden for centuries, a dry type of bread or cracker, ideal for topping with anything from sliced boiled eggs, ham, cheese, or cucumber to something as simple as butter, or of course the pickled herring. Some other popular dishes involve pea soup and pancakes, a variety of fresh seafood, open sandwiches, and sweet treats like cinnamon buns.
In Sundborn, Hyttstugan Restaurant is located right next door to Carl Larsson-garden, featuring a buffet with some of Sweden's favorites-plus coffee and a dessert buffet.
Transportation
Dala Airport (or Borlange Airport) is the nearest local airport, situated about 20 minutes from Falun, serving Stockholm, Gothenburg, Malmo and
Oslo
in
Norway
.
The nearest major city to Sundborn is Stockholm, where Stockholm-Arlanda Airport (commonly referred to as Arlanda) is the main international airport.
From here, the town nearest to Sundborn is Falun which is about 3 hours from Stockholm, most easily reached by road or train. The train station is situated a five minute walk from the city center and is served by the main train company SJ for connections to Stockholm. The local/regional connections are served by Tag i Bergslagen/Tagkompaniet. Buses also stop at the railway station, with Swebus Express having 1-2 connections a day with Stockholm and Gothenburg.
The ride between Falun and Sundborn is then about 20 minutes.
Train and Bus Prices
The best prices for buses and trains in Sweden
can be found on Omio
(formerly
GoEuro
). They let you search across all train, bus, and plane routes throughout the region.