Lulea On a Budget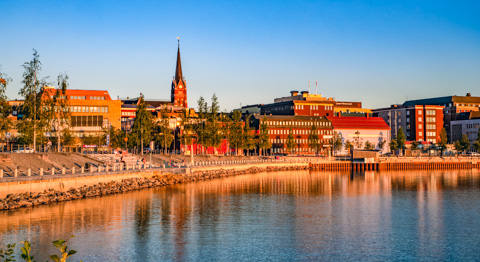 Lulea is in northern Sweden, in Norrbotten. It's a mid sized city with about 70,000 residents. It also has a technical university, the Lulea University of Technology, which was created in 1971. The city of Lulea is located at the mouth of Lule River on the Gulf of Bothnia. The city's economy is focused on research, education, trade and services. The university's educational programs appeal to new businesses that range from local companies to multinational corporations. There is also a prominant IT sector in the city.
The climate in Lulea is subarctic, which shares some characteristics with a continental climate. There are short and mild summers and cold and snowy winters. Average highs reach 20 degrees Celsius during the warmest month of July and -10 degrees Celsius in the coldest month of February.
Sights
One of the main highlights of a trip to Lulea is to visit the Lulea archipelago. You can see this area on a tour bus during the summer months when the weather is most ideal. Do make sure you stop off at Klubbviken, which is on the island of Sandon. Here you'll find a good beach and a pleasant area to stretch your legs.
Also make sure you allow yourself time to explore Gammelstad, which is an old church village. The town is one of the best preserved examples of what was once a commonly found Scandinavian style of town. You'll find it about 10 kilometers upstream along the Lule River. The town's church dates back to 1492 and the area has national significance to the Swedes. The town itself is declared a UNESCO World Heritage Site. The are many wood houses which were used on Sundays or during religious festivals for worshippers who traveled from the surrounding countryside and could not make the trip home in the same day.
Neighborhoods
Lulea is a relatively small place to explore. Other nearby places to visit include the historic town of Gammelstad and the Island of Sandon.
Activities
There are some great clubs and bars around town including Club Cleo and STUK, both of which are quite popular as late night dance clubs. You'll find Club Cleo in the city center by the Quality Hotel, and STUK is on the university's campus, which can be reached by either bus 4, 5 or 8. You do need a student ID or a guest ticket to get into STUK. LTU students will sell you their guest tickets. If you're a guest at the Quality Hotel, you are able to get into Cleo for free until midnight. Alternatively, Grace Nightclub and Bar is a great option during the summer months and has an entrance fee of 80 kronor. You'll find it behind the Elite Stadshotellet.
Food and Dining
There are a handful of good, budget food options. Many affordable restaurants cater to students and serve cheap but decent food. The Bishops Arms is a British Pub with relatively good food, friendly bartenders, and a good selection of beers. You'll find the pub connected to the Elite Hotel. The Corner Bar is a sports bar with good food. They have some of the best pizza you'll find in the city center but be prepared because they do get crowded during hockey games when the local team plays.
There are some good clubs and bars around town as well. Some are limited to those with student ids and their guests, particularly those on campus or near Lulea University of Technology.
Transportation
Lulea does have an airport with frequent flights, so flying is the easiest, although most expensive way to reach the city. The city is also at the easternmost edge of the Swedish Rail System, and is easiest to reach by train if you are traveling from southern Sweden.
Once you arrive in town, then buses are really the best, and cheapest, way to travel around the city. You can expect to pay about 25 SEK for each individual trip, and if you're going to take more than four rides, it's worth it to purchase a three day tourist pass at the local tourist office. These passes give you unlimited rides for 100 SEK. There are night buses that travel on weekends between the hours of midnight and 3:00 am. These buses leave every hour from most of the local traffic bus stations and do cost more than the regular buses.
Related:
Traveling alone to
Moscow
,
St Petersburg
,
Stockholm
or
Riga
and need a hostel?
Looking for a
party in Copenhagen
or
Tallinn
?
Looking for
budget hostels in Scandinavia
?