Gothenburg On a Budget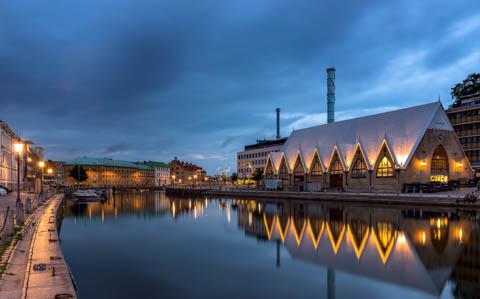 Gothenburg is the second largest city in Sweden with a population of about 500,000. It is located on the western coast at the edge of the Gota River. It's a very friendly and welcoming city with a great vibe. Part of its energy comes from the Gothenburg University, which, with over 60,000 students, is the largest university in the country. Historically, Gothenburg has working class roots which are still apparent today, particularly in the city's harbour area. Recently there has been a growing number of expensive restaurants and cafes, showing that the demographic continues to evolve.
The climate in Gothenburg is oceanic and the temperatures are relatively mild given the city's northern location. It is effected by the Gulf Stream, which keeps the temperatures moderate throughout the year. Summers have average highs of about 20 degrees Celsius and winters are cold and windy with temperatures hovering around freezing. Snow is common between the months of December and March and can sometimes occur during either November or April or even as early as October or as late as May. During the summer there are about 18 hours of sunlight and only 6 and half hours of sunlight during the shortest days in December.
Sights
Gothenburg is a city with many beautiful parks and gardens. The Botanical Gardens (or Botaniska Tradgarden), built in 1924, is one of the country's best, containing a rock garden, arboretum, and green houses, as well as a restaurant and cafe. It is located near Slottsskogen, a large English garden and popular spot for daytime activity and picnics. Some features within the park include the Museum of Natural History, an observatory, a mini golf course, and a children's zoo. The Horticultural Gardens (or Tradgardsforeningen), located in the city center, is also well-visited with a beautiful collection of roses.
As far as history goes, Skansen Kronan is a hilltop fortification, located southwest of the city center that built in the 17th century. It has been used as a prison, military museum, and today houses a restaurant and conference facility. Other architectural sights in the city include Gothenburg Cathedral, Christinae Church, Crown House (built in 1643-55, and once home to the Swedish Parliament), and the Oscar Fredrik Church.
Gothenburg's museums are another way to experience the local history, art, and culture. Some of the most popular include the Aeroseum (an aircraft museum in a former military underground Air Force base), the Volvo Museum, the Universeum (a public science center featuring an indoor rainforest habitat), and the Gothenburg Fine Art Museum (or Goteborgs Konstmuseum). The Museum of World Culture, the Maritime Museum, the Maritiman (world's largest floating museum of ships), and the Gothenburg Natural History Museum are also well-visited.
Neighborhoods
Boroughs in Gothenburg include Norra Hisingen, Angered, Ostra Goteborg, Vastra Hisingen, Lundby, Majorna-Linne, Centrum, Orgryte-Harlanda, Vastra Goteborg, and Askim-Frolunda-Hogsbo.
Kungsportsavenyn, better known as the Avenyn, is Gothenburg's main boulevard. Stretching from the bridge Kungsportsbron by the canal to the Gotaplatsen public square and heart of the city, the beautifully landscaped avenue is lined with plenty of opportunities for dining, shopping, and entertainment. Another interesting neighborhood to visit is Haga, a city district with picturesque wooden houses from the 19th century. The more bohemian Langgatan streets (Forsta, Andra, Tredje and Fjarde Langgatan) located near Haga are also fun to explore. The street is renowned for its many restaurants, bars, galleries and record shops. Fairly unknown to tourists, this neighborhood usually attracts creative types looking for a more authentic experience away from the commercial bustle.
Activities
Activities around town include visiting, Liseberg, which is the largest amusement park in Scandinavia, taking a Paddan tourist boat on the city canals, going canoeing on Lake Delsjon, going out on a sailing yacht, visiting the Coteborg Opera House, or enjoying the view from Guldhedstornet, which is the highest point and the highest cafe in the city.
Food and Dining
The main restaurant street in town is Linnegatan. The main stretch of restaurants are between Jarntorget and Linneplatsen. Here you'll find plenty of different options that cater to those seeking both budget and more moderately priced dining options. You will find the best deals at lunch time, which is between 11:30 and 14:00. Popular budget options include pizza, Indian, Japanese, and a handful of very good vegetarian restaurants. There are also some good falafel stands around town.
As mentioned before, the Avenyn (Kungsportsavenyn) is also lined with plenty of restaurants for all tastes and budgets. Being a major city, Gothenburg has options catering to those with international tastes as well as visitors looking to sample the local flavors. Some Swedish specialties to try while visiting include inlagt sill (or pickled herring, once a staple for fishing communities on the inlets and archipelagoes of western Sweden), Snaps (a local alcoholic beverage that compliments the herring), oysters (and other seafood, always fresh!), the Christmas Table or Julbord (a buffet with traditional items like herring, smoked salmon, cured meats, and stuffed eggs), coffee and cinnamon buns, and chocolate with sea salt.
Transportation
Public transportation in Gothenburg is operated by Vasttrafik and includes trams, buses and ferries. It can be slow and frustrating a lot of the time. To travel across the city, it can take up to an hour to cover the 10 kilometer distance. If you're traveling within the central area, however, the public transport can be more efficient. Make sure you travel with a map as there are few maps at the tram stops. The city has the largest light rail network in Scandinavia, which includes 12 tram lines, most of which stop at the main tram stop, Brunnsparken. This is very close to the train station, Centralstationen. The trams run approximately every 10 minutes during the day and twice an hour at night. If you're planning to go farther outside of the city center, then buses are probably your best option. There are a few express bus lines that go to the far edges of town and even to nearby towns. Alternatively, taxis are quite efficient although much more expensive. They are relatively easy to catch, clean, comfortable and safe.
Related:
Traveling alone to
Moscow
,
St Petersburg
,
Stockholm
or
Riga
and need a hostel?
Looking for a
party in Copenhagen
or
Tallinn
?
Looking for
budget hostels in Scandinavia
?