Grindelwald On a Budget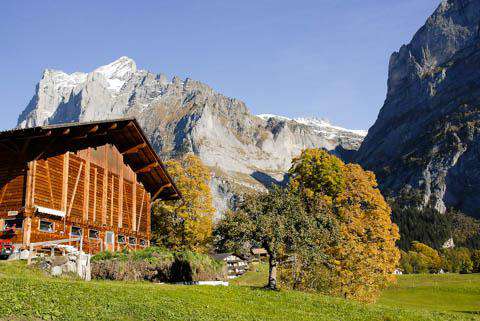 Grindelwald, Switzerland is a glacier village located in the picturesque Jungfrau Region of the Swiss Alps. The Jungfrau Region encompasses many small villages and was chosen as the first Alpine UNESCO World Heritage Site in 2001. This Alpine paradise has been a popular destination since the 17th century, due to its natural beauty and fantastic hiking and skiing trails.
The weather in Grindelwald stays cool all year round, with summer staying around 30 degrees Fahrenheit and winter averaging 10 degrees Fahrenheit. No matter the weather, there's plenty to do both outside and in.
Sights
Grindelwald is a sight to behold, surrounded by the Eiger, Monch and Jungfrau mountains, there are dozens of hiking and skiing trails to explore. In the summer, head to Gletscherschlucht, a glacial gorge with walking paths and waterfalls to cool you off. Then, take a relaxing hike over to Bachalpsee Lake via a trail that's suitable for any age and experience level.
In the winter, take the cable car to Grindelwald First, a summit on Schwarzhorn, that will provide you with incredible views of the Alps and take you to some of the best skiing trails in the area. Take a mountain tour up to Jungfraujoch, known as the Top of Europe, where you'll find an observation terrace and their world renowned Ice Palace.
Neighborhoods
Being a small village, the main road, Dorfstrasse, is where you'll find the tourism office and the majority of shops, restaurants, and hotels. Travel just outside of the city center to find more remote restaurants with incredible views.
The Jungfrau Region has many small villages, each boasting beautiful views and unique experiences. You can head to Mürren for the James Bond 007 experience, complete with the Bond World 007 exhibit and the 007 Walk of Fame. You'll also find their famous revolving restaurant that gives you full views of the region. Or, head over to the Isenfluh mountain village for a nostalgic cable car ride to the Sulwald hamlet.
Activities
Whether you're an outdoor enthusiast or just enjoy the views, there's something for everyone to do. During the summer, you can take a day tour around the mountains, take a canoe ride, or take a relaxing train ride through the mountains to enjoy the sights. In the winter, there are ski trails for every education level with many companies there offering ski and snowboarding lessons. If you're feeling more adventurous, you can take up paragliding or even go bungee jumping!
At the height of the winter season, in January, the Jungfrau Region hosts the International Lauberhorn Races, Ski World Cup which is the longest World Cup downhill race in the world and brings in tens of thousands of onlookers. In August, there's the Mendelssohn Music Week located in the nearby village of Wengen, where you can listen to a classical sound while taking in the natural beauty at the foot of Jungfrau.
Food and Dining
The Swiss are known for their cheese and chocolate, so make sure to stop by Läderach chocolatier for mouth watering and inventive chocolates. Then, head over to Barry's, a restaurant full of character and amazing fondue. If you're looking for something lighter, Cafe 3692 provides the perfect cozy atmosphere to enjoy a hot cup of tea and delicious cakes.
When you've had your fill of fondue and chocolate, check out Grindelwald's more international selections like Golden India and Jasmine Garden. Then, head to Avocado Bar, a popular spot thanks to their great drinks and gorgeous patio that overlooks Mount Eiger.
Transportation
You can get to Grindelwald via car or train from the
Interlaken
station. There are two train stations: Grindelwald and Grund, with Grindelwald in the heart of the village and Grund on the valley floor.
Getting around Grindelwald is fairly easy thanks to their local bus service. There are also gondola lifts and cable cars that will take you to Männlichen, First, and Pfingstegg. If you plan on traveling between different villages, look into the Berner Oberland Regional Pass. The pass allows you unlimited access to regional trains and cable cars for 4 to 10 consecutive days. Passes can be purchased at train stations, major airports, and some tourist offices.
Related:
Are you a student or backpacker headed to
Switzerland
or
Austria
?
Need a hostel in
Zurich
or
Vienna
?