Zermatt On a Budget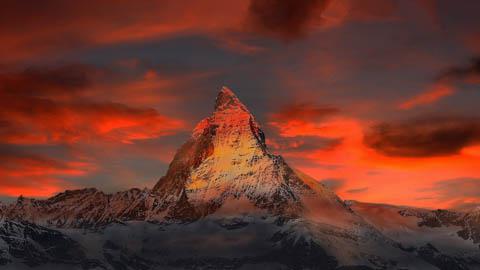 Located at the foot of the Matterhorn, Zermatt is a Swiss village best known for its skiing, climbing, and hiking opportunities. It has become a popular mountain resort town due to its location and also features a number of boutique shops, hotels, and restaurants that cater to the vacationers who come to enjoy the many winter activities of the Alps.
Sights
The Matterhorn of course steals the spotlight, its snow-covered peak towering above the little village. One of the tallest mountains in the Alps, it straddles the border of Italy and Switzerland and can be visited from either side. On the Swiss side, Zermatt is the main access point. Experienced mountaineers are permitted to climb to its peak for a fee of about 1200 CHF with a guide provided from Zermatt.
Monte Rosa and Breithorn are two other well-known peaks to climb. Breithorn is probably the easiest. Using the lifts "Furri" (1700 m), "Trockener Steg" (2800 m), and "kleines Matterhorn" (3883 m) you can reach the top of the little Matterhorn. From here there is a walking trail that leads to the top of Breithorn in approximately two hours.
Other highlights include a railway called the Gornergrat which climbs the mountain for a spectacular panorama, as well as the Matterhorn Museum which features equipment from the first climbing expedition. Matterhorn Glacier Paradise is the highest place in Europe and can be reached by cable car, while Gorner Gorge features a footpath across narrow bridges and steps as well as a fixed rope route guide visitors through the gorge.
Neighborhoods
The village of Zermatt, though densely fashioned, is geographically very small. There are three main streets which run along the banks of the river Vispa, and a number of cross-streets, especially around the station and the church which form the center of the village. Just about anywhere in the village is within a twenty minute walk. The main street is called Bahnhofstrasse and is lined with boutique shops, hotels, and restaurants, and also has a lively ski-related scene. The shops are mostly upscale luxury brands selling goods from outdoor equipment to Swiss watches, jewelry, and chocolate. While shopping and dining are the main activities in town, there are also public outdoor rinks for ice-skating and curling.
Activities
other than skiing and snowboarding, winter sports like curling and ice skating are popular in Zermatt. The ski area of Zermatt reaches from the Rothorn over Gornergrad and the Theodulpass to the Italian villages of Breuil-Cervinia and Valtourneche. The village also has a number of ski schools with multi-lingual instructors and mountain guides for those seeking a chaperone for their winter sports. The best known of these schools is Zermatt Ski School - European Snowsport.
In warmer months, cycling through town is also common, as is mountain biking on the surrounding slopes. Most of the ski lifts allow visitors to carry on mountain bikes, though usually for an extra fee.
As many of Zermatt's hotels are on the pricier end of things, camping is also common for visitors looking to enjoy Switzerland's great outdoors. There is a camping area open in Zermatt during the summer months, as well as one in Tasch.
Food and Dining
While Zermatt is known for its skiing, it is also known for its high-standard cuisine. The Swiss resort town has one of the highest concentrations of gourmet restaurants than any other. With just about 100 restaurants (and over 50 in the mountains), the choices are endless. You might wish to dine at one of the elegant hotels with mountain views, or cozy up to a fireplace in one of the village restaurants. Zermatt has plenty of options for sampling authentic Alpine food. Any place is sure to have a selection of dishes featuring local meats and cheeses as well as wines—all amidst gorgeous mountain views.
Transportation
Zermatt Car Rental Prices
Compare prices across all major rental companies:
When traveling to Zermatt, most tourists fly into
Geneva
,
Zurich
, or
Milan
Malpensa airports. Though Sion is the nearest airport, the flight schedule is very limited and so most visitors choose one of the other options. From the airports, Zermatt can be reached by hired car or by train.
Trains are probably the best way to reach the village, which run approximately every hour to Visp and then on to Brig. From Visp you can connect to the main Swiss Rail system with trains to Geneva (airport), Zurich (airport), and Basel. For more details on the schedule, see the
Swiss Rail website
.
Private cars can only drive as far as Tasch, and are not allowed in the village of Zermatt. The last 7 kilometers must be traveled by train or by taxi.
Related:
Are you a student or backpacker headed to
Switzerland
or
Austria
?
Need a hostel in
Zurich
or
Vienna
?
Train and Bus Prices
The best prices for buses and trains in Switzerland
can be found on Omio
(formerly
GoEuro
). They let you search across all train, bus, and plane routes throughout Europe.