Interlaken On a Budget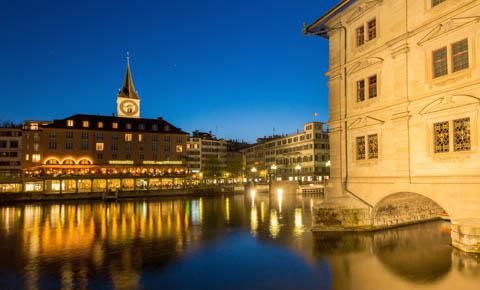 Interlaken is a small city that is located in the Bernese Highlands Region of central Switzerland. It sits pleasantly between two Alpine Lakes, Brienzersee and Thunersee. This scenic setting and its easy accessibility make it a popular base camp for travel into the Bernese Oberland Alps. It has become a top tourist destination in Switzerland and it is also a hub for outdoor sports enthusiasts with plenty of hiking, skiing, paragliding, and other activities in the region.. Interlaken is a great hoping off point to explore many of the nearby mountains, lakes, and valleys, too. It offers easy transportation to most major Swiss cities by train or car.
Sights
Most people head out of Interlaken to see the surrounding areas, but there are several interesting places to explore in the city itself as well. The Hoheweg is the main shopping street in town and it runs between Interlaken West and Interlaken Ost Railway stations. You'll likely find yourself on the street frequently. It has a good number of souvenir shops and a view of the famous Jungfrau mountain. Also wander into the "Japanese Garden" which is a 150 year old Victorian Jungfrau Grand Hotel. Make sure you head out to Jungfrau-Aletsch-Bietschhorn which is a UNESCO World Heritage Site above Interlaken in the Bernese Alps. Unterseen is also worth visiting. It's a small town near the Interlaken West station. It has some nice shops and bakeries and is pleasant to walk around. For even more ideas, check out this terrific article
about things to do in Interlaken, Switzerland
which covers a variety of both indoor and outdoor activities.
Neighborhoods
Interlaken is located between two large lakes and is near many popular mountain resorts, many of which are connected by cable car or funicular railways. The town center has the highest concentration of shopping. The main shopping area is along the street of Hoheweg.
Activities
Popular activities in Interlaken include shopping, biking, hiking and adventure sports.
This city is also a great place to use a base on a
winter ski trip in Switzerland
because it's fairly central and has good connections to nearby mountain regions. As you're in the heart of the Alps, snow skiing and snowboarding are quite popular!
It's also fun to take a trip on the mountain railways. Jungfraujoch is the most well known and popular (
ticket prices here
). Another great option is the
Brienzer Rothorn train ride
, which provides some very scenic views from an old steam train.
Food and Dining
Many traditional Swiss dishes are available in Interlaken. There are some touristy restaurants that have reliable and good food, and there are some hidden gems if you're willing to seek out places that are more off the beaten path. One popular favorite for tourists is Bebbis Restaurant. They serve traditional food including fondue and raclette. It's located conveniently near the Interlaken West train station. Another popular favorite among out-of-towners and locals alike is Grand Cafe Restaurant Schuh, which is one of the oldest restaurants in the city. It has a chocolate show and a great view of the city, making it a favorite for tourists. You can choose between three types of fondue as well as raclette.
International food is also readily available in Interlaken. Kang Chon Central, near Interlaken West station, has Korean food that is reasonably priced. My Little Thai is decent Thai food for those on a budget. Dinner reservations are recommended. El Azteca is a Mexican restaurant that is located in the Hotel Blume. It is good and authentic but can be expensive, particularly for those who are used to Mexican food prices in the United States.
If you're on a particularly tight budget, there are plenty of supermarkets where you can buy supplies and prepare your own meals. Coop Supermarket has the makings for sandwiches and is affordable and convenient. ALDI is a German supermarket chain that is cheap and perhaps your best option if you're looking to save money on food. They have the supplies to make good sandwiches, a microwave oven you can use, and entrees that are ready made. They are inconveniently located though, outside of the town center.
Transportation
Most people choose to walk or bike around Interlaken. It is a small city and most of the points of interest are accessible on foot. Taxis are also available and can usually be found at either the train station or at larger hotels.
There are two railway stations in Interlaken. These are Interlaken Ost and Interlaken West. They are both served by the BLS AG's Thunerseee line that connects Spiez, Thun, Bern and other cities throughout Switzerland. The ost station is also where you will find the Berner Oberland railway. This is the first step for many routes into the Jungfrau region, including Europe's highest station at the Jungfraujoch.
Boat service is available for those traveling across Lake Brienze to Brienz, as well as across Lake Thun to Spiez and Thun. These boats are run by BLS AG. You can catch the boats on Lake Thun at a quay that is next to the West station. The boats on Lake Brienz can be caught at a quay on the Aar river near Ost station.
There are two funicular railways that take visitors up to enjoy view of the surrounding area. These are the Harderbahn and the Heimwehfluhbahn.
Additionally, there are
local and regional buses
that are run by PostBus Switzerland. The regional bus service to Thun is run by Verkehrsbetriebe STI.
Related
Are you a student or backpacker headed to
Switzerland
or
Austria
?
Need a hostel in
Zurich
or
Vienna
?