While traveling on such an adventure, you'll be gone for a long time and moving around frequently. An obvious question presents itself:
How do you pack for a trip around the world?
The answer: As lightly and minimally as possible! Don't overpack. Leave your rolling suitcase at home, and pretty much everything else you own. You don't want to be burdened by belongings. After all, the trip is about the experiences, not the stuff.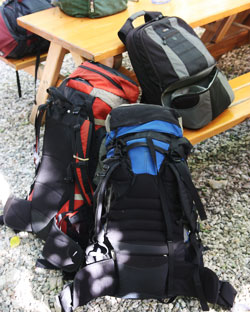 You want a backpack. This will allow your hands to be free and provide better mobility. Most long term travelers use a large camping-style backpack along with a smaller daypack. Mount the large pack on your back and put the smaller one on your front side. If you can get away without the smaller front pack, even better, but this will require some serious packing skills.
Don't overpack!
We've listed our recommended packing list below. This list is based on the hard lessons we learned from our trip (11 months, 23 countries, multiple climate zones). Don't overlook anything on this list, but at the same time, if we didn't put it on this list, we didn't need it. Don't overpack.
You may not need everything. Some of the items on this list will depend on several factors:
The climate you are visiting. you may need winter gear which is bigger and heavier
The amount of camping and wilderness activities you will be participating in. You might need water filters and mosquito nets depending on your destinations.
Keep these very important factors in mind while packing:
You can do laundry anywhere. Services for travelers are available everywhere.
You can buy stuff when you get there. If you think you will need more of something (such as shampoo), plan to buy it, don't pack it all at the beginning.
You can throw stuff away, give it away, or even ship it home if you don't need it.
The links for some of the items will help you get a better understanding of some of the equipment we're describing. (Disclaimer, we get a small commission if you click and buy something, and the revenue helps to support this website.)
Feel free to print this list and use the checkboxes as you acquire your stuff. (All quantities are per person.)


Backpacks
1
Large Backpack (40-80 liters)
1
Small Backpack ("Daypack") - Ideally it can hold a laptop and camera
2
Pack Raincovers
Clothes
6-8
Shirts, athletic nylon quick-drying material
1
Shorts
1
Jeans
1
Pants with zip-off legs ("convertable"), nylon quick-drying material
10
Underwear
12
Socks
1
Belt
Coats/Jackets
1
Rain Coat, packable
1
Fleece Jacket/Pullover
1
Winter Coat
Shoes
1
Cheap sandals for showers and the beach
1
Hiking/All Terrain Shoes (not hiking boots)
1
Running Shoes/Sneakers/Trainers
Toiletries
1
Shampoo/Conditioner (small bottles)
3-5
Hand Sanitizer (small bottles)
1
Deodorant
1
Brush/Comb
1
Razor (with a good number of refill blades)
1
Tweezers
1
Fingernail clippers
1
Hair bands (for long hair)
Medicine/First Aid
1
Sunscreen
1
Advil, Ibuprofen, Asprin, Tylanol
1
Cippro (prescription antibiotic)
1
Anti-Malarial, depending on your destinations
1
First Aid Kit (very small, or toss the box and keep the contents)
Survival Gear
1
Pocket Knife, for peeling food and opening cans
1
Mosquito Net
1
Sleeping Bag Liner (to use as a sheet)
30
Zip Lock Bags
1
Flashlight
1
Spork
1
Water Filter (Steripen), if you plan to go hiking or trekking
1
Water Bottle
1
Watch or small alarm clock
1
Batteries for flashlight, steripen
Essentials
1
Passport
4
Passport photocopies
1
Money Belt (read this guide)
Camera Equipment (Depending on your interest)
1
Digital SLR Camera
2
Lenses
4
Memory Cards
1
Portable Hard Drive
1
Tabletop tripod (small)
1
Laptop
1
Camera/Laptop Backpack (in place of Daypack)
Of course, all of this is just a suggestion, and individual packing lists may vary. We always recommend that everyone not overpack, so here are some great tips for packing light. If you're planning a trip to Southeast Asia, check out this packing list for the region. And keep in mind that the actual backpack you choose is important, too. Check out these backpacks for Europe, for example.