Contents
What is travel insurance?
Sometimes people get confused about the term "Travel Insurance". Some travelers and insurance companies describe Travel Insurance as medical insurance while you travel, while others simply describe it as insurance for cancelled flights and missing luggage. No matter what name you give it, you will want all of these things.
From missed flights to lost luggage, to stolen belongings to injuries or sickness while on your trip, "Travel Insurance" can cover all of these things depending on which policy you purchase. Not all policies are created equal, and many different things can be covered depending on which you purchase.
The good news is that Travel Insurance doesn't have to be expensive. (More on that below.)
What is travel medical insurance?
Technically speaking, and for the sake of clarity, Health Insurance is for medical needs, while "Travel Insurance" is a vague term that usually describes other travel problems such as canceled flights and lost luggage. Sometimes companies use the term "Travel Insurance" as an umbrella phrase describing both international health insurance (often called "travel medical insurance") plus insurance that covers other travel mishaps such as flight cancellations.
Health insurance in the U.S. and other countries has been a hot topic lately. Make sure you check your current health insurance plan to find out what it covers when you leave your home country. Many domestic plans do not cover medical needs while abroad, while others have extreme limitations. You will likely need to purchase extra insurance, especially if your trip will be long-term. You might be able to purchase international health insurance through your existing insurance company, but it will probably be much less expensive if you obtain insurance from another company that specifically sells international health insurance. In addition to providing health insurance, many of these companies also throw in extra coverage for canceled flights, missing luggage, and other non-medical mishaps such as theft (thus, the phrase "Travel Insurance").
If you are American, it is important for you to have continuing medical coverage within the U.S., even if you will not be at home. Having a gap in your U.S. health insurance means that you could be denied coverage later in life, especially if you already have, or develop, a "pre-existing condition". Laws to prevent being denied for such a "pre-existing condition gap" have recently been passed, but various groups within the U.S. Government have continuously threatened and attempted to repeal such laws. When it comes to insurance, it's better to be safe than sorry!
If you live in a country that has government provided healthcare (Canada, U.K., Australia, and others), make sure you investigate what your options are when traveling abroad. You may also need to purchase extra insurance because your travel destination(s) may affect whether or not you are covered. If you are traveling to the United States, your home country's insurance is most likely worthless and you will need to purchase additional special insurance. Consider this cost when adding the U.S. to your list of destinations.
Speaking of pre-existing conditions, some travelers worry that they might not be covered for travel medical insurance because of their current healthcare needs. Fear not, many of these major travel insurance policies include a waiver for pre-existing conditions in some of their policies as long as it is disclosed beforehand.
Why should you buy travel insurance?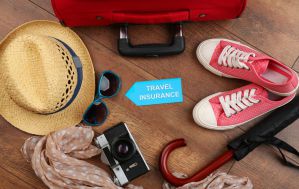 If you've traveled enough, you've probably heard about that "one guy" that had to be evacuated because of a freak accident. While freak accidents are rare, getting sick or injured happens to travelers all the time.
The two biggest risks when traveling abroad are car accidents and food-borne illness. Either of these situations can land you in a hospital while in a foreign country. At this point, not only will you need medical care, but you'll also need to pay those medical bills and perhaps even find a way to get home in a hurry. This is where travel insurance and international medical insurance comes in handy.
If you're traveling for a long period of time, or taking trips to adventurous and exciting destinations, then consider the risks, both medically and financially, if something goes wrong.
Other situations that often arise, which are usually covered by travel insurance, include
Missing a flight or cancelling a trip due to illness, a work emergency, or servere weather
Lost or stolen luggage
Accidental death and dismemberment
Having to return home unexpectedly due to a death in the family
Finding yourself in a tough situation without some form of travel insurance can be a disaster for your travel plans, not to mention cost a great deal of money to get out of.
How much does travel insurance cost?
The costs of travel insurance can actually be quite affordable.
(You can see a comparison of travel insurance costs here at Aardy, which lists various policies.)
However, there is no set, specific cost. Costs depend on a number of factors, such as the length of your trip and where you are traveling. If you are purchasing a policy for medical coverage, costs can also depend on your age, sex, previous medical history, and so on.
Obtaining multiple quotes is very easy and necessary to finding out the price for your specific needs and travel plans.
For most companies, getting a quote is extremely fast. Simply fill out a short online form with some basic information (age, trip dates, etc.). Then you will be presented with a few price options for the various policies that a company offers.
However, it can sometimes be difficult to understand what is covered and what is not covered. Always read the fine print! For example, coverage may include "trip cancellation," but it might not be included for all of your desired reasons. If you get sick it might be covered, but if you have a work emergency, it might not be. Often, upgrading to a more expensive plan will let you get coverage for a cancellation for many more reasons, or no matter what the reason.
Example prices for travel insurance
For the following example prices, we obtained quotes from various travel insurance companies. The prices depend on the length of trip, travelers' ages, and in some cases the overall cost of the trip and destinations of the trip.
(If you want to compare specific prices yourself for your next trip, check out Aardy here which provides comparisons.)
Prices were as follows:
Example A: A 40 year-old traveling for one week on a $2500 trip to China: $75 to $125 was the low range, while some policies went as high as $450 to cover pretty much anything.
Example B: A 25 year-old for one year on a $12,000 trip: $600 was the low range, while the higher end costs were from $1000 to $1500.
Example C: A 30 year-old for 3 months on a $7500 trip: $250 was the lowest price, with several other policies costing up to $500, and the highest price being around $1000.
A comparison of travel insurance policies for budget travellers and backpackers
Below we have outlined the offerings and products of several different travel insurance companies. These companies are all very reputable and quite well known in the travel industry.
We have listed some details each policy, as well as what type of benefits and coverage a traveler can expect.
While insurance coverage and costs depend on the company and policy that you choose, the plans offered by these companies will all offer some variation of the following coverage:
Medical

Medical coverage
Medical evacuation
Dental injury
Adventure sports and "hazardous" activities coverage

Travel

Travel evacuation (political unrest, natural disaster)
Trip cancellation due to sickness, work schedules, job loss, death in the family,
Trip interruption/delay due to cancelled flights, weather, sickness, etc.
Missed connections for flights or cruises
Baggage loss, damage, and delay
Rental car coverage
Accidental death and dismemberment
Aardy, for Comparisons
While Aardy is not a travel insurance provider itself, they have a great service which lets you compare various policies for your next trip. You'll be able to see the costs and benefitis of each policy from different companies before you buy. This way, you can pick out the right plan for you, as everyone's needs are different depending on your age, trip length, and overall destination.
World Nomads
World Nomads is one of the most popular travel insurance companies for backpackers and budget travelers. This is due to several factors: the low price, the coverage of adventure sports, and the ability to add to and change your coverage while you're on the road. On top of all that, their coverage is terrific, especially considering their low prices (backed by large national insurance companies). It is easily competitive and comparable to the policies and benefits of more expensive companies and their policies. They have a worldwide 24/7 call center for emergencies.
We've used World Nomads ourselves, and we highly recommend it! And so do many other travelers.
Prices for World Nomads Travel Insurance tend to be on the lower side for shorter trips, and moderately priced for longer trips. The value is great, though, considering what you get for your money. Getting a quote is quick and easy.


Travelex
Travelex Insurance Services is part of the larger Travelex Group. Like many other travel insurance companies, they offer a variety of plans at different prices so that any type of traveler can find affordable coverage. Children are included for free when traveling with an adult in their family-friendly plans.
The costs for the travel insurance policies from Travelex can vary because they offer many different packages. If you're after a budget-friendly and low cost policy, then you'll easliy find one. And their coverage is very good even at these low prices for most of their plans, too.
This article is part of our Travel Planning Guide.