The Best Places to Stay on Beech Mountain: Cabins, Resort Condos & AirBnBs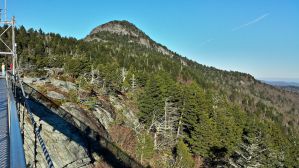 In Western North Carolina, not far from Boone, is
Beech Mountain
, one of the best ski resort areas in the southeastern United States. The high elevations in the Blue Ridge mountains provide ample snow for ski season, as well as some amazing activities in the warmer months such as hiking, rafting, or experiencing the new alpine downhill coaster. This resort town has plenty of amenities, including restaurants, bars, grocery stores, shops, and more. The nearby town of
Banner Elk
is close, too, which provides even more restaurants and shops to explore.
If you're planning to spend some time here, Beech Mountain offers plenty of places to stay for groups of all sizes. So whether you're just a couple looking for a romantic getaway, a larger group of friends on a ski trip, or a family having a fun vacation in the mountains, Beech Mountain offers a vacation rental option for everyone. We've assembled some of the best places to stay on AirBnB for you to find the perfect place for your next trip.
A number of condo buildings as well as individual cabins and houses are available. Many of the condo complexes, such as the Pinnacle Inn Resort offer indoor pools, game rooms, exercise equipment, and more. And they are often quite affordable and include a kitchen. But don't worry, many of the larger houses offer plenty of great amenities, too! Check them out below.
What are the best AirBnBs at Beech Mountain?
Contents: Overlook Nook | Tepuy Studio | Slope-Side Lodge | Bear Feet Retreat | 5200 Luxury House | Chalet with a View (3BR) | 2BR Bungalow
This affordable and renovated studio at the Pinnacle Inn Resort is just a few minutes away from the ski slopes. It has a cute bed nook in one corner with room for 2, and another 2 guests can sleep on the pull-out sofa. With a kitchen, fireplace, and a balcony, you'll have everything you need to enjoy the views, relax, and have a great time. This is perfect for a couple, a small family, or a group of friends looking for a getaway.
The complex also has an indoor pool, a pool table, and is very close to shops, restaurants, bars, and more.
This is another studio apartment at the Pinnacle Inn Resort. Like the one mentioned before, it has also been renovated, but in a different (and well-done) style. The new kitchen, fireplace, seating area, and balcony provide all of the comforts you need for a great trip to the slopes (or for hiking in the summer). The resort offers an indoor pool and other great amenities, too. And it's close to everything. Check out the photos!
This luxurious cabin has been recently renovated, and is great for a family or a group of friends. The list of features and amenities to this house is quite long. The photos will show you the views from the huge windows. The large balconies (yes, two of them) have even more views and a hot tub! But it's not all about the views, as the comfortable house has everything you need and more. The modern kitchen and bathrooms are renovated, new, and modern. The living room with its large fireplace is the center of relaxation in the house. But if you want more space, just head to the upstairs loft lounge area with yet another TV as well as a foosball table. Two of the three bedrooms have king beds, and the third has 4 bunk beds which is great for a family (or several) with kids. More space can be found in the form of a sunroom, a mudroom with boot and ski storage, and plenty of outdoor seating.
The location is also perfect, as you have your own steps down onto the ski slopes and lodge at Beech Mountain! While this house is a little more expensive than some of the others in the area, it's absolutely worth the price with its fantastic location and luxury.
Here's a well-appointed 2-bedroom condo very close to the ski slopes. The recent renovation has provided more luxurious touches, such as a very nice kitchen and bathrooms. The comfortable living room and fireplace opens up onto a great balcony. The bedrooms are comfortable and provide plenty of space for a family, a couple, or a small group of friends. As it's close to everything in town and the ski resort, you really can't go wrong. The price is right, too.
This large and luxury home is well positioned on a hill to take advantage of the views from its 3 levels, all of which have balconies and large windows. This is truly a luxury home, as it has a very long list of amazing amenities. Starting with the large gourmet kitchen and huge living room and dining area with a stone fireplace, you can then move into the game room with a pool table and a foosball table. If you get tired of that, head out to the sun room with an indoor BBQ where you'll find more great views of the surrounding mountains. Another living room with a fireplace can be found downstairs. From this room you can follow the bear statues into the "cave room" where you will find a poker table and a sauna. All of the three bedrooms have large beds, great views, TVs, and modern bathrooms. One of the bathrooms has a tub surrounded by windows for more of those perfect views.
Finally, the location is great, as it's centrally located near the slopes and everything in the resort area.
Perfect for a family or group of friends, this beautiful chalet-style house has a spacious living room area with large windows to let in plenty of natural light and provides for some great mountain views. It's a well designed, 3-level home with balconies on two of the levels. The upper level is a loft with a sleeping area. The middle level has the large living room and kitchen space which is very well appointed. The other two bedrooms are on the lower level with their own balconies, too.
The location is great, too. It's not far from the ski slopes and everything else in the village. Dining and shopping is just a few minutes away.
Situated on the slopes, you can just roll out of bed and you're in the heart of everything at Beech Mountain in this 2-bedroom house with a cozy atmosphere. The inside feels like a mountain cabin with rustic yet modern decor. The stone fireplace and large sofas will have you relaxing in no time at all. The kitchen is fully-equipped, and the bathrooms are modern. The 2 bedrooms and sofa-bed have space for up to 6 people. This is a great value, as the location and price are perfect for what you get at this nice little ski cottage.
Some photos are courtesy of airbnb.com.
Share This Article