10 Best Airbnb Cabins & Mountain Houses in Boone, NC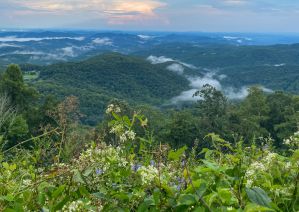 Boone is a terrific town in the mountains of Western North Carolina with a great small-town vibe and plenty of fun outdoor activities. From Grandfather Mountain to the ski resorts at Sugar Mountain and Beech Mountain to the family-friendly Tweetsie Railroad, the region offers something for everyone. Hiking trails, bike riding, fishing, kayaking and rafting, skiing, and camping are just a few of the many reasons to visit Boone.
And you'll need a place to stay, naturally. Cabins and mountain houses listed on Airbnb are some of the best options because you can have the relaxing and remote experience you want with enough room for your entire family or group to be comfortable. Cabins can also be affordable as you would pay around the same amount as for a typical hotel room, but you have so much more space, along with a kitchen, laundry, parking, and extra rooms.
Here are our recommendations for the best and most affordable cabins in Boone and in the surrounding mountains (including Blowing Rock and Grandfather Mountain). All of these Airbnb options are clean and can be found in some of the most picturesque settings to be found. Most have kitchens and laundry, too. And most have 2 or more bedrooms.
What are the best cabins and mountain houses in Boone on Airbnb?
Contents: Fairytale Cabin | Chalet Ruisseau | Treehouse Dome on the Creek | Diamond Ridge Getaway | Luxury Tiny Home | Serene Mountain Retreat | Sleeping Bear Cabin | Studio Cabin - Camp Earndog | Geisler Gap II | Peaceful Getaway
Yes, this cabin has a petting zoo on the property! The quintessential barn-style mountain cabin sits on 15 acres of land full of streams, ponds, hiking trails, swings, and more. Perfect for a family looking for a getaway, you'll find everything you need and more. With a fully-equipped kitchen, 2 bedrooms for up to 6 people, a luxurious bathroom, spacious living area, rustic decor, a hot tub, a fire pit, and outdoor seating, you really can't go wrong here. And the price is a great value, too. Check out the photos, this is definitely one to consider!
Wow! We can't stop staring in awe at the beauty of this amazing A-Frame house. Not only is the house itself gorgeous, but it sits in the most perfect location next to a pond and near a stream. It's also very comfortable and modern on the inside, which makes this the ideal getaway for anyone. So if you're a couple looking for romance, a family looking for a fun mountain getaway, or a group of friends on a mountain retreat, this is the perfect house.
The 3 bedrooms available include the kitchen and living room area on the upper section of the house. They all look out onto the terrific views overlooking the pond. And with 2 bathrooms, everyone will be comfortable. The kitchen is fully-equipped and the bathrooms are clean and modern, too. Guests also have access to the hot tub. Check out the photos!
Looking for those amazing Instagram-worthy photos? This unique dome will provide plenty of fantastic angles for your followers. In fact, the owners encourage it. Essentially, it's a one-room round cabin with a large window on one side. Inside you will find a king bed along with a set of bunk beds, a wood stove, a small table, and great views of the surrounding forest. The dome sits on a spacious deck built out over the stream with some built-in hammocks. While this might not be for everyone (no plumbing, no electricity), this dome is a great way to unplug yourself from civilization. While it's a few steps up from camping, many couples find it to be a great romantic getaway. And it can also be fun for families with the bunk beds for the kids. Nearby you'll find a swimming hole, opportunities for fishing, plenty of hiking, and other wilderness activities. Check out the photos!
This fantastic cabin has plenty of modern amenities as well as amazing views. The spacious deck overlooks the surrounding forest with mountain vistas. Enjoy the outdoor table with your breakfast (or every meal). The interior is terrific, too. The living room is large, has a great fireplace, and an open concept layout. The kitchen is fully-equipped with everything you need for all of your meals. The large windows and sliding doors in the living room open up to the deck which wraps around the house. The bathroom is also modern and comfortable with a walk-in shower and a jacuzzi tub. The master bedroom has a king sized bed, and the other two bedrooms have twin beds which are great for kids. They will love the loft. Or if you're traveling as a couple or a group of friends, this layout is also great as there is a romantic setting or plenty of room for your whole crew.
Wi-Fi, a washer/dryer, free parking, TV's, a pack-n-play, and other amenities are provided.
This quiet and self-described tiny house makes for a great retreat away from everything. While it's on the smaller side, it is still fairly luxurious (check out the photos) and can sleep up to 5 people. The kitchen is very modern and flows out into the cozy living room with a nice fireplace and TV. The full kitchen has everything you need to cook, plus some extras like a good coffee machine. It flows to the back of the house where you'll find a bathroom (also very modern) and one of the bedrooms. The second bedroom is up on the loft and has some nice views out the bedside windows.
The porch is a great spot to relax and have a sip of wine or your morning coffee. And then you can stroll down into the hot tub or to the fire pit. Plenty of hiking trails are nearby, and other outdoor activities are just a short drive away in the Boone and Blowing Rock area.
The large 2-level deck on this 3-bedroom cabin provides plenty of great views over the surrounding forest and hills. But the view is only the beginning, as this cabin offers plenty of modern comforts, too. The living room has a cozy fireplace, comfortable seating, and a large TV. The modern kitchen is nicer than what many people have at home, and has everything you would need to cook all of your meals. The bedrooms have comfortable beds, the bathrooms are modern, and the location is great.
This is an ideal cabin for a family or group of friends looking to get away. Or why not make it a longer term rental and explore the area while working?
Here is the perfect A-Frame cabin that sleeps up to 6 people in 3 bedrooms (and 2 bathrooms). The cute, cozy cabin has plenty of outdoor deck space surrounding it where you can sip your morning coffee, enjoy the views of the surrounding forest, and take in the fresh mountain air.
The modern kitchen is fully-equipped for all of your cooking needs. You'll also find a grill on the deck, and a nice fire pit down on the lower patio. The living room has a cozy fireplace, too. The bedrooms are all comfortable. The main bedroom has a queen bed, and a set of twin beds are upstairs. Downstairs you'll find another bedroom plus an exercise room with some nice gym equipment. The upper loft has a futon and a work desk, and makes for a nice spot to relax with a book. Or fold it out for an extra guest.
The location is great! A small lake sits near the house where you can fish. Also, the New River is only 2 minutes away, and here you can go kayaking or tubing. Numerous hiking and biking routes are not far from the cabin, too.
This smaller sized studio cabin is a great spot for a couple or small family looking for an affordable and budget-friendly cabin in the mountains. The cabin itself is brand new (built in 2018) and sits on 15 acres of land surrounded by mountains and forest. The interior is modern with an outdoor rustic theme. The large open-concept cabin has a kitchen on one end, a living room space with a beautiful fireplace, and 2 beds (a large and a twin) on the sides. The single bathroom is a good size and very modern. The fully-equipped kitchen is not only functional, but also very nicely designed. A washer/dryer is also included, as is a garage for parking (important in the winter).
The outdoor spaces here really make it a nice place to stay. The large field, streams, ponds, and outdoor seating let you take in the best aspects of the natural mountain environment.
The 3 bedrooms of this modern yet rustic house can sleep up to 5 people. And with 2 bathrooms, everyone will have plenty of modern comforts, too. The house itself is well designed and has plenty of modern and luxurious touches such as the updated kitchen and bathrooms, delightful fireplace, and absolutely amazing views from the 2-level deck. You can see the mountains off in the distance as you're above the trees from this spot. A TV, wi-fi, a washer/dryer, and free parking are also included.
This 2-bedroom house with ample deck space overlooks the surrounding forest and sleeps up to 6 people. It's perfect for a family, group, or even just a couple looking for a mountain getaway. As it's not too far from Boone, Blowing Rock, and Grandfather Mountain, you'll also have a convenient location in addition to a beautiful spot. Or you could use this house as a base to explore Sugar Mountain and Beech Mountain, too.
The house has a large living room with a fireplace and a modern kitchen. The bedrooms are spacious too. The bunk bed room is great for kids. You'll also enjoy the hot tub (new!), hammocks, fire pit, outdoor seating, huge decks, the nearby stream, and all of the little nice touches that this cabin offers.
Some photos are courtesy of airbnb.com.
Share This Article