Boone On a Budget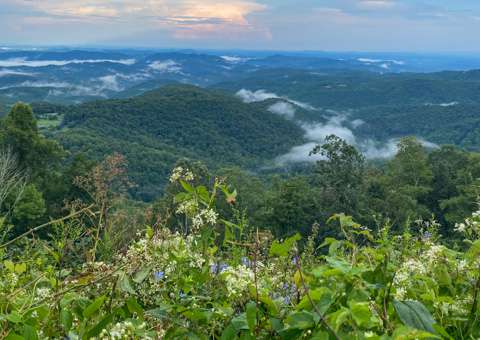 Boone is located in the beautiful Appalachian Mountains in North Carolina. It is a popular destination in large part because it is the home of Appalachian State University, but even independent of the school, it is a great tourist destination. It also makes a good base for a ski vacation. The town has a population of just over 17,000 and is the county seat of Watauga County. It's named for the well known American pioneer, Daniel Boone. During the summer you can catch an outdoor drama, Horn of the West, that highlights the history of the area during the American Revolutionary War.
Boone's climate is subtropical highland. The town sits at an elevation of 3,333 feet, which is the highest of any town its size east of the Mississippi River. The high elevation means that Boone gets more precipitation than most nearby areas. The winters are long and cold with frequent sleet and snow. Blizzards are not uncommon. Summers are warm, but not as hot or humid as most places in North Carolina. The average temperature in the month of July is about 68 degrees Fahrenheit.
Sights
Boone is surrounded by natural beauty. You should make a point of driving along the Blue Ridge Parkway while you're in the area. The parkway intersects highway 421 east of Boone and to the south of town it intersects Highway 321.
Another must see in the area is Howard's Knob. It's just a short drive up the mountain and offers great views overlooking the entire downtown area.
Make sure you allow yourself enough time to wander around Appalachian State University's campus. Also of interest are the Daniel Boone Native Gardens, Elk Knob State Park, Grandfather Mountain, and Tweetsie Railroad.
Neighborhoods
Boone has a quaint and compact downtown area that you can easily explore on foot. In this area you'll find great restaurants and antique stores that are worth wandering through. It's also worth walking around Appalachian State University's campus. The campus is split by Rivers Street into east and west sections. Tunnels and a pedestrian bridge connect the two sides of campus.
There are also some great areas to visit in and around Boone. Perhaps the most popular and famous area is the Blue Ridge Parkway, which runs through the Appalachian Mountains and is particularly popular during the fall months when the foliage is at a peak. You can expect to sit in traffic on weekends during these months so come prepared for slow travel.
Activities
During the winter months, Boone makes an excellent base to enjoy some skiing. Nearby mountains that offer skiing include Ski Beech, Appalachian Ski Mountain, and Ski Sugar. Hawksnest is another option, although they haven't offered skiing in recent years but do have tubing and a nice lodge.
Hiking in the area is popular as well. Pick up a trail map and choose a route that meets your skill level. Make sure you carry plenty of water during the summer months.
Another popular activity is to head to an Appalachian State University football game. The team has a tradition of winning, and the games can be very energetic and fun.
Food and Dining
Food in Boone is generally quite good. You'll find plenty of budget restaurants, many of which cater to the student population and include the typical options such as bagels, pizza, or sandwiches. In the downtown area you'll find some mid priced places that offer a nice lunch or dinner such as pasta or burgers. There are also some wonderful high end restaurants with excellent unique dishes. Many offer meals that are hormone free, locally grown, and organic, making for an even more regional experience. There are also plenty of bars in the area, but if you're looking to avoid the student crowds, do your research ahead of time.
Transportation
Most people arrive in Boone with a private vehicle. It's possible to fly in to Charlotte, Raleigh, Asheville, or Greensboro but you will have to rent a car at any of those airports and drive on to Boone. There is a bus, the Mountaineer Express, that travels between Boone, Winston-Salem, and the Amtrak station in Greensboro twice a day. The Hickory Hop is a shuttle that goes from Charlotte to Hickory, which is about an hour from Boone. From Hickory you will have to take a taxi if you don't want to rent a car.
If you're staying in the downtown neighborhood you can easily walk most places, but if you're planning to explore any other areas you really need to have access to a car. If this isn't possible, some areas are connected by bus with the AppalCART system. This system has eight bus routes that travel around Boone. It's free to ride them if you're staying within the city limits. If you need a cab, Boone Taxi is a reliable taxi company in the area.
Related:
Looking for a
party hostel in Hawaii
or
Miami
? Traveling alone to
LA
or
New Orleans
? Want a budget hostel in
NYC
?