The Best Airbnb Vacation Rentals for Groups in Fort Pierce, Florida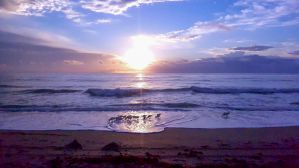 Fort Pierce is a relaxing and tranquil beach town on the Atlantic coast of Florida about halfway between the Miami area and Cape Canaveral. This quiet and peaceful community has some absolutely terrific beaches with blue water, warm sand, and plenty of activities for a group of friends looking to kick back at the beach. Golf, tennis, art museums, and more await you on the island and on the mainland. A number of delicious seafood restaurants can be found at the beach and in town, too. The historic downtown area has a number of really fun activities along with a great farmers market and more shops. Visitors can also hire a charter boat for a fishing trip, visit several natural areas and state parks, and snorkel. Also, visit the Manatee Observation & Education Center to learn about the local wildlife, and the Navy Seal museum for some military history.
If you're planning a trip to the beach with a group of friends and are looking for a place to stay in Fort Pierce, we have assembled the best Airbnb vacation rentals so that your next trip can be lots of fun as well as affordable. All of these places have extra bedrooms, kitchens, great locations near the beach, and more. They are all larger properties with room for your whole group. Many of these vacation rentals would be perfect for a girls' weekend getaway, a bachelor fishing or golf trip at the beach, or a group of couples on vacation together.
Where should groups of friends stay in Fort Pierce, Florida?
Contents: Surfside Hideaway | Gorgeous Inlet House | Townhouse Near Beach | North Island Retreat | Direct Ocean Front Home
This great 2-bedroom townhouse has room for up to 6 people. (They also own the rental next door, which could be rented at the same time for up to 12 people.) With a fully-equipped kitchen, modern bathrooms, and colorful, well-appointed bedrooms, anyone would be comfortable here. The house also has some nice outdoor seating as well as a comfortable living room with a good TV. More TV's are found in the bedrooms, too. An outdoor shower, built-in grill and mini-fridge, and some beach boards are also part of the package. Located just a few blocks from the beach, you're close to everything in town here.
This amazing
2-bedroom
house has a private beach and dock on the inlet along with a long list of nice amenities. With room for 6 people (or more if you rent the 4 extra 1-bedroom rental units on the property), any group of friends would be comfortable here. Chill on the dock and watch the manatees swim by, or venture out onto the water with the kayak for a better view. The inside of the house is surprisingly well appointed. The modern kitchen and bathrooms have everything you need to be comfortable and relax. Cook all of your meals or bring back takeout from the nearby restaurants. See the photos and check out the surrounding neighborhood, too, as plenty of activities are nearby.
With room for up to 7 friends, here's a modern
3-bedroom
townhouse with lots of space and situated in a nice location. The community has a swimming pool and gym, too. The modern kitchen is fully-equipped so you can cook all of your meals if you don't want to head out into town. The open concept layout lets you keep up with the conversations in the living room about your group's plans for the day. All 3 bedrooms are comfortable, and the bathrooms are also clean and modern. The master is nice, and the other bedrooms are good for a mix of people. It's located just 3 blocks from the beach on the waterway side of the island, so you have the best of both worlds.
This cute bungalow is divided into two units, this one and the Treetop on the upper level which has room for even more. The lower unit has 3 bedrooms and plenty of great amenities, including a beautiful and updated kitchen so you can cook all of your meals in style. The bathrooms are also very well appointed. Out back you'll find a screened porch that looks out into the beautiful gardens which surround the home. You'll find a small yoga deck, gorgeous plants, and some private little walkways. Located just 3 blocks from the ocean, this is a gem of a find and a fantastic place to stay at the beach for a group of friends looking for a quiet getaway. If you need more space, enquire about the upper unit as it has another 2 bedrooms and a kitchenette.
This is an ideal beach vacation home for a group of friends, as it sits right by the beach and has a path out to the sand and waves. With room for up to 6 people in 2 bedrooms, this house also has an updated kitchen so you can cook your meals, plenty of relaxing lounge space both indoors and out on the deck, and some nice outdoor areas. Parking, laundry, Wi-Fi, and other amenities are all included. It's a bit more expensive than other houses, but you get what you pay for with the amenities and location of this great beach house.
Some photos are courtesy of airbnb.com.
Share This Article