Vero Beach's 7 Best Airbnb Vacation Rental Beach Condos (Florida)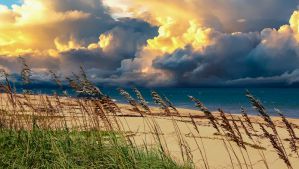 Vero Beach, on Florida's Atlantic coast south of Cape Canaveral, is a terrific beach destination any time of year for any type of traveler. The small beach town encompasses the historic town on the mainland as well as the community on the beach island just over the bridges. Many of the shops in the historic part of town are fun and eclectic. In fact, several of the town's shopping areas are very pedestrian-friendly and provide plenty of activities for an afternoon or evening of shopping, dining out, grabbing some ice cream, or arranging your next fishing trip. Several park and natural areas are around town, including the McKee Botanical Gardens, the Pelican Island refuge, the Environmental Learning Center, and the Archie Carr wildlife refuge. If you're a fan of history, check out the Treasure Museum, too. And don't forget about the art museum while you're at it. Several theater options are in town, including the Riverside Theater and the Vero Beach Theatre Guild where you can catch a play or two.
If you're looking for a place to stay, we have researched the best beach condo vacation rentals in Vero Beach for travelers of all types. Many of these condos are family-friendly, while others are smaller and perfect for couples. Or, if you have a larger group, a few are big enough for your crew if you're looking for a great beach place to kick back and relax. Either way, all of these places have full kitchens, enough space for everyone with extra bedrooms, great locations near shops and restaurants, and more terrific amenities.
Where are the best beach condos in Vero Beach, Florida?
Contents: Million Dollar View at Vero Beach | The Beach is Calling You - Vero Beach Condo | Vero Beach Studio Vacation Rental | Cozy Very Beach Condo by Boardwalk | Indian River Shores Condo | Vero Beach Fisherman's Wharf Condo | Vero Beach Country Club Condo
This
2-bedroom
ocean front condo absolutely has a million dollar view. The large windows of the living and dining space open out towards the beach and the ocean, and you can step right out onto the balcony for that fresh beach air. This vacation rental has been gorgeously designed. You'll have a fully-equipped high-end kitchen, modern furnishings, large TV's, clean and modern bathrooms, and cozy beds. The 2nd bedroom has twins, which is nice for kids. The complex has a swimming pool and sits right on the beach. It's also next to a terrific park with grills, a playground, and more.
This nice 2-bedroom condo is right on the beach, and also has a pool. It's nicely furnished with a fun beachy theme and has cozy beds and relaxing living room furniture. The fully-equipped kitchen is clean and has everything you need to cook all of your meals. The 2nd bedroom has twin beds which is great for kids, making this a good option for a small family. A park is right next to the complex, and it has a playground, picnic tables, BBQ grills, and volleyball. Restaurants and shops are nearby, too. Wi-Fi, parking, laundry, and more are included. And it's affordable!
Here's a terrific and renovated studio apartment that has nice furnishings and a full kitchen. The bedroom shares the room with the living room, but there's plenty of space to move about, relax on the sofa and watch TV. The surprisingly large kitchen is fully-equipped so that you can cook all of your own meals, and a small dining table makes for a great place to enjoy your meals. The bathroom is also high-end and luxurious. And a nice sliding door opens into the back where you'll find a quaint garden. This is the perfect spot for a couple or a solo traveler who wants to relax at the beach. And the location? It's only 200 feet from the beach!
Perfect for a small family or a couple, this
2-bedroom
condo sits right by the beach and the boardwalk at Vero Beach. You're within a short distance of restaurants and shops here, not just the beach. Inside you'll find a cute kitchen with plenty of natural light that flows into the dining and open-concept living areas. The bathrooms are also modern and clean. The sliding doors open onto the lawn on the lower level so you can just step out and walk to the beach.
Located just a few blocks from the beach, this new and modern
2-bedroom
condo has a swimming pool, tennis courts, and plenty of nice, modern features. Inside is a well furnished and clean space with a full kitchen that opens into the dining and living room. The bathrooms are also very nice, and the master bedroom is elegant and relaxing. There's also a nice sunroom that opens into a screened porch that looks out onto the courtyard. Laundry is in the condo, and parking and Wi-Fi are also included as you would expect. Small pets are welcome, too.
This comfortable and convenient
2-bedroom
condo sits on the water overlooking the canals that access the intracoastal waterway (Indian River) on the mainland. It's a very short drive to the beach, and you're also close to all of the restaurants and shopping in town, some within walking or biking distance. The complex has a swimming pool, too. And there's a dock right outside the condo, so you can go fishing, bring your boat, or take out kayaks or paddle boards. The open-concept kitchen, dining, and living room area is spacious and well designed. The kitchen is fully stocked with all appliances you need to cook your meals. Bedrooms are also comfortable and relaxing, too. Wi-Fi, cable TV, Netflix, laundry, parking, and other niceties are all part of the package. Check out the photos!
You'll find plenty of space in this
3-bedroom
condo at the Country Club in Vero Beach. While it's not at the beach, it's in town where you'll be close to all of the shopping, restaurants, bars, and other activities in town. And the beach is just a short drive away. The community has a beautiful swimming pool, tennis courts, and a smart-home system. The gorgeous condo has a fully-equipped kitchen that is modern and luxurious so you can cook all of your meals in style. This opens into the dining and living room areas with an open-concept layout. The master bedroom has a huge bathroom along with a large projection screen on the wall. If tennis is your passion, this is a great place to stay.
Some photos are courtesy of airbnb.com.
Share This Article