The 7 Best Affordable Airbnb Vacation Rentals in Boca Raton by the Beach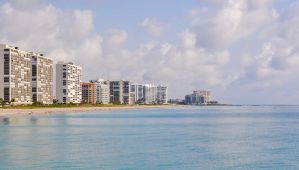 Boca Raton is not just a popular beach destination in southern Florida, it's also a name that stands for elegance, luxury, high-end shopping, and fine restaurants. Not only is the beach beautiful, but so are the hotels and houses. Mizner Park is one of the more sought-after neighborhoods in the area, as it is home to a great row of shops, restaurants, and activities.
If you're looking to save some money on your next trip to Boca Raton, we've got you covered. Since this city can usually be an expensive place to stay, we researched the best
affordable
and lower-priced Airbnb vacation rentals in Boca Raton near the beach. These places to stay in Boca are all near the beach, lower priced, and great for couples, single travelers, and small families. Many of them have full kitchens or at least a kitchenette, and all of them are in great locations.
Contents: Waterfront Condo | Highland Beach Retreat | 2BR Beach Condo | Beach Retreat Cottage | Beach Retreat Garden Room | Suite Studio Apartment | Garden Room
Here's a great 1-bedroom condo within walking distance from the beach. It features a fully-equipped modern kitchen with everything you need to cook your meals, or head out to the many nearby restaurants. The nice open layout of the living room and dining area is very comfortable, and opens onto the balcony with a water view of the intracoastal waterway. The bedroom has a private balcony and a nice bathroom, too. This is a great option for a couple or a small family, as it has everything you need and a great location, too.
This affordable 2-bedroom villa has a modern fully-equipped kitchen, a spacious open-concept floorplan, large bedrooms, clean and comfortable bathrooms, a private garden, laundry, and more. This is the perfect place for a family! Located just steps to the beach (see the aerial photos for the location), you'll be situated in the best spot as you can relax, have fun at the beach, and enjoy the nearby restaurants, too. A community swimming pool is also available just outside the villa, and is shared with just a handful of other villas. This is truly a hidden gem and a terrific option.
Located right at the beach in the
Ventura Resort
, this beautiful 2-bedroom condo is perfect for a couple or a family on a beach trip. The building is not only in the best location, but also has a pool and free parking. The vacation rental offers a large fully-equipped kitchen with modern appliances and everything you need to cook all of your meals. Both bedrooms are set up as masters with their own bathrooms. The second bedroom can be converted into a room with twin beds, too, which is great for kids. The nice balconies make for a good place to hang out, too.
This cute 2-bedroom house has a nice list of features and is perfect for a family trip to the beach in Boca Raton. Located just 3 minutes on foot to the beach, you really can't have a more perfect location. It's also close to shops, restaurants, and nearby activities. The open living room and kitchen area are very relaxing, and the bedrooms are cozy and comfortable. The bathrooms are also clean and modern. This is perfect for a family or group because there is room for up to 5 people. Check out the photos!
This 1-bedroom guesthouse in the previously mentioned cottage has a relaxing vibe and a private entrance. Equipped with a mini-fridge and a modern bathroom, this is a great escape for a couple looking to get away to the beach. It's just a short walk to the beach and is very close to all of the nearby restaurants and shops, too.
This affordable studio apartment is in a hotel-style building with a pool, hot tub, gym, restaurant, and other nice amenities. Located a short drive from the beach, and close to the canals of the intracoastal waterway, it's also near shops, restaurants, and bars. The suite has a living room area and a large bed, in addition to a kitchenette with a microwave, sink, and mini-fridge. This could be a great option for a couple looking for a fun time at the beach in Boca.
Perfect for a single traveler, and located just 5 minutes away from the beach by car (or you can bike), this great 1-bedroom guest house has a kitchenette so you can cook some basic meals as well as a clean and modern bathroom. The nice outdoor seating area is a perfect spot to relax with your morning coffee, too.
Some photos are courtesy of airbnb.com.
Share This Article