The 6 Best Affordable VRBO & Airbnb Vacation Rentals in Boca Raton by the Beach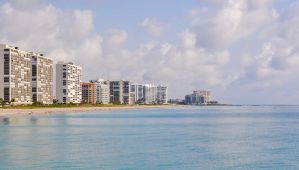 Boca Raton is not just a popular beach destination in southern Florida, it's also a name that stands for elegance, luxury, high-end shopping, and fine restaurants. Not only is the beach beautiful, but so are the hotels and houses. Mizner Park is one of the more sought-after neighborhoods in the area, as it is home to a great row of shops, restaurants, and activities.
If you're looking to save some money on your next trip to Boca Raton, we've got you covered. Since this city can usually be an expensive place to stay, we researched the best
affordable
and lower-priced Airbnb vacation rentals in Boca Raton near the beach. These places to stay in Boca are all near the beach, lower priced, and great for couples, single travelers, and small families. Many of them have full kitchens or at least a kitchenette, and all of them are in great locations.
Contents: Beach Retreat Garden Room | Hidden Gem in Boca Raton / Deerfield Beach | Steps to the Beach - Boca Raton Beach Rental | Beautiful Ocean Views | Luxury apartment, Private Beach Access | Condo on the Beach
This 1-bedroom guesthouse is part of a larger house. It offers a relaxing vibe and a private entrance. Equipped with a mini-fridge and a modern bathroom, this is a great escape for a couple looking to get away to the beach. It's just a short walk to the shore and is very close to all of the nearby restaurants and shops, too.
For the price and everything that's included, this rental is a great option. This 1-bedroom, 1-bathroom beach house is the perfect place for a couple looking for a romantic and affordable place to stay.
And with the dining area, everyone will be able to spread out and relax. Television, parking, internet, a grill, and a coffee maker are also on the list of amenities.
Deerfield Beach Pier, Florida Atlantic University, Mizner Park, Town Center at Boca Raton, Lynn University, and Atlantic Avenue are also very close by. There are a number of things to do nearby including fishing, horseback riding, and golf. This is a pet-friendly property. Add this one to your list of favorites!
For more information on accommodation in Boca Raton, check out The Best VRBO & Airbnb Vacation Rental Houses in Boca Raton.
With room for up to 4 people, this is a 2-bedroom condo that makes for a perfect Boca Raton vacation rental.
As for the interior, this condo has all the comforts you need. This is an ideal spot for a small family or a couple.
Deerfield Beach Pier, Florida Atlantic University, Mizner Park, Town Center at Boca Raton, and Lynn University are all within five miles of this place. Check out the photos!
For anyone that wants a fun-filled vacation in Boca Raton, this 2-bedroom, 2-bathroom house is a great vacation rental as it can accommodate 6 people. There's plenty of space here for the whole family or group to hang out. The comfortable king-sized bed in one bedroom is perfect for couples.
With Deerfield Beach Pier located just 2.2 miles away and Florida Atlantic University only 2.2 miles away, you'll find this to be a very convenient place to stay. Check out the photos!
Check out the photos! This 2-bedroom, 1-bathroom apartment can fit up to 4 people. This is a nice and affordable apartment for a smaller family.
There's a king-sized bed in one of the bedrooms. Another bedroom also has a queen-sized bed.
Deerfield Beach Pier and Florida Atlantic University are also very close by. Add this one to your wish list!
Some photos are courtesy of VRBO.com.
Share This Article