Boca Raton On a Budget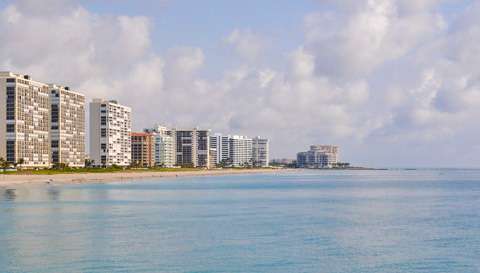 An affluent city with a reputation for catering to the well-to-do, Boca Raton is a beautiful city in Southern Florida with plenty to offer for all tastes and budgets. Boca's warm weather climate has visitors flocking to its many beaches and parks each day, while others take advantage of the golf courses, spas, annual events, festivals, live shows, museums, shopping, dining, and more.
Sights
Boca Raton's eastern coast has two-miles of beaches, most notably including Red Reef Park and South Inlet Park. Red Reef Park is home to the Gumbo Limbo Environmental Complex, an environmental education center which features sea tanks, a butterfly garden, a boardwalk trail with hammocks and an observation tower, as well as a research facility where students study sea wildlife, sea vegetation, and other marine-related subjects. South Inlet Park has picnic tables, pavilions and playgrounds, and a scenic jetty, South Beach is a common spot for swimming and surf-fishing, and Spanish River Beach is popular with the younger crowds.
There are also several public parks with amenities from amphitheaters and playgrounds to golf courses and nature centers. South County Regional Park, for example, includes the Osprey Point Golf Course, a dog park, the Sunset Cove Amphitheater, the Coconut Cove Waterpark, and the Daggerwing Nature Center. Sugar Sand Park is another popular location, especially for kids, home to the Children's Science Explorium, as well as a carousel, ball parks, and other attractions.
Neighborhoods
Boca Raton has a few neighborhood hubs where visitors and locals alike indulge in the local culture, food, and shopping. One such place is the Town Center at Boca Raton, an upscale retail mall which includes high-end stores such as Louis Vuitton, Burberry, and Tiffany & Co as well as a selection of great restaurants. Mizner Park is another thriving center located in downtown Boca Raton. The area contains several stores and fashion boutiques, restaurants, a movie theater, art galleries, and more. The Center for the Arts at Mizner Park is also home to the Boca Raton Museum of Art and the Count de Hoernele Amphitheater, which occasionally hosts concerts and events. Other venues for concerts and shows include the Carole and Barry Kaye Performing Arts Auditorium and the Sunset Cove Amphitheater.
Activities
Boca Raton is a place with things to do all day and all night, indoors and out. By day, once might laze around the beach, swim or surf offshore, hop on a boat trip, or visit one of the local nature centers for an experience closer to the native wildlife culture. By night, see a show or movie, indulge in some of the local flavors, get lost amidst the shopping centers, or visit one of Boca's art galleries or museums. There are tours on land or by sea, escape rooms, spas, golf courses, sporting events, annual festivals, and more to entertain visitors of all kinds.
Food and Dining
While the city may have a high-class reputation, Boca Raton offers good food to satisfy all tastes and budgets. From cafes, pizzerias, and delis, to farm-to-table restaurants, steakhouses, Thai cuisine, seafood bistros, and more, Boca is home to a variety of options to please the palette. The city is even the birthplace of the vegetarian Boca Burger, though it is not offered in every restaurant. Other favorites for visitors include Florida orange juice, saltwater taffy, key lime pie, and of course, seafood. Like any major vacation destination, Boca Raton has just about every kind of restaurant imaginable, and being on the water also makes it a great place to sample fresh fish and seafood. Some of the top restaurants in Boca Raton as rated on TripAdvisor include Twenty Twenty Grille, Star, The Capital Grille, Abe & Louie's, Season 52, Ichiyami Buffet and Sushi, Truluck's, Max's Grille, City Fish Market, and Houston's. As mentioned earlier, the best concentration of dining options can be found in places like the Town Center at Boca Raton and Mizner Park.
Transportation
Boca Raton is served by three major airports: Fort Lauderdale International Airport (20 miles south of Boca in Fort Lauderdale), Palm Beach International Airport (20 miles north of Boca Raton), and Miami International Airport (About 45 miles from Boca Raton or 55 minutes non-rush hour). Taxis or shuttles are available from each airport to Boca Raton.
By car, Boca Raton can be reached via Interstate-95 on the exits for Palmetto Park Road, Glades Road, Yamato Road and Congress Avenue. It is also off of the Glades Road exit from Florida's Turnpike.
By rail, there is a train station at 680 Yamato Rd, served by Amtrak and TriRail.
Related:
Looking for a
party hostel in Hawaii
or
Miami
? Traveling alone to
LA
or
New Orleans
? Want a budget hostel in
NYC
?