The Best Airbnb Cabins and Houses in Mt. Pocono, Pocono Pines, and Long Pond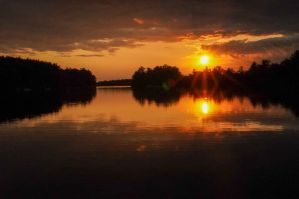 In the middle of the Poconos region lie the towns of Mt. Pocono and Pocono Pines, as well as Long Pond. In this area you'll experience the quintessential Poconos activities and sights, such as hiking, swimming in the lakes, and enjoying the fresh mountain scenery. Plenty of places to stay can be found in this area on Airbnb, such as cabins, condos, mountain houses, and lakeside homes. If you're looking for a vacation rental for any time of year, then this list of places to stay in this central Poconos area will have you covered.
Mt. Pocono has plenty of great activities to occupy your time. Check out The Knob for some nice views and an easy walk in the forest. Or perhaps you're headed to this area to visit the Pocono Manor Resort? With its indoor water park, fishing, and other fun activities, this area is very popular for families.
And of course, we have to mention all of the lakes! Several smaller-sized lakes are in this area, and many homes and cabins sit on the waterfront. Kayaking and canoeing, stand-up-paddle, fishing, and mountain biking are all popular in this area around Lake Naomi, Stillwater Lake, Pine Tree Lake, and the others.
And don't forget about Camelback Mountain. This fantastic ski resort is a haven for ski and snowboard enthusiasts. And did you know that it turns into a huge outdoor waterpark in the summer? It also has a year-round indoor water park, too. (You can see places to stay for families and couples at Camelback here.)
So, let's get started. Below are the best places to stay in the area on Airbnb if you're looking for a Cabin or Rental House in Mt. Pocono or Pocono Pines.
Where are the best Cabins in the Poconos?
Contents: Romantic Pet-Friendly Cottage | Treehouse Chalet | The H.S. Burrow | Midcentury Modern Cottage | Oak Cabin 3BR | 3BR Near Lake
3 Bedrooms, 7 Guests
- This gorgeous house has a rustic vibe with modern amenities. It's also
pet friendly
. The fully-equipped kitchen has everything you need, and the spacious living room is cozy with a warm fireplace. The large front porch as well as the back deck (with grill) are nice outdoor spaces to relax, and so is the surrounding yard. This is a great spot for a family or a couple looking for a getaway.
This one-of-a-kind
3-bedroom
mountain house provides a treehouse experience with modern amenities. The large windows overlook the surrounding forest, and the back deck with its relaxing hammock spot is worth every minute. The interior is spacious with a modern kitchen and upgraded bathrooms. The covered deck is a nice and relaxing place to enjoy nature, too. And don't forget about the
hot tub
, grill, and nearby stream, too. The location is also terrific as it's only 5-minutes away from the indoor water parks, ski resort, and other nearby attractions. This spot is perfect for a family or larger group of friends.
Here's a great cabin with plenty of charm, nice outdoor spaces, and modern conveniences all set in a perfect location. The
4-bedroom
cabin has room for 8 people, which makes it a nice choice for a family or group of friends. As it's part of the Lake Naomi Club, for a small extra fee you can have access to the lake, beaches, pool, tennis courts, golf course, and more! The kitchen has been recently renovated, and the entire place is very clean!
For more ideas about places to stay in Pocono Mountains, you might also be interested in The Best Vacation Rental Cabins and Condos for Families at Camelback Mountain, Camelback Mountain: The Best Vacation Rental Cabins and Condos for Couples in the Poconos, The Best Vacation Rental Ski Cabins for Groups at Camelback Mountain, The Best Airbnb Places to Stay in Stroudsburg and Delaware Water Gap, and The Best Airbnb Cabins in Milford, PA (Poconos).
This 2-bedroom home has a large open-concept floor plan with the kitchen and living room. It is well designed and fits the Mid-Century Modern decor very well. Everything is newly renovated, including the bathrooms. The location is great, too, as it's near a lake.
If you're looking for a cozy and homey cabin, this is it! This 3-bedroom place has wood paneling done right with a rustic mountain vibe and gorgeous furnishings. With plenty of space for everyone, a family or group of friends would be very relaxed here. The fully equipped kitchen is well appointed, as are the bathrooms. The outdoor space is nice, too.
Here's a nice, typical, and comfortable
3-bedroom
house with room for up to 8 people. It has a modern interior with a fireplace, fully-equipped kitchen, clean bathrooms, and plenty of space. The deck is a nice spot with a grill. The driveway has plenty of room for multiple cars, too. With an affordable price, this is a great find. The location is nice, as it's in Pocono Pines close to Lake Naomi. It's also not far from the water parks and Camelback Ski Resort.
Some photos are courtesy of airbnb.com.
Share This Article