The Best Airbnb Cabins in Lake Harmony and Big Boulder Mountain in the Poconos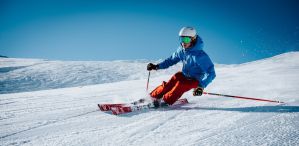 In the Poconos, Lake Harmony and Big Boulder Mountain make for a terrific resort-style getaway any time of the year. In this relatively small area you'll find a huge list of activities for families, couples, or groups of friends looking for a summer or winter vacation getaway.
In the winter, you can ski or snowboard at the Jack Frost Big Boulder Mountain ski resorts (where you'll find two separate ski areas - one at Jack Frost near Blakeslee, and one at Big Boulder by Lake Harmony). With not just ski slopes, but also family-friendly activities such as snow tubing and ski lessons for kids, this is a great area of the Poconos for the whole family to go skiing without traveling too far from home, especially if you're coming from New York, New Jersey, or Philadelphia on a weekend trip.
Nearby is the Split Rock resort which has an indoor water park and other fun activities such as bowling, an arcade, and more. This is tons of fun for kids and adults alike. (Read on for an affordable apartment-style condo at the resort with a full kitchen.)
Of course, there's Lake Harmony itself which has tons of watersports in the summer such as swimming, boating, kayaking, and fishing. In the area you'll also find golf, tennis, mountain biking, horseback riding, ATV rides, rock climbing, hiking, and more.
The Pocono Raceway is also very close by. If you're coming into the area for the NASCAR race or any other event, then Lake Harmony is the perfect place to stay.
The strange but interesting Boulder Field is worth a visit, too. And how can you miss Hickory Run State Park? Here you can visit year-round with cross country skiing, snowmobiling, or hiking, horseback riding, and mountain biking in the summer.
So, if you're looking for a place to stay in Lake Harmony or at Jack Frost Big Boulder Mountain, then we have put together a list of the best Airbnb's in this area of the Poconos for your next trip. All of the Airbnb cabins and vacation rentals listed here are great for any type of visitor, including families or couples. While some are larger than others, they all have plenty of room for your group. And most have amenities such as laundry, Wi-Fi, and access to nearby lakes and swimming pools, too.
Where are the best places to stay at Big Boulder Mountain and Lake Harmony?
Contents: The Black Chalet | 2BR Townhouse | Pocono Mountains Home with Game Room | Pocono Cabin - by the Lake | Split Rock Resort - 3BR Apartment
Lake Harmony
,
Pennsylvania
This beautiful and well-appointed
3-bedroom
cabin has a quintessential mountain house vibe along with a nice list of amenities. Let's start with the
hot tub
! The kitchen is not only fully-equipped, but it's also modern, clean, and shares an open floorplan with the living room area so you can keep up with the conversation (or keep an eye on the kids). The living room fireplace will keep you warm and cozy, or check out the firepit out back. The nice deck also has a grill. Free parking and other niceties are also included. This is a perfect cabin for a family or perhaps even a girls' weekend getaway.
Lake Harmony
,
Pennsylvania
Here is a modern
2-bedroom
townhouse with room for up to 6 people. This is a great spot for a family or group of friends. Out back you'll find a deck with a table as well as a grill. Inside is a nicely appointed kitchen in the open-concept floor plan. The nice fireplace makes the living room a good spot to get cozy. The master bedroom is great for adults, and the 2nd bedroom has a large bed as well as a set of bunk beds which the kids will love. The bathrooms are clean, modern, and updated. Laundry, Wi-Fi, and parking are included. You'll also have access to the nearby Boulder Lake Club swimming pool and lake access.
Lake Harmony
,
Pennsylvania
Need more space? With
4 bedrooms
and room for up to 8 people, a large family or big group would find this house perfect. It includes a nice
game room
with a multi-function billiards table (which converts to an air hockey or ping-pong table). The kids will love it! On the main level is the spacious living room with a nice TV and fireplace, and next to that is the fully-equipped kitchen with everything you need to cook all of your meals if you're not up for heading to the nearby restaurants. The bedrooms all have nice beds (some with TV's), and the bathrooms are modern and clean. Out back you'll find a nice deck with a table and grill. The backyard is a good play area for the kids, too. Free parking, Wi-Fi, Laundry, and other amenities are included.
Lake Harmony
,
Pennsylvania
Here's a
3-bedroom
cabin within walking distance to the nearby lake. And with room for up to 10 guests, it's the perfect mountain retreat for a family or group looking for a ski vacation or a summer getaway. The nicely appointed living room (fire place!) along with the spacious fully-equipped kitchen will provide you with everything you need to have a terrific and comfortable stay. The back deck has some nice seating and a grill, and the back yard has the most perfect fire pit for those cool mountain evenings.
You'll also find a pool table in the main living room area, which the kids will love. And speaking of kids, one of the bedrooms has bunk beds (which are full-sized so that adults can use them, too). Check out the photos!
Lake Harmony
,
Pennsylvania
If you want to stay at Split Rock Resort, this
3-bedroom
suite is situated right in the resort hotel next to the indoor water park and all of the other hotel amenities. It features a
full kitchen
so you can cook all of your own meals if you like. The living room and 2 bedrooms give you even more space if you bring your whole family or a few friends with you.
In addition to the indoor water park, right outside is the lake with kayaks and swimming. Nearby you can also find winter skiing or summer activities such as horseback riding. The hotel/resort itself also includes a gym, game room with billiards, hot tubs, bowling, a spa, and restaurants.
Some photos are courtesy of airbnb.com.
Share This Article