The Best Airbnb Vacation Homes in Wabasso Beach, Florida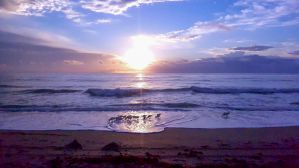 The small town of Wabasso Beach lies just north of Vero Beach, and many visitors consider it to be part of the Vero Beach community. In this small beach town you'll find a few restaurants and shops along with plenty of beach activities, fishing, watersports, wildlife viewing, and a really fun Treasure Museum. Most of the vacation rentals in the Wabasso Beach area are houses that lie very close to the beach. As the island is fairly narrow, all of the places to stay are just a few blocks at the most from the water. So, if you're looking for a vacation rental, we have assembled our list of the best vacation homes at the beach in Wabasso Beach for your next trip. All of these places are great for families or groups of friends who need more space, because they all have extra bedrooms, full kitchens, and plenty of other amenities.
Where are the best places to stay in Wabasso Beach?
Contents: Steps to Private Beach - Wabasso Vacation Home | Daisy Mae Beach Home - Wabasso Vacation Rental | Wabasso Beach Home | Secluded Oceanfront Mansion | Sea Oaks Vacation Home | Heart of Wabasso Apartment
Just steps from the beach is this gorgeous and family-friendly
3-bedroom
house with a very relaxing and comfortable decor. Starting with the location, it's not just right next to the beach, but also convenient to the nearby shops and restaurants in Wabasso. Inside you'll find a renovated kitchen with all major appliances. This kitchen opens up into the dining area with a table large enough for 10 people. The comfortable sofas in the living room surround a nice TV, too. The bedrooms are just gorgeous, and one of them has twin beds for kids. Another room has a piano and a guitar. In the backyard is a patio seating area so you can enjoy the nice Florida weather in the evenings, along with a dining table, fire pit, and a swing set for the kids. Laundry, Wi-Fi, pet-friendly, parking, and more are included. It's hard to find something better than this, so check out the photos!
This terrific and recently renovated beach house just north of Wabasso sits right on the ocean and has
3-bedrooms
with room for up to 8 people. The kitchen is fully-equipped with everything you need to cook, and the appliances and design is all high-end and brand new. The bathrooms are similarly luxurious. The kitchen has an open layout into the dining and living room space so that you can keep an eye on everyone, too. The whole group would love to relax around the comfortable sofas and watch TV. The bedrooms are cozy and comfortable as well with nice furnishings and plenty of space. The beach side of the house has large sliding glass doors that open onto a large balcony. There's a yard and then there's the beach, so you're right there. Bikes are included, as is plenty of parking. Laundry, Wi-Fi, and more are all included, too. Add this one to your short list!
Here's a nice
3-bedroom
house just a few minutes by foot to the beach. Featuring a spacious living room around a TV, along with plenty of natural light, this is a very relaxing Florida home. The kitchen is large and fully stocked with everything you need to cook all of your meals. A sun room area has some nice seating in a well-lit space, too. The master bedroom is large, well designed, and features a luxurious master bathroom. Beach chairs and toys are also available to take down to the ocean. Also, you're not far from the nearby dining and shopping options. Laundy, Wi-Fi, a work space, and more are all part of the package.
Here's a spacious and luxurious
5-bedroom
house on the beach with room for up to 10 people, making it the perfect beach getaway for a large family or a group of friends. The windows and the deck look out directly on the beach for an amazing panoramic view of the water. One guest described it as a southern plantation mansion on the ocean. The well designed kitchen has all appliances (and more) that you would need to cook all of your meals. The bathrooms are not just clean, but elegant. The bedrooms are spacious, as are the living room and dining areas. A hot tub is on the deck, too. Check out the photos, as this place is amazing!
This 2-bedroom house has plenty of room for a family or a group of friends, and is located in the gated
Sea Oaks
community just a few minutes on foot from the beach. The fully-equipped kitchen is very nice and will let you cook all of your meals in style. The bathrooms are equally as clean and luxurious. The living room and bedrooms have a relaxing and elegant decor.
Located between Wabasso and Vero Beach, the community has plenty of activities including a pool and beach club by the ocean, along with a fantastic tennis center with tennis pros, lessons, and regular events for everyone to participate. The gardens and scenery are very nice as many of the homes and buildings surround beautiful lagoons and gardens. There's also a marina with docks if you have a boat, and a gym, too.
In the heart of Wabasso sits this cute 2-bedroom apartment in a colorful building. With an affordable price, you are just a few feet from the beach as well as the nearby shops and restaurants. Inside is a comfortable open-concept layout with a full kitchen so you can cook all of your own meals. While it's not the most high-end of places to stay, it's clean, relaxing, and perfectly located.
Some photos are courtesy of airbnb.com.
Share This Article