The 11 Best Airbnb Vacation Rentals on the Beach in Fort Lauderdale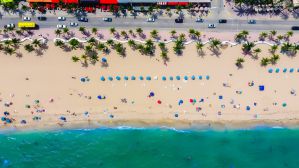 It's no surprise that Fort Lauderdale is a beach destination, especially given the fantastic weather and beautiful stretch of coastline in this southern Florida destination. But there's plenty more to do in the area including shopping (check out Las Olas Blvd. for starters), dining and great restaurants (such as the Riverwalk District), bar hopping, and water sports. Take some surf lessons, visit the Hard Rock Casino, enjoy a boat ride on the canals, go fishing, play some golf, snorkel or scuba dive, or more. This area is great for visitors of any age, and makes a terrific destination for families, groups of friends looking for a fun time, a group of girls' on a weekend getaway, college students, or anyone who wants to relax at the beach.
If you're looking for a place to stay in Fort Lauderdale, we have researched the best Airbnb vacation rentals right on the beach in Fort Lauderdale for your next trip. All of these places are absolutely fantastic and offer kitchens, more space than a hotel room, and excellent locations close to everything.
Where are the best places to stay on the beach in Fort Lauderdale?
Contents: Ocean View Studio | Marriott's Beach Place Towers | High End Luxury 3BR | Teak Yacht | W Hotel - 1BR Suite | Ocean Views: Yacht & Beach Club | Royal Palms Resort 1BR | Hotel Studio Condo | Q Club 1BR Condo | Q Club Studio | Villa with Heated Pool
Located right by the beach is this condo-style room in the small and quiet
Snooze Hotel
, a boutique hotel with a perfect location. With a balcony and windows looking out to the beach and the ocean, you can relax here with a great view and plenty of convenient amenities. This room has a kitchenette with a sink, fridge, microwave, and coffee machine so that you can prepare some basic meals. The large bed is comfortable and the bathroom is modern and clean. Plenty of restaurants and bars are nearby so that you can head out onto the town or bring back some take-out. Free parking, laundry, Wi-Fi, beach essentials, and other niceties are included.
This 2-bedroom condo with a fully-equipped kitchen is located right on the beach. Part of
Marriott's Vacation Club
timeshare program, the property members often have extra vacation rental units available without having to become a member of the program. So, you can enjoy all of the luxury amenities such as the stunning pool, perfect location, gym, kids play area and activities, and more. The 2-bedroom vacation rental has a fully-equipped kitchen and 2 very nice bedrooms. Both bedrooms have large beds, and the sofa-bed in the living room adds even more space. And with 2 bathrooms, everyone will be comfortable, too. And the balconies are perfect for watching the sunrise with your morning coffee. Not only is the beach at your doorstep, but several restaurants and shops are also within walking distance. Click below to view the prices on Airbnb, or
click here to Marriott.com
to check availability.
This stunningly gorgeous and luxurious 3-bedroom condo has everything you need for that perfect beach getaway. The fully-equipped luxury kitchen is modern, fully upgraded, and has everything you need to cook all of your own meals. Or, head out to the nearby restaurants if you like. You'll also have access to all of the amenities of the neighboring Marriott Harbor Beach Resort & Spa such as their pool, gym, spa, hot tubs, tennis courts, kids club, and concierge. With 3 bedrooms, everyone has plenty of space, too. The master has a king-sized bed, a sitting area, and an ultra-luxurious bathroom. The other 2 bedrooms are not lacking for amenities either. This vacation rental also has a laundry room, Wi-Fi, a massive balcony with nice views, garage parking, and more. Check out the photos!
Here's a small yacht with room for up to 4 people. The location varies, as they can move the boat around town depending on events and the weather. This could be a fun and unique way to enjoy Fort Lauderdale if you're up for a different experience. Yes, it's a boat, so you might feel like it's a little cozy for your style, but check out the photos and the reviews to see if it's for you.
This gorgeous 1-bedroom suite at the
W Hotel
will have you living in luxury at the beach on your next trip. With a fully-equipped ultra-modern kitchen, along with a romantic master bedroom with a huge bathroom, this place is perfect for a couple looking for a getaway on the beach. Or, a small family could stay here if a child slept in the living room. The balconies have amazing views, as do the public areas around the pool. You're right next to the beach here, and plenty of restaurants, bars, and shopping is nearby. The resort also features a beautiful and fun swimming pool, gym, restaurant, and more. In-room laundry, Wi-Fi, and other luxury amenities are all part of the package.
Just 5 minutes on foot from the beach, the Yacht & Beach Club offers this luxury 1-bedroom condo with a fully-equipped kitchen and plenty of great amenities. With room for up to 4 people, the master bedroom has a large bed and more can be accommodated on a mattress. The views are of the intracoastal waterway, which is still nice but also helps lower the price since you're not oceanfront, making this condo a great value. The furnishings are clean and modern, and the complex has a swimming pool. You'll also have laundry, Wi-Fi, TV, free parking, and other niceties.
Here's an affordable 1-bedroom suite with a fully-equipped kitchen at a small boutique-style hotel right near the beach. With a swimming pool and other nice amenities, it's like staying at a mini resort. The room is modern and updated with an efficient yet high-end kitchen, clean and luxurious bathroom, modern furniture, and a very comfortable king-sized bed. Restaurants, bars, shops, and plenty of fun activities are all within walking distance. This is a hidden gem and a great value!
If luxury is what you're looking for, this studio condo in a resort hotel is just right. The high-end room at the
Conrad
hotel has a
full kitchen
along with an ultra-luxury bathroom, relaxing bedroom, and a gorgeous style. It's essentially a luxury hotel room with the added benefit of a small kitchen and plenty of amenities added on. The hotel's balconies are also nice and offer jaw-dropping views of either the ocean or the intracoastal waterway and surrounding city. Just check out the photos! The high-rise resort has a beautiful pool, a gym, a spa, rooftop terrace seating, and a beachfront location. For all of this, the price is not as steep as we expected, too.
Here's a 1-bedroom condo at the
Q Club
on a high floor with amazing views. The living room is separated from the bedroom and gives you more space. And with the kitchenette (fridge, sink, microwave) you can prepare some basic meals or bring back some take-out from the multitudes of nearby restaurants. Plenty of bars, activities, and shops are also nearby. The resort also offers a large pool, gym, and more great amenities.
This studio condo located in the
Q Club
is luxurious with a king bed, nice balcony, modern balcony, and kitchenette (sink, fridge, microwave, coffee machine). The location is terrific as it's right next to the beach and surrounded by shops, restaurants, bars, and other activities. The building has a great pool, gym, and dining options, too.
Perfect for a couple, this small and affordable 1-bedroom house has a pool, kitchen, modern bathroom, and laundry. It's located 3 miles from the beach, but is within walking distance to restaurants, bars, and shops. While the location isn't right on the beach, the price is much more affordable, and the pool and outdoor living space in the back makes this a great option for a couple traveling on a budget.
Some photos are courtesy of airbnb.com.
Share This Article