The Best Airbnb Vacation Rental Houses in Vero Beach, Florida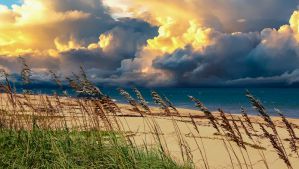 Vero Beach, on Florida's Atlantic coast south of Cape Canaveral, is a terrific beach destination any time of year for any type of traveler. The small beach town encompasses the historic town on the mainland as well as the community on the beach island just over the bridges. Many of the shops in the historic part of town are fun and eclectic. In fact, several of the town's shopping areas are very pedestrian-friendly and provide plenty of activities for an afternoon or evening of shopping, dining out, grabbing some ice cream, or arranging your next fishing trip. If you're a fan of history, check out the Treasure Museum, too. And don't forget about the art museum while you're at it. Several theater options are in town, including the Riverside Theater and the Vero Beach Theatre Guild where you can catch a play or two. Several park and natural areas are around town, including the McKee Botanical Gardens, the Pelican Island refuge, the Environmental Learning Center, and the Archie Carr wildlife refuge.
If you're looking for a place to stay, we have researched the best vacation rental houses in Vero Beach. Many of these beach houses are family-friendly and perfect for kids. Or, if you have a group of friends, a few are big enough for your crew if you're looking for a great beach place to kick back and relax. Either way, all of these places have full kitchens, enough space for everyone with extra bedrooms, great locations near shops and restaurants, and more terrific features. This hidden gem of a location has plenty of amazing vacation rentals, but here are the best, so let's get to it.
Where are the best beach houses for rent in Vero Beach, Florida?
Contents: Beachcomber Escape - Vero Beach Vacation House | Vero Beach House - Steps from the Ocean (Pool) | Meet Me At the Beach Bungalow | Beachside Retreat - Vero Beach Vacation Rental
This gorgeous and spacious house sits one house back from the beach and is surrounded by gardens. With
3 bedrooms and 3 bathrooms
, every room has its own. There's plenty of space for a larger group or a family to enjoy their trip to the beach here. The garden patio can be viewed from the large windows that bring in plenty of natural light. On the upper level, two sizable balconies offer more outdoor areas to relax. Inside, the full kitchen will let you cook all of your meals. The gorgeous decor of the living room and dining area will make you want to redesign your own home, too! The master bedroom is elegant with its own balcony and a nice ensuite, too. The other bedrooms are also nice and are great for anyone, including kids. Outdoor living here is definitely part of the plan, as you'll find ample outdoor seating, a high-end BBQ grill, a hammock, a fire pit, and gorgeous gardens around the patio. Bikes, laundry, Wi-Fi, cable TV, and other niceties are included. You can also walk to nearby restaurants and shops. Check out the photos.
Just a block back from the beach sits this terrific
3-bedroom
house with a
pool
that is perfect for a family or group of friends visiting the beach. It's close to shops, restaurants, bars, and activities, and you can just walk a few steps to the waves. Inside you'll find a recently renovated home with some very nice furnishings. The updated kitchen looks like it just came out of a magazine with new countertops and high-end appliances. You can cook all of your meals here in style. The bathrooms are of similar quality, and ooze of luxurious touches. The bedrooms are cozy and comfortable, and the living room and dining area is gorgeously designed. The 2nd bedroom has 2 full sized beds, and the master and another bedroom have large beds, too.
In the back is a fantastic pool with a nice sitting area under the screened verandah. Sip your cocktails while the kids play or enjoy a meal at the outdoor table. Wi-Fi, laundry, large TV's, cable, and other niceties are included. This is a rare find, so check out the photos!
Here's a nice, modern,
2-bedroom
townhouse that's just one block from the beach. This is a great option for a family or a group of friends, as it offers plenty of amenities. The modern and fully-equipped kitchen will let you cook all of your own meals, while the bathrooms have that extra clean and luxury touch that helps make any vacation better. The kitchen opens up into the dining and living space with an open-concept layout, so you can keep up with the conversations. The master bedroom has a king bed, and the 2nd bedroom has twins that can be converted into a large bed if needed. In the back is a beautiful private patio with a large table that is perfect for those outdoor dinners in the fresh Florida weather. In addition to walking to the beach, you can also walk to the Village Beach Market, restaurants, a yoga studio, and more shops. This is a gem of a find!
This recently renovated
2-bedroom
townhouse has everything you need to enjoy a trip to the beach. Not only is it modern and clean, but it also has a fully-equipped kitchen and is only half a block from the beach. You can also walk to shops, restaurants, a grocery store, and more. The bedrooms are comfortable and clean for a small group of friends or a family, too. Check out the photos, as you get a lot for the money at this affordable place!
Some photos are courtesy of airbnb.com.
Share This Article