West Palm Beach has plenty to offer for a group of friends looking for a fun getaway. You'll find plenty of things to do in the area once you find a great place to stay. Not only are the beaches close by, but the intracoastal waterway and watersports are also popular. Snorkeling and boating trips are common and easy to arrange. Clematis Street is the heart of the historical downtown area with plenty of restaurants, bars, and boutique shopping. Or, take the free trolly over to Rosemary Square, where you'll find even more dining and shopping options. Or, maybe you're headed to WPB for baseball's spring training? In that case, you'll want to be near the stadium. If you're into art, check out Antique Row, the Norton Museum, and the Flagler Museum. The botanical gardens and Peanut Island are more peaceful places to visit if you want to get out into nature. And don't forget to take in a show at the Kravis Center one night, too. West Palm Beach is a great destination for a girls' weekend getaway, a group of guys on a bachelor trip, or even several couples traveling together. The entire town is full of activities for all groups of visitors.
If you're looking for a place to stay, we have researched and assembled a list of the best vacation rentals for groups of friends on Airbnb in West Palm Beach. All of these places have great locations, nice amenities, and extra bedrooms for your entire crew to relax. Most of these houses and condos also have full kitchens, and some have swimming pools, too. So if you're looking for a fun and relaxing escape in a place that's better than a hotel room, we've got you covered.
Meditterannean Pool House
Out back you'll find a beautiful swimming pool along with a few larger dining tables in the covered verandah. Check out the photos, because this is a true oasis!
The house is divided between the main house and the guest house, each with a separate entrance and separated living areas. The pool is the only shared space. It's possible to
book both at the same time
if you have a very large group with up to 14 people.
2BR Guest House: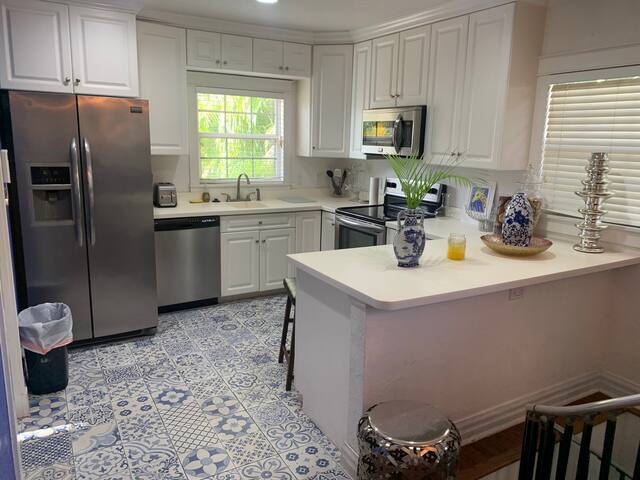 The guest house is more affordable, and has 2 bedrooms, 2 bathrooms, and a fully-equipped kitchen. The bedrooms have queen beds and the sofa pulls out as well, making room for up to 6. The kitchen and bathrooms are updated, modern, and well appointed. Wi-Fi, laundry, and free parking are included, too.
3BR Main House: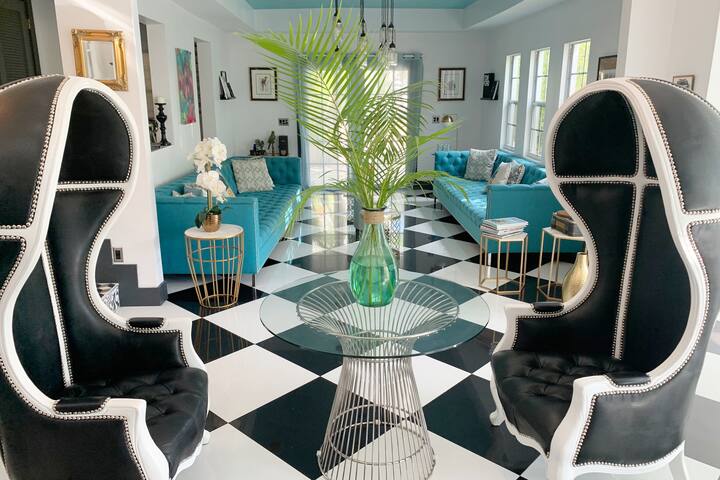 The main house is more expensive but also larger with high-end finishings, an elegant style, large windows, and modern luxuries. The master bathroom is surprisingly beautiful, as are the others. The kitchen is not just equipped with everything you need to cook, it's also roomy, central, and well appointed. The bedrooms are comfortable, and you'll even find a work space with a desk. Laundry, Wi-Fi, parking, multiple TV's, and other niceties are all part of the package.
Renovated 4BR Pool House
This Mediterranean-style
4-bedroom
house has a beautiful pool in the back. The well-designed house has a fun and energetic decor that everyone in your group will love. The kitchen is well stocked and spacious, and has an open layout so you can see into the dining and living room areas to keep up with all of the plans to take on West Palm Beach. The bedrooms are elegant, and the master is particularly elegant with a fantastic bathroom, too. The other bedrooms are well designed and have another bathroom, too, so there's no need to fight over the master. The pool area in the backyard is surrounded by gardens as well as a putting green and beautiful gardens. Located in the Northwood Village area, you're not far from bars, restaurants, and shopping. This is a great find at a reasonable price, so check out the photos!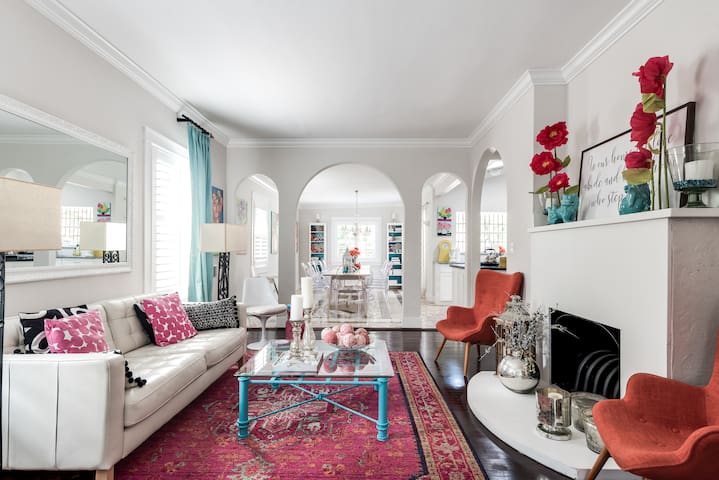 CityPlace Modern Condo
Here's another terrific 2-bedroom condo that is perfect for a group of friends (up to 6 people). With a nice fully-equipped kitchen, an open floorplan layout, comfortable furniture, a large TV, and more, everyone in your crew can be comfortable here. The 2nd bedroom has 2 twin beds that can be combined into a larger bed if needed. And with 2 bathrooms, everyone will have enough space and won't have to fight for shower time. Don't forget about the great pool, hot tub, and other building amenities, too. Oh, and the location is right in the middle of the shops and restaurants! Laundry, Wi-Fi, and parking is all included, too.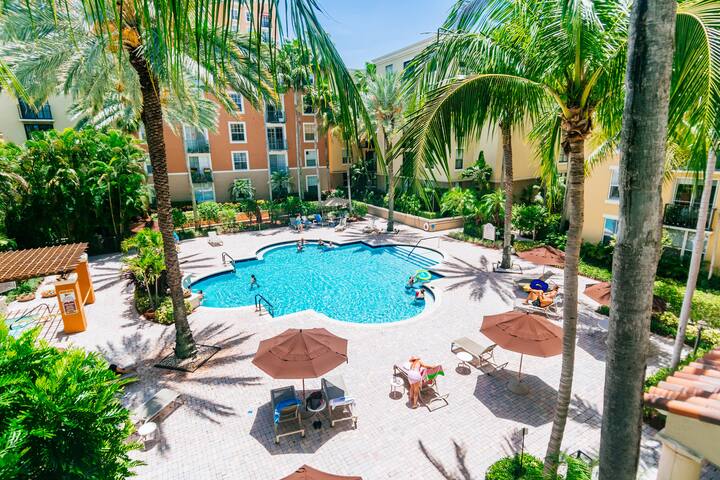 Luxury Estate 4BR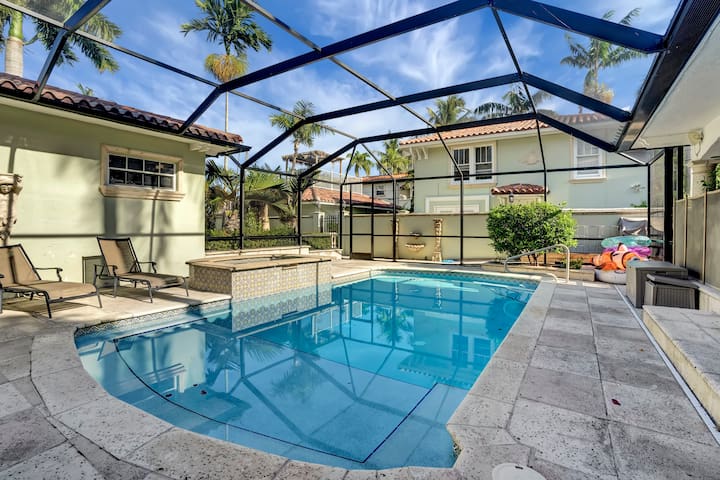 High-end furnishings along with extra space are the highlights of this amazing
4-bedroom
estate with a covered swimming pool, beautiful gardens, and terrific amenities. The kitchen is updated and gorgeous, the bathrooms are modern and luxurious, and the bedrooms are all spacious and relaxing, too. You really can't go wrong here, and the price is justified for what you get. Out back is the pool surrounded by some outdoor seating, a TV, and a fire pit so you can relax between dips in the pool. Outside is also a hammock along with stunning gardens surrounding the house where you can find a spot to read and relax. Check out the photos because this is truly a luxury estate. Laundry, parking, Wi-Fi, and other niceties are included. Also, it's located just a short distance from the waterfront of the intracoastal waterway, and close to shopping, too.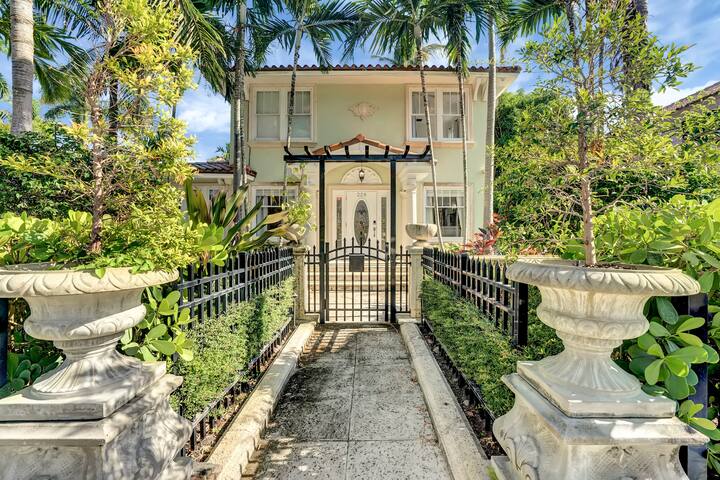 Citrus Cottage: The Blue Pineapple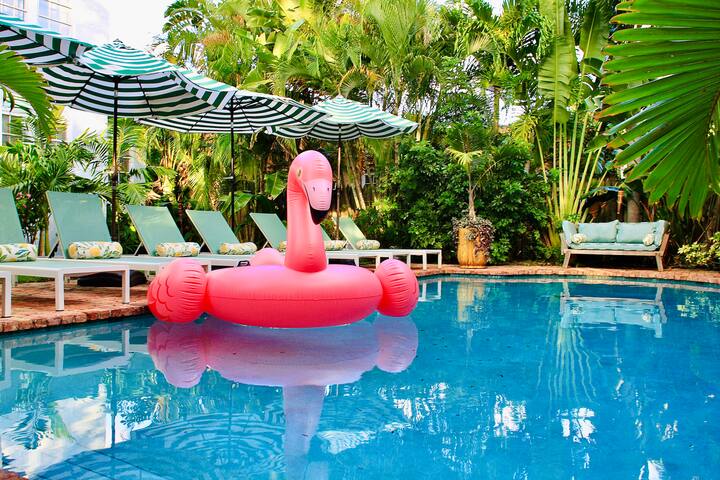 If your group needs extra space,
3 bedrooms
can be found in this terrific cottage with a swimming pool. With room for up to 8 people in the main house, your group can have a good time here. Or, if you need even more space, the property has 2 other guest apartments for rent. This historic home has been recently renovated with high-end furnishings along with a modern fully-equipped kitchen, luxury bathrooms, and elegant style. Everything looks like it came out of a magazine. A work area with a desk, laundry, Wi-Fi, TV's, and more are included. The pool area has some great outdoor seating spots with a fire pit, lounge chairs, and a grill, too. This house would be the perfect spot for a girls' weekend getaway. Located near the intracoastal waterway and the Northwoods Village neighborhood, you're also a short walk to some great shops and restaurants.
3-Bedroom: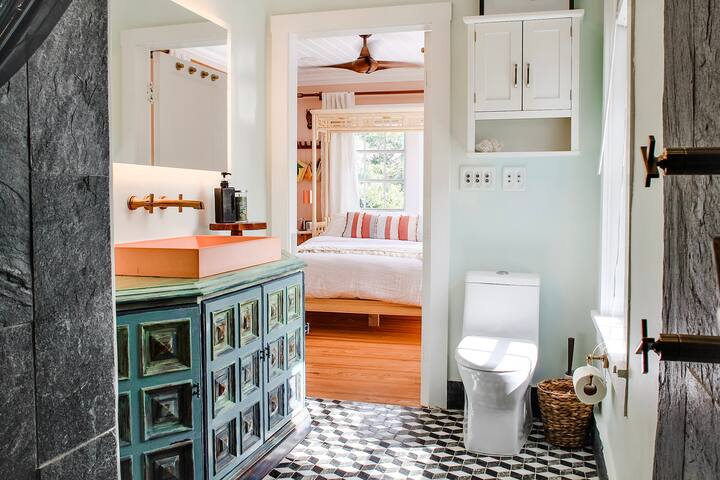 The 3-bedroom cottage is the larger of the rental units here, and it is gorgeously decorated, well designed, clean, and high-end. You'll have an elegant set of bathrooms, a nice kitchen, and even a work space. Is this place for real? Absolutely!
2-bedroom: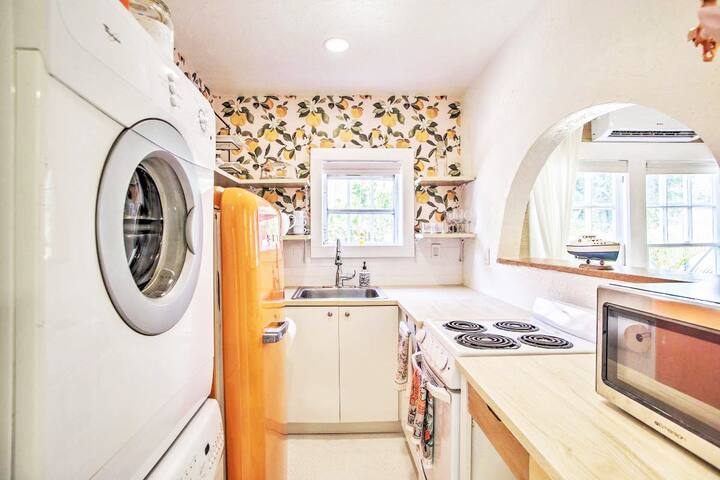 The 2-bedroom apartment has room for 6 with a full kitchen, comfortable furniture, and access to the gorgeous pool.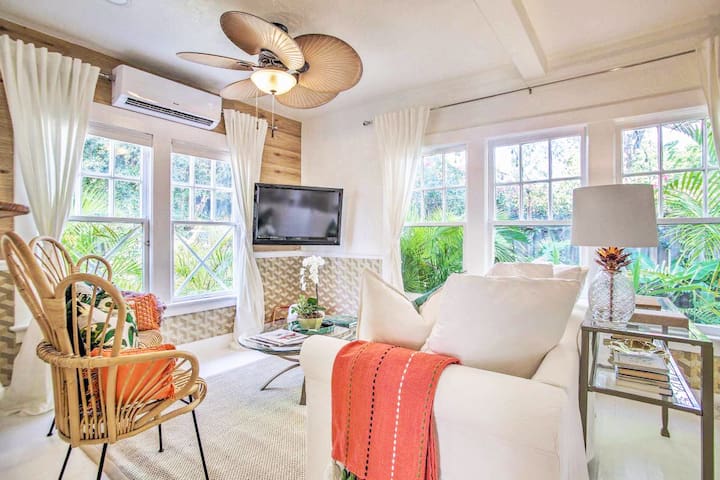 Art Retreat Cottage
Here's a cute 3-bedroom cottage for those that want more space and an entire house. In the back you'll find a hot tub, new deck, and a nice garden. Inside is a fully-equipped kitchen with some high-end appliances to cook all of your meals. Located in a historic neighborhood, this quiet home is not far from everything you want to do in WPB.
Rosemary Square Loft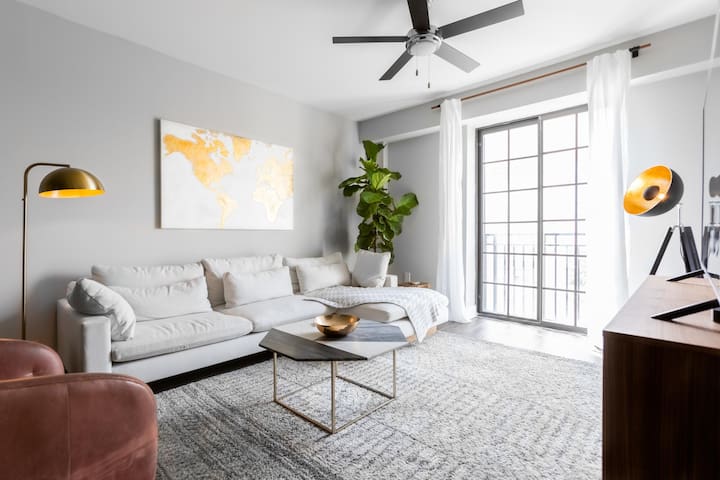 With room for 5, this modern 2-bedroom condo has high-end style and great amenities. The full kitchen has nice appliances and everything you need to cook all of your meals. And you'll also have access to the building's pool and hot tub, too. Located at CityPlace by Rosemary Squre, this is the heart of WPB with plenty of shops and bars around the neighborhood.
CityPlace 2BR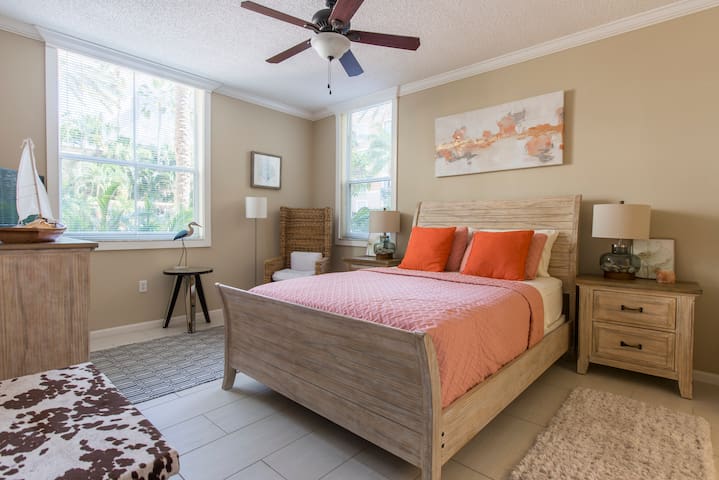 Here's another nice 2-bedroom condo in CityPlace with room for 5 people. Just like with the other condos in this area, everything is modern and spacious so you can cook, relax, use the pool, and walk right outside to all of the bars and restaurants around the neighborhood. This particular condo has a great style and includes parking, Wi-Fi, an cable TV.
West Palm Beach 2BR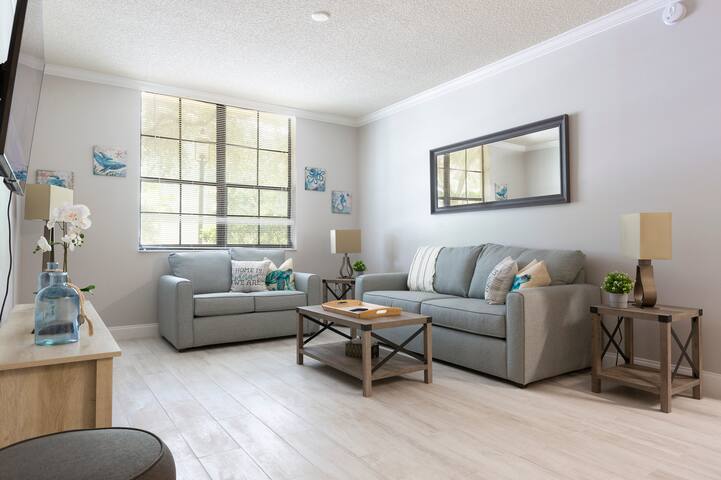 This nicely appointed condo has room for up to 6 people. The location is also perfect, as it's right at the Rosemary Square shopping and dining areas so you can just stroll outside to the many bars and activities. The modern kitchen will let you cook all of your own meals, too.
2BR Apartment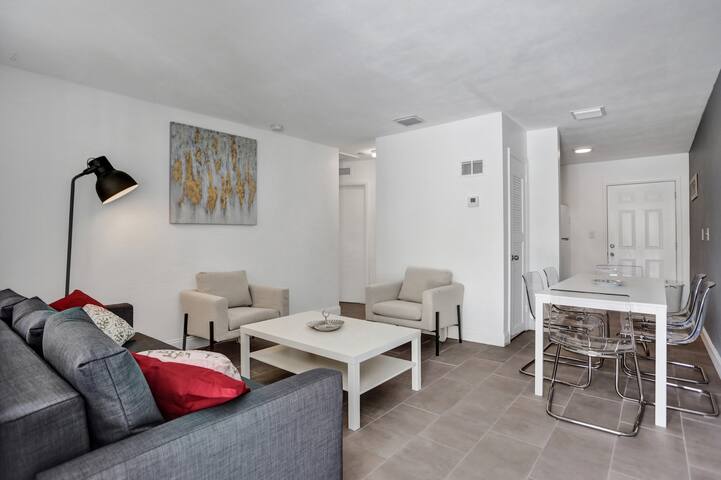 With room for up to 7 people, this 2-bedroom apartment has a good location, modern amenities, and a very affordable price. The fully-equipped kitchen means that you can cook all of your own meals. Or, walk a few blocks to the Rosemary Square area of shops, restaurants, bars, and more. The open layout will let everyone hang out together. The bedrooms also have their own TVs, too. Wi-Fi and free parking are included, too.
Happy Travels!