The 8 Best Affordable Airbnb Vacation Rentals in Lake Worth, Florida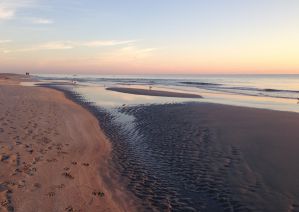 Just south of West Palm Beach lies the town of Lake Worth. With easy access to the beach and intracoastal waterway, along with plenty of great shops, restaurants, and activities in the village area, this is a terrific southern Florida destination year-round. It's more quiet than some of the neighboring towns, and brings back repeat visitors year after year.
If you're looking for a place to stay, we've researched the best (and most affordable) vacation rentals on Airbnb in Lake Worth for your next trip. So, whether you're traveling as a family, a couple, a group of friends, or solo, you'll find something in this list that fits your budget and travel style. All of these places have great locations, and some have full kitchens, extra bedrooms, and swimming pools, too.
Where are the best places to stay in Lake Worth?
Contents: Colorful Cottage | Tropical, Dog Friendly, Pool | Poolside Tropical Getaway | The Garden Suite at Chateau Bleu | Garden Studio Guest Suite | Parrot Cove Paradise | Modern Lake Worth Beach | South Florida Style Studio
We love the layout and colors of this beautiful 2-bedroom vacation rental that is perfect for a family or any type of traveler. The natural light floods into this cottage and creates a relaxing vibe. The modern and updated full kitchen is a great place to hang out and cook all of your meals (or bring back takeout). The bedrooms are well appointed, and the bathroom has also been renovated. The back deck is one of the best aspects of this house, as it provides plenty of space to chill and enjoy the Florida weather. Located just a short walk from all of the restaurants, shops, and bars around Lake Ave. and Lucerne, you can get out quickly when you want to enjoy everything in town.
This cute 2-bedroom cottage is dog friendly and has a plunge pool out back. The fully-equipped kitchen opens up into the living room area, featuring a large TV and comfortable seating. Both bedrooms have large beds. The bathroom is clean and has a shower-tub. The screened porch is a nice place to relax, too. Laundry, Wi-Fi, a BBQ grill, a nice garden with an outdoor shower. It's also close to the restaurants and shops in the center of town which is just a few blocks away. This is a real gem of a place!
Need a little more space? This
2-bedroom
house has enough room for a family and has a great pool in the back, too. The pool is surrounded by palm trees, and the back yard also features some great seating areas including a dining table, BBQ grill, outdoor shower, and lounge chairs.
Inside you'll find a spacious open-concept kitchen and living room layout. The kitchen is gorgeous and renovated with nicely appointed cabinets and updated appliances. The living room has large sofas and a nice TV, too. The 2 bedrooms are comfortable and spacious, too, with large beds.
Located in a quiet neighborhood, it's not far from shops and restaurants as well as the golf club.
The outdoor spaces of this luxury guest suite are what make it special. With lush gardens and an outdoor bathtub and outdoor shower, you can spend all of your time in a tropical paradise if you like. But don't worry, inside is a luxury guest suite with a relaxing bed, comfortable seating, large TV, and more. (No kitchen.) Located near the intracoastal waterway and the golf club, it's not far from everything in town, too.
Here's a beautiful and affordable guest suite featuring a swimming pool, jacuzzi, full kitchen (recently updated), clean and modern bathroom, modern furniture, outdoor shower, patio with dining table, laundry, grill, bikes, and more. The list just goes on! Located on a quiet street near the golf club, this suite is behind a home but has a private entrance.
This gorgeous 2-bedroom house has an open-concept layout with an updated, modern, and fully-equipped kitchen. Perfect for a family or group of friends, the master bedroom has a king sized bed and a renovated high-end bathroom. The second bedroom also has a king bed, huge closet, and another fantastic and new bathroom. A workspace desk, laundry, and gardens are all part of the package. Located about 1 mile from the beach and not far from shops and restaurants, this is a great place to stay.
Here's a roomy and spacious apartment with 2-bedrooms and enough room for a family or some friends visiting the beach together. With a full kitchen, you can cook all of your own meals. Both bedrooms have large beds, and the bathroom is clean and modern, too. An outside seating area is part of the package, too, as is a work desk, TV, Wi-Fi, and more. It's also just a few blocks from the center of town.
This simple and affordable studio is a great option for couples looking for a relaxing, clean, and comfortable vacation rental in Lake Worth. It has a fully-equipped kitchen, a good TV, a good bathroom, and more. Located close to the center of town, you're not far from restaurants, bars, shops, and activities here, too.
Some photos are courtesy of airbnb.com.
Share This Article