The 8 Best Airbnb Vacation Rentals for Couples in West Palm Beach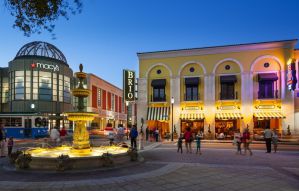 West Palm Beach has plenty to offer for couples looking for a romantic getaway. Whether you're traveling just for the weekend or on a week-long vacation, you'll find plenty of things to do here once you find a great place to stay. Not only are the beaches close by, but the nightlife and watersports are also popular. Clematis Street is the heart of the historical downtown area with plenty of restaurants, bars, shops, and boutiques. Or, take the free trolly over to Rosemary Square, another popular spot full of great dining and shopping options. If you're into art, check out Antique Row, the Norton Museum, and the Flagler Museum. The botanical gardens and Peanut Island are more peaceful places to visit if you want to get out into nature. And don't forget to take in a show at the Kravis Center one night, too.
If you're looking for a place to stay, we have researched and assembled a list of the best vacation rentals for couples on Airbnb in West Palm Beach. All of these places have great locations, nice amenities, and more. Most also have full kitchens, and some have swimming pools, too. So if you're looking for a nice romantic escape, we've got you covered. Let's get to it!
Where are the best places to stay for couples in West Palm Beach?
Contents: Mediterranean Apartment with Pool | Dreamy Cottage with Pool | Rosemary Square Loft | Rosemary Square Luxury Condo | Contemporary Waterfront Loft | Waterfront Apartment | Tropical Cabana with Pool | Cozy Guesthouse B
This 1-bedroom apartment is the guesthouse of a larger home with an amazing pool, hot tub, and some fantastic outdoor lounge areas. The decor is breathtakingly beautiful. You'll have a private entrance, private patio, balconies, a modern and fully-equipped kitchen, renovated bathroom, cozy bedroom, and more. It's also just steps from the intracoastal waterway so you can head to the waterfront park for great views. Or walk, bike, or drive to the shops and restaurants downtown. This place is a gem!
Behind a larger home sits this beautiful private guesthouse with access to the swimming pool. The 1-bedroom apartment has a fully-equipped kitchen with everything you need to cook and an open-concept layout to the living room space. The bedroom is relaxing and cozy with a nice king sized bed, too. The bathroom is clean and modern with a stand up shower. The overall decor is beautiful and has a cottage feel. The outside area around the pool is also gorgeous and inviting. You can also use the grill and lounge chairs. Located near Northwood Village, plenty of shops and restaurants are nearby. Or it's a short drive into the center of WPB.
If you're looking for more space and more luxury, this 2-bedroom loft apartment at Rosemary Square is not only gorgeous, but sits in a very convenient location, too. With high-end finishes, a modern fully-equipped kitchen, and a clean and updated bathroom, anyone would be comfortable here. The building has a nice pool, hot tub, and gym as well. And the location? Just step outside to the shops, restaurants, and bars of downtown, because you're right in the middle of everything here. Wi-Fi, laundry, free parking, and other niceties are included.
Here's another well-appointed apartment vacation rental at Rosemary Square and CityPlace. This one is a 1-bedroom with a modern kitchen, clean bathroom, and nice furniture. You'll have access to the pool, hot tub, gym, theater room, and more. Laundry, Wi-Fi, and free parking.
This gorgeous studio loft-style apartment is the ultimate in modern luxury. The building has 2 pools and a gym, for starters. The vacation rental itself is high-end with a new, modern kitchen, great bathroom, and luxurious furnishings. The large windows bring in plenty of natural light. Step out onto the huge balcony for some nice views, too. The living room space has a great TV, too. Check out the photos!
This gorgeous studio-style loft apartment looks out to the water of the intracoastal and is in a great building with 2 swimming pools and a gym. You'll have a modern, fully stocked kitchen with everything you need to cook. The bedroom is separated from the living room with a privacy curtain, but both rooms are spacious. The bathroom is very nice with a large tub and a shower, and the walk-in closet has enough space for everything you might bring. It's affordably priced, too.
Here's a gorgeous cabana guesthouse with a swimming pool and lush gardens. You'll probably want to stay outside forever, but if you do need to eat and sleep then inside you'll find a gorgeously appointed living room and bedroom. The kitchen has most things you need to prepare meals (but no stove), so it's more of a kitchenette, but it has plenty of space. A grill is outside, too. The bathroom is also half bath but there's a private shower outside by the pool. Despite the lacking of these amenities, this is a fantastic find at a great price. Bikes to head down to the beach or shops are also included.
Here's an affordable 1-bedroom with a fully-equipped kitchen, spacious living room, relaxing bedroom, and modern bathroom. You'll also have some outdoor seating, a grill, and other niceties such as Wi-Fi. Located near the water and the shops and restaurants of the center of town, this is a great option.
Some photos are courtesy of airbnb.com.
Share This Article