West Palm Beach has plenty to offer for families with children looking for a fun vacation. Families will easily find plenty of things to do in the area once you find a great place to stay. Not only are the beaches close by, but the intracoastal waterway and watersports are also popular. Snorkeling and boating trips are common. Clematis Street is the heart of the historical downtown area with plenty of restaurants that cater to families. Or, take the free trolly over to Rosemary Square, another popular spot full of family-friendly dining and shopping options. Kids will love the South Florida Science Center and Aquarium (as will grown ups). Then head over to the Palm Beach Zoo to make some new animal friends. Also, Rapids Water Park is always a great way to pass some time when you're tired of the beach. Or, maybe you're headed to WPB for baseball's spring training? In that case, you'll want to be near the stadium.
(If you're looking for a place at the beach, see our article about places to stay on Palm Beach Island here.)
Villa Paradise
2-bedroom
home with a spacious layout, comfortable furniture, and a 2nd bedroom with twin beds for the kids. The fully-equipped kitchen is well done and modern. Located near the shops and restaurants of Northwood Village, you can walk to a variety of places. This is a great find at a good price.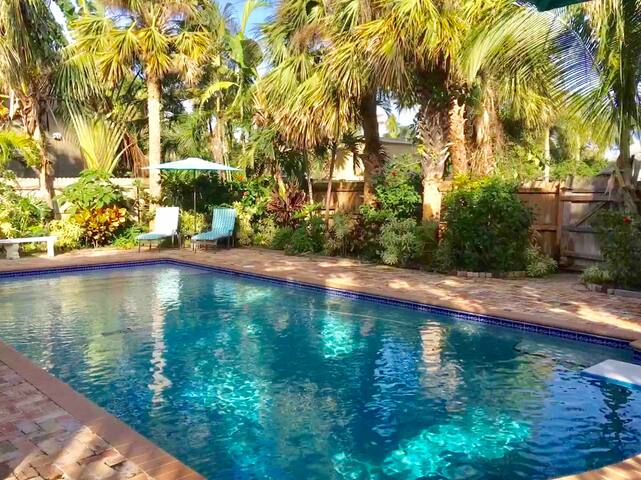 Renovated 4BR Pool House
4-bedroom
house with a pool in the back. The well-designed house has a fun and energetic decor that everyone will love. The kitchen is well stocked and spacious, and has an open layout so you can see into the dining and living room areas. The bedrooms are elegant, and the master is particularly romantic with a fantastic bathroom, too. A kids room has twin beds, and they can have their own bathroom, too. The pool area in the backyard is surrounded by gardens as well as a putting green and some play areas. Located in the Northwood Village area, you're not far from restaurants and shopping. What a great find!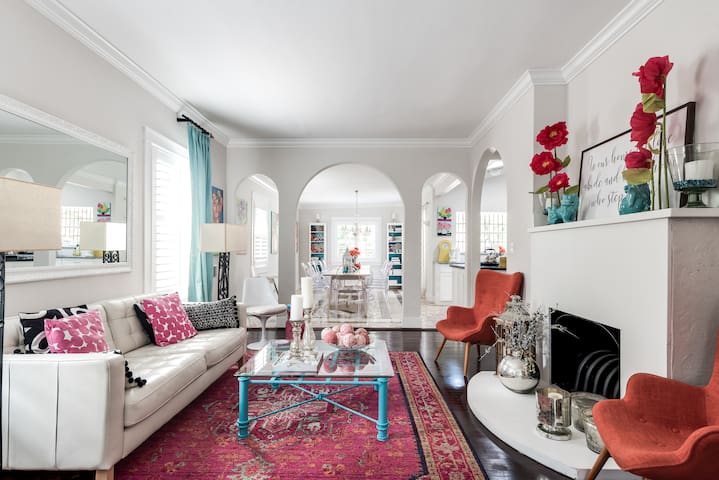 Mediterranean Pool House
Out back you'll find a beautiful swimming pool along with outdoor seating areas under a covered patio. Check out the photos, because this is a true oasis!
The house is divided between the main house and the guest house, each with a separate entrance and separated living areas. The pool and patio is the only shared space. It's possible to book both at the same time if you have a very large group, which means you'd have room for up to 14 guests in 5 bedrooms.
2BR Guest House:
3BR Main House:
CityPlace Modern Condo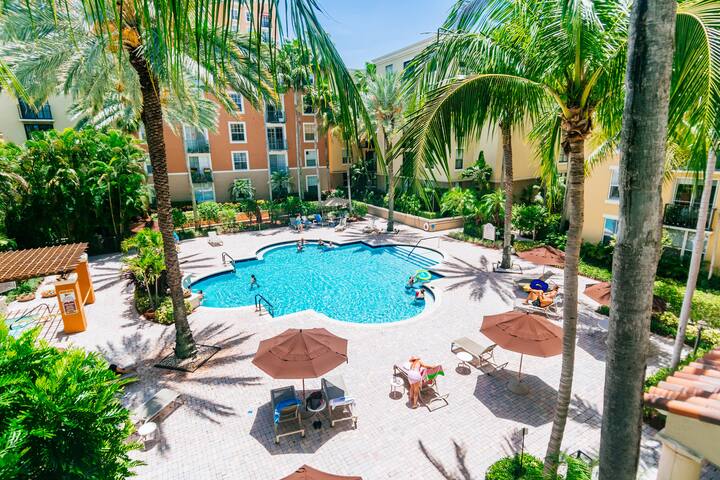 CityPlace 2BR Apartment
Downtown Hideaway
Black Swan Rosemary Square
Luxury Estate 4BR
4-bedroom
estate with a covered swimming pool, beautiful gardens, and high-end furnishings. The kitchen is updated and gorgeous, the bathrooms are modern and high-end, and the bedrooms are all spacious and relaxing, too. You really can't go wrong here, and the price is justified for what you get. There's also a play room and game room for the kids with toys, games, and more. Out back is the pool surrounded by some outdoor seating, a TV, and a fire pit so you can relax while the kids swim. Outside is also a swingset, hammock, and more to explore in the stunning gardens surrounding the house. This really is a family-friendly luxury estate. Laundry, parking, Wi-Fi, and other niceties are included. Also, it's located just a short distance from the waterfront of the intracoastal waterway, and close to shopping, too.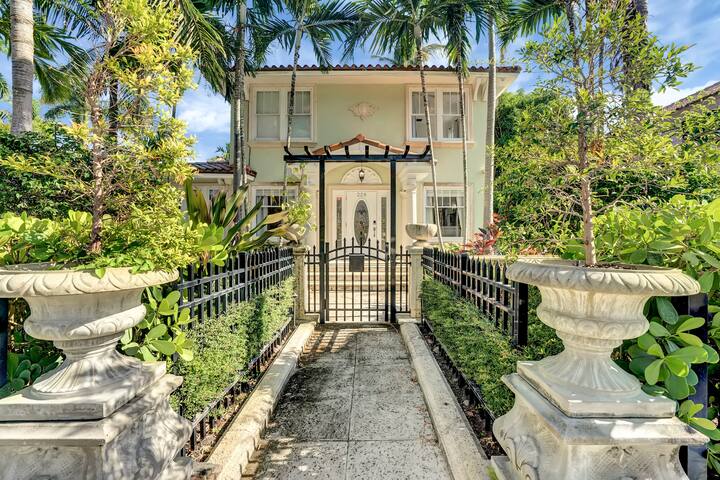 4BR Pool House
Downtown Bungalow
2 bedrooms
and a high-end kitchen. Located in a quiet neighborhood, you're within easy reach of everything around town but also away enough to avoid the crowds and the noise. The bedrooms are comfortable, laundry is included, and there's some outdoor space to relax and play, too.
Tropical Private Hideaway
3 bedrooms
making it ideal for a family. It's in Northwood Village not far from the water in a quiet neighborhood. Enjoy the outdoor dining area by the pool after cooking in the high-end and beautiful kitchen. The bedrooms are well designed, too. This is the perfect house for a family looking for some extra space, nice amenities, and more. Wi-Fi, laundry, and more are included.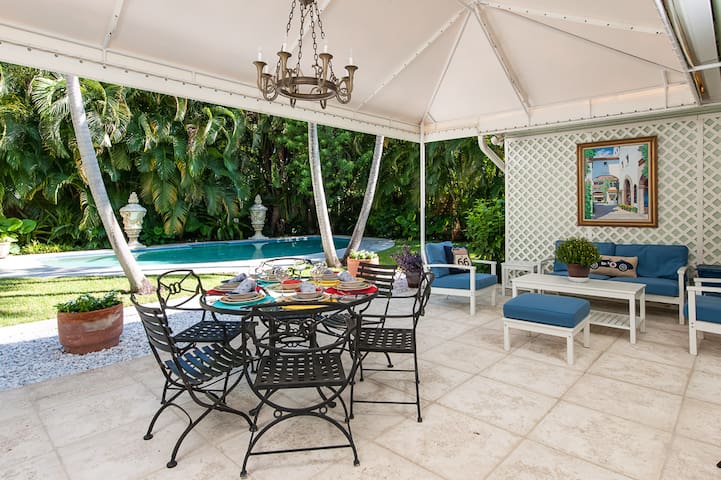 Art Retreat Cottage
Affordable 2BR Apartment
Cozy 2BR
Happy Travels!