The Best Airbnb Beach House Vacation Rentals in Cape Canaveral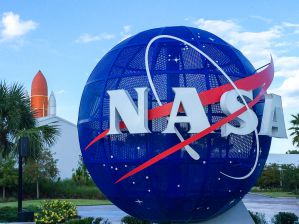 Famous for the launch pads of NASA's rockets, Cape Canaveral, Florida is a beautiful beach destination on the Atlantic coast of Florida. With plenty of activities for everyone, including adults and kids, the Cape Canaveral and Port Canaveral areas have beaches, resorts with swimming pools, a cruise port, water sports, wildlife, and more. It's no surprise that this part of Florida (known as the Space Coast) is so popular.
Beach houses for rent as vacation rentals are a great way to experience Cape Canaveral and everything it has to offer. With a vacation home in Cape Canaveral, you get more space than a typical hotel room would offer. And also you can have your own kitchen, extra bedrooms, and sometimes even a private pool. We have researched the best vacation rentals houses on Airbnb in Cape Canaveral for your next trip. Finding a vacation rental on VRBO or Airbnb can be very challenging due to the overwhelming amount of options, so we've done the hard part for you. All of these places are high quality, have good reviews, plenty of nice amenities, and great locations.
The beach town of Cape Canaveral merges into the town of Cocoa Beach to the south, and it can be hard to tell where one town ends and the other begins. As this article is part of our series covering the
best Airbnbs in Cocoa Beach
, you can also see
more vacation rental beach houses in Cocoa Beach here
.
Where are the best beach house Airbnb's in Cape Canaveral?
Contents: CapeScapes - Private Beachfront Vacation Rental | Sea Turtle Cottage - 3-Bedroom Vacation Rental with Pool | Gorgeous Beach House in Cape Canaveral | Sunny Side Up - 2-Bedroom Airbnb Beach House | La Serena - Cape Canaveral Beach House | Artsy Beach Cottage - Family-Friendly Vacation Rental
The beach is your backyard in this amazing
3-bedroom
, 2-bathroom beach house vacation rental that sits, obviously, right on the ocean. The outdoor living experience is strong here, as you'll find a large deck with plenty of lounge seating and a dining table, along with hammocks and a tiki bar. Upper-level decks have views of the ocean, too. Inside is a nicely appointed house with an open-concept kitchen, dining, and living room space. The fully-equipped kitchen will let you cook all of your meals, and the living room has large sofas that invite you to sink in around the huge TV. The bedrooms are also well designed, and the bathrooms are recently renovated and luxurious, too. One of the bedrooms is perfect for kids as it has bunk beds and lots of color. The most interesting part of this house is the large sea-themed murals on the walls. Check out the photos and add this one to your favorites!
With a pool and a spa, this
3-bedroom
house is a terrific option partly because it sits just one block away from the beach. You can walk out the door and be on the sand in just 3 minutes. The kitchen is spacious and updated, the living room is very relaxing, and the bedrooms are colorful and elegantly designed. The bathrooms are also clean, modern, and spacious. Also included is laundry, a BBQ grill, Wi-Fi, parking, and plenty of other niceties. This is the perfect place for a family with kids looking for an affordable vacation home for a week at the beach.
Just 5 minutes on foot from the beach, this affordable
2-bedroom
house has everything a family or group could need at the beach. The interior has undergone recent renovations, so the kitchen, bathrooms, and furniture are all new. Cook all of your meals for your crew in style in the updated kitchen with nice countertops and high-end appliances. The bathrooms are also luxurious, and the bedrooms look like they came out of a design magazine. Out back is a tiki bar and some lounge chairs, along with an outdoor shower, a grill and a nice dining table. Beach chairs, toys, bikes, and other fun stuff is included too. Laundry, Wi-Fi, parking, and more are also part of the package.
This unique vacation rental house is truly special in its decor and style. But it's also functional, comfortable, and has everything you need to enjoy a trip to the beach at Cape Canaveral. With
2 bedrooms
, it's perfect for a family not just because of the colorful and fun style, but also because of the bunk bed room, the toys and games, and the outside play area. The kitchen has everything you need to cook all of your meals, and the bathroom is clean and modern. The master bedroom is also cozy and relaxing. With beach toys included, your time at this house will be very memorable. Laundry, Wi-Fi, parking, and more are all part of the package. And the location? It's right at the beach and you can walk to it in 1 minute.
Some photos are courtesy of airbnb.com.
Share This Article