Cape Canaveral On a Budget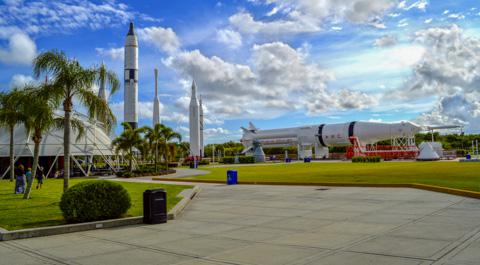 As a part of the region known as the "Space Coast," Cape Canaveral is best known as the home of America's launch pad, the Kennedy Space Center. The Space Center is located just to the west of the city on Merritt Island. Other features of the cape include the Cape Canaveral lighthouse and Port Canaveral, one of the busiest cruise ports in the world.
Sights
The Kennedy Space Center Visitor Complex is the busiest attraction of the area. Passes to the center will include access to museums, IMAX movies, a rocket garden, and bus tours of former shuttle preparation and launch facilities. The Air Force Space and Missile Museum, located on two historic Launch Complexes, introduces visitors to the history of rocketry and space flight, while the Air Force Space and Missile History Center is an extension to the museum. The center features historic information and displays for each Launch Complex at Cape Canaveral Air Force Station, plus a gift shop and picnic area. The Exploration Tower is another unique attraction of the cape - an architectural landmark with 7 floors of interactive exhibits and observation decks, plus a cafe and gift shop.
Other nearby sights include the Astronaut Memorial Planetarium and Observatory which hosts an exhibit Hall, planetarium, IWERKS movies, laser light shows, and observatory, as well as the Brevard Museum of History and Natural Science which traces the area's history from the days of woolly mammoths and sabretooth cats to rockets and space shuttles. The Brevard Zoo is also popular, featuring activities like a treetop trek, guided kayak tours, and opportunities to feed animals.
Beyond the "Space Coast" attractions, there are also a few parks and beaches frequented by visitors, some of which include Jetty Park and Cherie Down Park. There is also the Manatee Sanctuary Park which features over 10 acres of waterside beauty with exercise stations, a boardwalk, picnic facilities, and horseshoe pits. While in any of the parks you may catch sight of local wildlife like sea turtles, manatee, and dolphin.
Neighborhoods
The city of Cape Canaveral is a beachside community located on Florida's mid-Atlantic coast. In addition to its prime location on the "Space Coast" it is also a short drive from the area's three major universities as well as the Orlando area attractions. The city is bounded by the Banana River to the West, the Atlantic Ocean to the east, Port Canaveral to the north, and Cocoa Beach to the south. It is a midpoint between Miami and Jacksonville and is located just over 50 miles east of Orlando. Most people stay in the city as a home base for the "Space Coast" attractions.
Activities
In addition to visiting the attractions mentioned above, there are a number of things to do at the cape from relaxing on the beach or hopping on a cruise to deep sea fishing and zero gravity flight experiences. Beachside activities beyond sun bathing and swimming include things like kayak fishing, kayak manatee and wildlife viewing, surfing lessons, stand-up paddle boarding lessons, cruise shore excursions, and all kinds of fishing. Rentals for surfboards, paddleboards, kayaks, bikes, and beach gear are also available.
Evening and extended cruises are offered from Port Canaveral, while deep sea fishing charters can also be arranged from Port Canaveral and Cocoa Beach.
For those seeking a closer to space experience, Zero Gravity Corporation allows individuals to experience true "weightlessness" without going to space. Packages range from a learning workshop and merchandise at $120 to a full weightless experience plus professional photos, video footage, merchandise, and catering for around $5000.
Cocoa Beach Aerial Adventures also offers a unique opportunity to navigate through a series of challenges set in a canopy of beautiful live oak trees, 45 feet in the air. There are three different trails and levels of difficulty that allow participants the choice to challenge only the obstacles they feel comfortable with.
Food and Dining
Like any city, Cape Canaveral has a wide variety of dining options to satisfy all tastes and budgets. With its location surrounded by water, the cape will have plenty of great fresh fish and seafood to indulge in. Some of the top rated restaurants on TripAdvisor include Grills Seafood Deck & Tiki Bar, Kelsey's Pizzeria and Restaurant, Papa Vito's Italian Restaurant, Preacher Bar, Fishlips Waterfront Bar & Grill, Rusty's Seafood and Oyster Bar, and Seafood Atlantic, amongst many more.
Transportation
By plane, the nearest airport is Melbourne International Airport, just 27 miles south of Cape Canaveral. It is served by Delta Airlines and US Airways. Orlando International Airport is the largest airport serving the area, located a little less than an hour from Cape Canaveral along Florida State Route 528. Daytona Beach International Airport is another option, about an hour and 15 minutes north by way of Interstate 95.
By train, the nearest Amtrak station is in Orlando, 50 miles west.
By car, Cape Canaveral is at the eastern end of Florida State Route 528 from Orlando. Interstate 95, a primary north-south route on the Atlantic Coast, intersects FL-528 near Cape Canaveral.
Related:
Looking for a
party hostel in Hawaii
or
Miami
? Traveling alone to
LA
or
New Orleans
? Want a budget hostel in
NYC
?