Breckenridge offers a fun and romantic destination for couples who enjoy nature, skiing, and charming towns. A number of great restaurants and bars can be found in town that make for the perfect date night destination. The area also offers great hiking, skiing, and more. Year round, Breckenridge makes the ideal couples getaway destination.
Now you just need a place to stay in Breckenridge, so we've put together some of the best Airbnb's for couples. These condos, cabins, and townhomes are comfortable, romantic, and relaxing. You can have a cozy time staying indoors, or you can get out and explore the area. Either way, one of these airbnb's will be perfect for your couple's getaway.
Historic Downtown & Main Street
Breckenridge has a charming downtown and Main Street. The historical architecture of the buildings reflects the town's mining history and couples enjoy the quaint personality of the area with its boutique shops, local restaurants, and vibrant nightlife.
Choosing a property near Main Street offers easy access to a wide selection of restaurants and activities that couples can enjoy together. The area is set against the backdrop of the mountain scenery, making for a beautiful, fun, and romantic destination. Below are some of our favorite properties for couples.
Mainridge
Located right by Main Street, this townhome has a stone fireplace and a large balcony that couples love. There's a grill, outdoor seating, and a private hot tub.
Ski Country Penthouse
This property is conveniently located near Main Street but set back from the noise of the area. There's a large balcony, private hot tub, and a romantic setting that couples appreciate.
Gondola Loft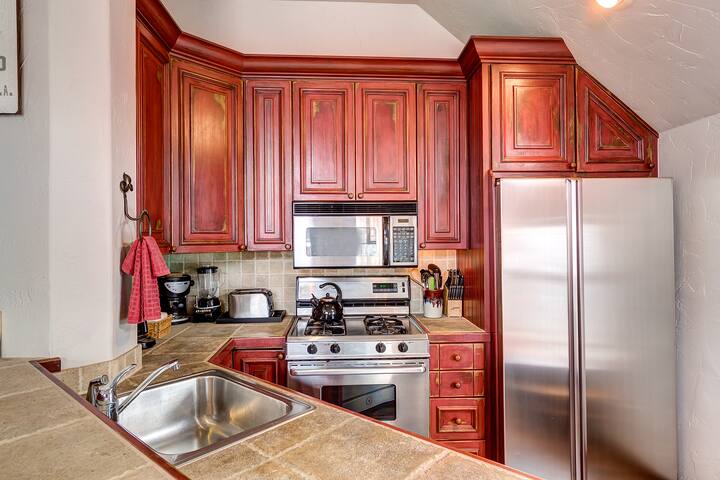 This condo is perfectly laid out for a couple. The open floor plan and high end furnishings make it a wonderful and convenient place to stay.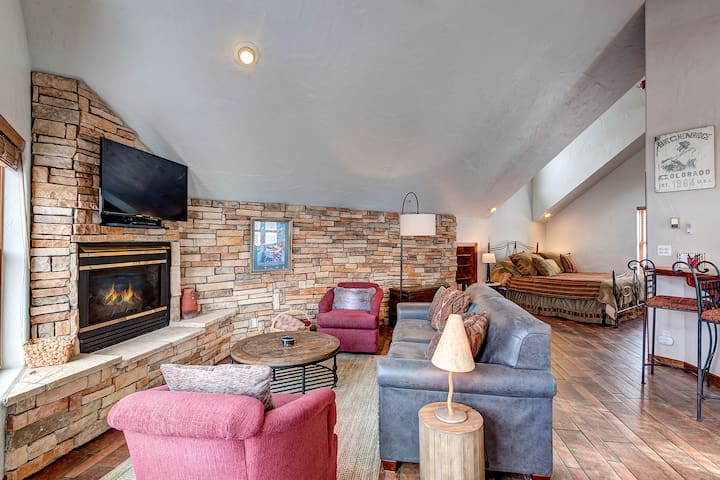 Peak Nine
For couples who want to be near Main Street as well as Breckenridge's world class skiing, Peak Nine is the perfect location. It's conveniently close to both the slopes and the historic center of the town. If you're visiting during the warmer seasons, hiking is also right outside your door.
The area has restaurants and bars as well that offer the perfect place to unwind after a busy day on the slopes. Maggie Pond is also nearby, which offers a number of outdoor sports and activities like fishing, paddle boarding, and more.
Beaver Run Resort 2BR
Located in the Beaver Run Resort, this condo has a wide range of amenities for guests. There's a ski locker provided at the lift, a ski shop, a game room, spa, convenience store, onsite restaurants, tennis courts, mini-golf, and more.
Breck Ski-In Townhome
This three story, two bedroom townhome is a great option for couples who want to be near skiing and everything that Breckenridge has to offer. It's impressive kitchen is ideal for couples who enjoy cooking their own food.
Four Seasons
Surrounded by forest, the Four Seasons neighborhood is both convenient and beautiful. It's close to the slopes as well as hiking and biking trails. It's connected to Peak Nine by a pedestrian bridge over Maggie Pond.
Couples appreciate the natural setting and the occasional opportunity to see wildlife like foxes. There are year round outdoor activities that you can enjoy like fly fishing and hiking.
Treetop Condo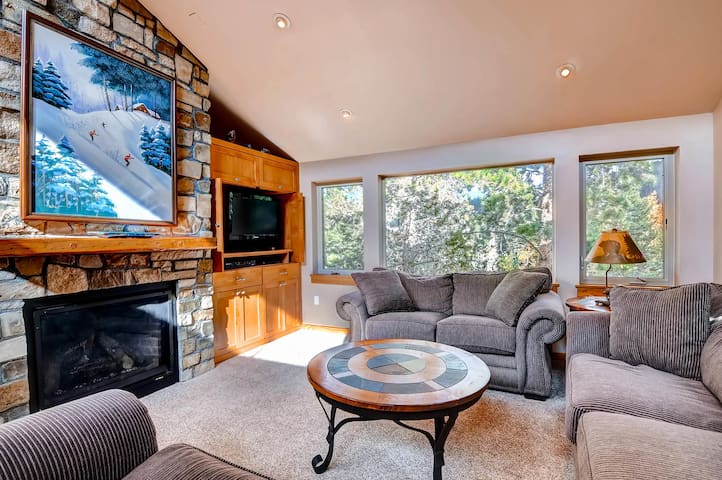 This condo is near everything including shops, skiing, and hikes. You have access to a community pool and hot tub, and the unit is well maintained and nicely furnished.
Gorgeous Remodeled Condo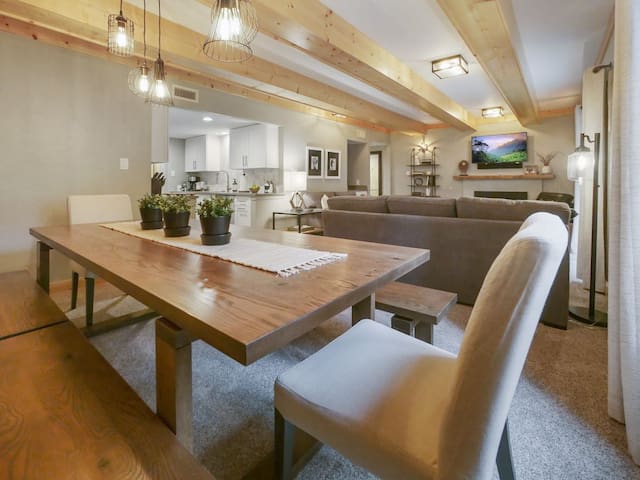 This large condo is a great option for couples that appreciate space. There's a large master suite as well as a second bedroom. The resort is walking distance to Main Street and excellent skiing.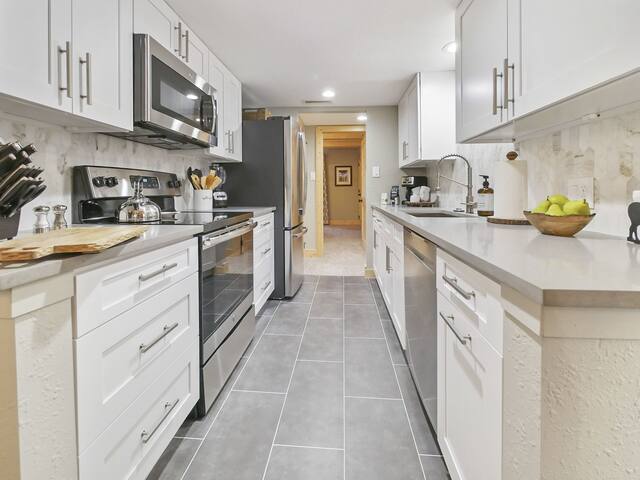 Four O'Clock
The Four O'Clock area is close to both the Snowflake lift and Four O'Clock Ski Run. Four O'Clock Ski Run is Breckenridge's longest ski trail - running 3.5 miles. During the summer months couples appreciate the neighborhood's proximity to the Sawmill Reservoir hike. Below are a couple of great properties.
Breck's Best - 2BR Loft
This property has a fireplace and well stocked kitchen. It's right by downtown as well as skiing. Guests also appreciate the community pool and hot tubs.
Park Meadows Lodge - 1BR
This cozy property is perfect for couples who are looking for value. It's conveniently located, very clean, and offers access to a community hot tub.
Walk to Town 1BR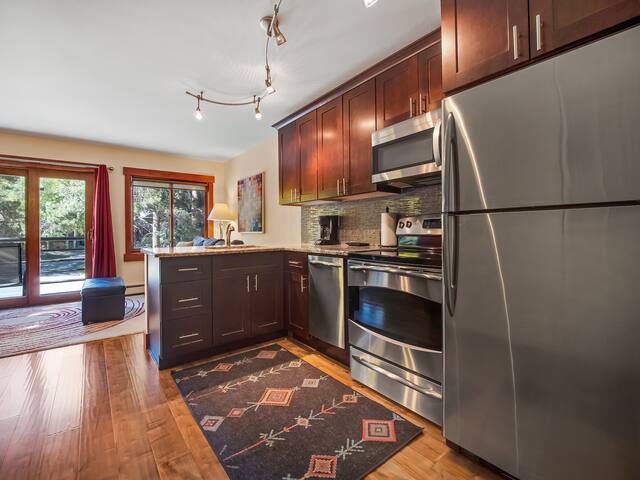 1 Bedroom, Full Kitchen, Hot Tub, Dogs Allowed
Near hiking, skiing, and everything Breckenridge has to offer, this property is a great value for couples. There's a community hot tub as well. It's also
dog friendly
!
Dog Friendly Creekside - 1BR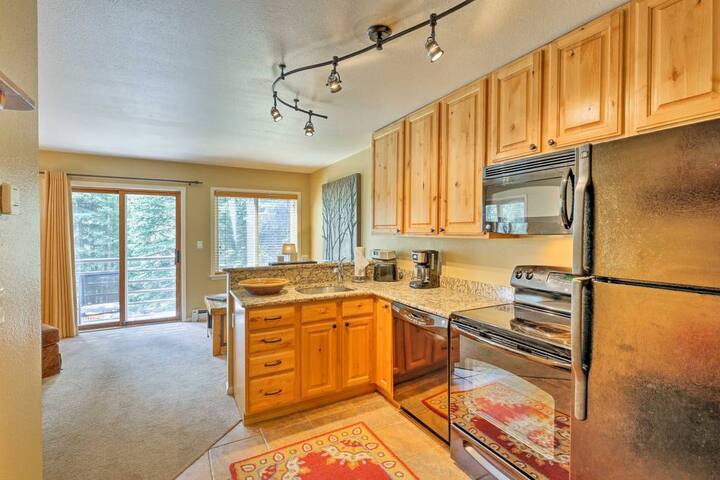 1 Bedroom, Full Kitchen, Dogs Allowed
Couples love the forested setting of this condo, right by a stream. It offers a quiet and beautiful retreat. You can ski-in, and dogs are welcome. There's a community pool, too. The kitchen is fully-equipped and very modern, and the balcony is relaxing.
Warrior's Mark
Warrior's Mark is a neighborhood that's located near
Peak 10
. It offers views of the all black diamond terrain and there are a number of larger properties and homes in the area. There are less condos and more full sized homes in this area, so prices can be a little bit higher for couples, but for some the indoor space and yard space are worth the higher price tag. The area also offers a very peaceful and tranquil setting. Some great properties are mentioned below.
Eagle Ridge 2BR Loft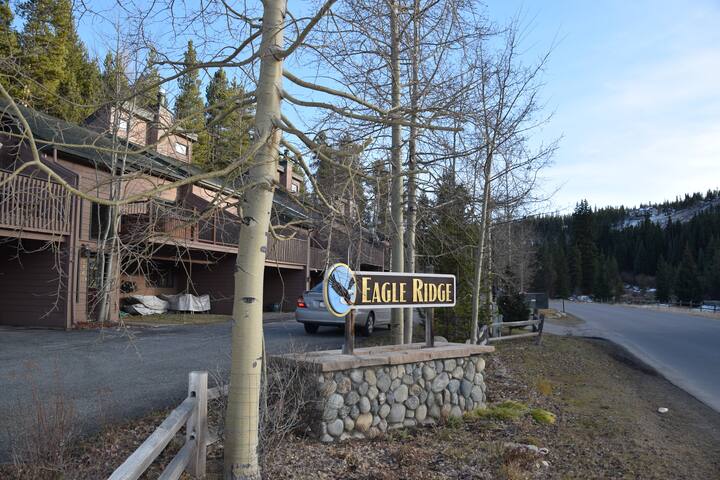 This townhome offers a lot of space for couples as well as a private hot tub and a number of great amenities.
The Highlands
The Highlands is a luxurious area north of Downtown. It's known for its large homes with spectacular views and countless premium amenities. It also has a 27-hole golf course and plenty of hiking and biking trails.
This area is more popular with larger groups and families than it is for couples, simply because the houses are so large and luxurious. Prices are also quite high. For couples, the below properties are slightly more affordable and a bit smaller than the average home, so they are nice options for those who want to stay in the Highlands area and have more space than a typical 1 or 2 bedroom condo.
Family Retreat 3BR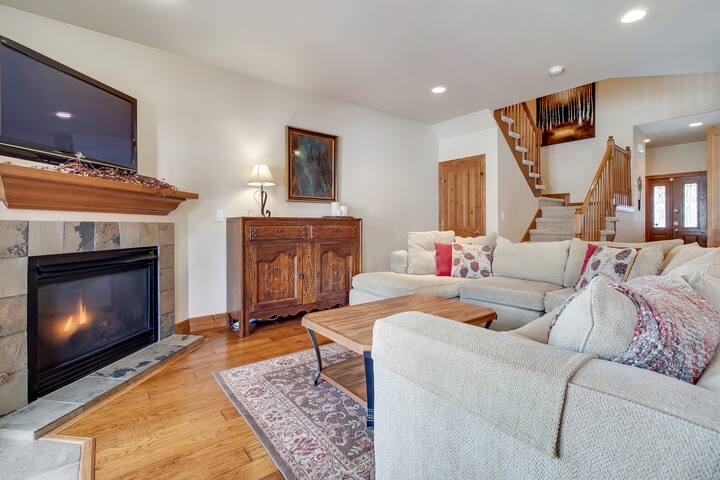 3 Bedroom, Full Kitchen, Hot Tub
This three bedroom townhome is perfect for a couple who wants to be a bit removed from the chaos of town. It's in a residential setting that is peaceful and quiet. There's a private hot tub, a nice large, and a fireplace that couples enjoy.
Spacious Retreat 3BR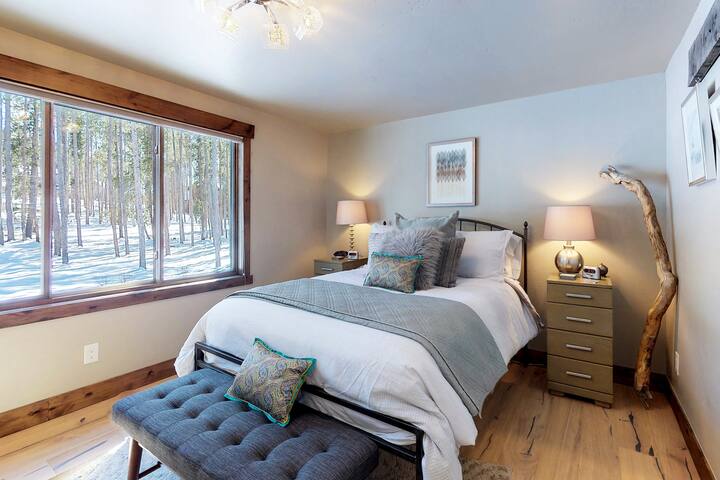 3 Bedroom, Full Kitchen, Hot Tub
Couples love the outdoor space, grill, and private hot tub at this home.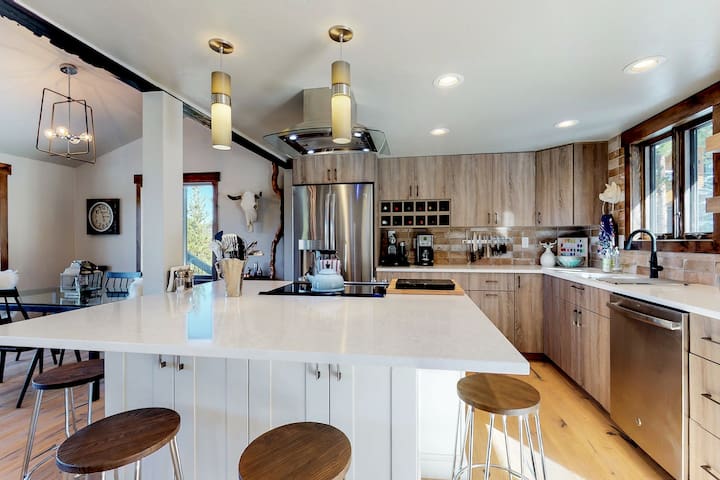 Happy Travels!
If you're interested in more accommodation options in Breckenridge, you should also see
The Best AirBnB Cabins and Condos for Families in Breckenridge
,
Best Breckenridge Airbnb Cabins & Condos for Groups of Friends
,
The Best Cabins and Condos on Airbnb for Couples in Copper Mountain
,
The Best Airbnbs for Groups in Copper Mountain: Cabins and Places to Stay
, and
The Best Family-Friendly Airbnbs in Copper Mountain
.