Breckenridge is a fun destination for groups of friends whether you're headed to the slopes or want to enjoy mild summer weather. Plenty of hiking and biking trails can be found in Breckenridge as well as places to go boating, fishing, or more. The town has a charming downtown area with great restaurants and bars, and there's no shortage of fun activities that your group can enjoy.
If you have a group of friends planning a ski trip or a hiking trip, then you probably need more space. A typical hotel room is not going to be enough for everyone. That's why you need a house, cabin, or larger condo so that everyone has their own space. With these vacation rental properties, you also get extra amenities such as a full kitchen, laundry, Wi-Fi, and more. And don't worry, we've done all of the hard work for you - here you'll find the best airbnb cabins and condos in Breckenridge for your group of friends.
Main Street and Historic Downtown
Breckenridge's history of mining can be seen throughout its downtown area. The Main Street is lined with historic buildings that preserve the architecture of the region. The area has a laid back vibe that's perfect for hanging out with friends between hikes or ski days. There are countless restaurants, shops, and nightlife venues that are great for friends hoping to spend some time together.
After a day filled with skiing or other outdoor adventures, the Main Street is the perfect place to return for good food, great shopping, and fun nightlife. Below are some great properties that can accommodate groups of different sizes.
Home in Historic District
Park Ave Boutique Condo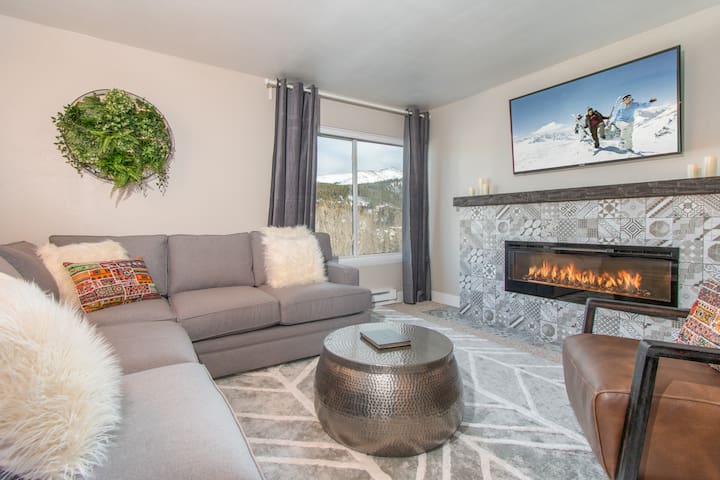 Peak Nine
For groups that want to be near everything, the Peak Nine neighborhood is a convenient location between the ski slopes and the downtown area. Its convenient access to some of the area's best skiing make it a popular destination with groups. During the warmer seasons it also offers convenient access to some of the area's popular hikes.
For groups wanting to spend more time outside, Maggie Pond is a great nearby destination with fishing, paddle boarding, and more. There are also bars and restaurants in the area that are great spots to hang out.
Below are a few of the best rental property options.
4BR Townhouse at Snowflake Lift
Kings Quarters Condo
Breck Ski-In Townhome
Four Seasons
Visitors love the scenic setting of the Four Seasons neighborhood. It's surrounded by forest and set against the backdrop of natural beauty. The neighborhood also offers easy access to the ski slopes and hiking trails.
Visitors can access Maggie Pond by a pedestrian bridge and are close to the Peak Nine base area with its famous ski slopes. Several properties for groups are described below.
Treetop Condo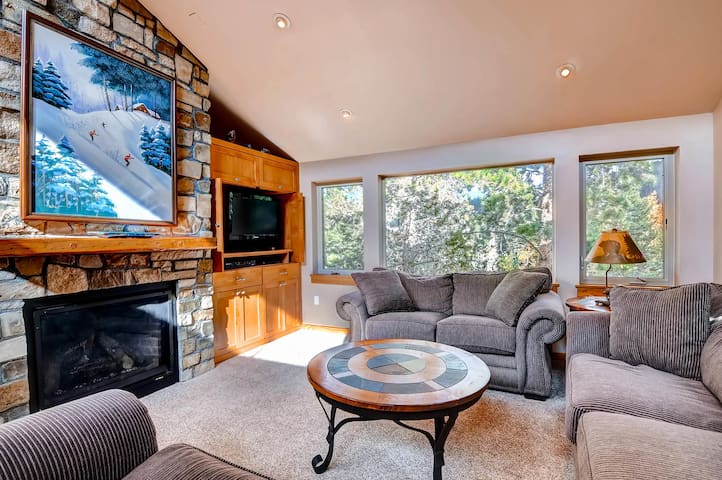 Stylish 4 Kings
3BR Condo - Walking to Slopes & Downtown
Penthouse Ski Condo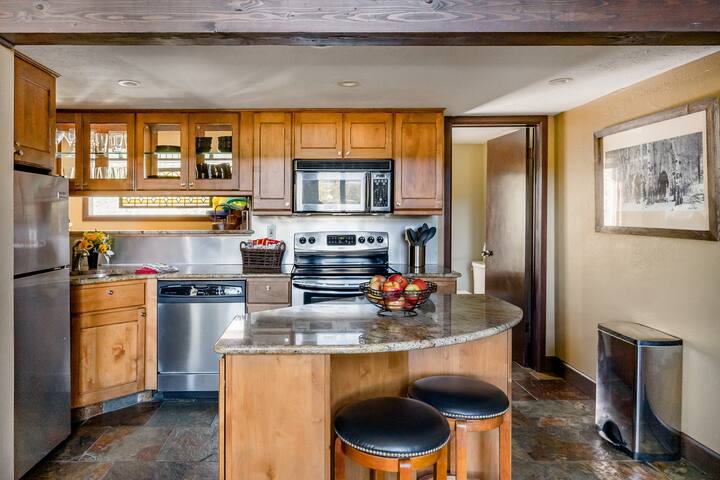 Four O'Clock
Four O'Clock is a neighborhood that's near the Snowflake lift and Four O'Clock Ski Run, which is the longest ski trail in Breckenridge, traveling 3.5 miles. The neighborhood offers easy access to great skiing and other outdoor activities and many places offer ski-in ski-out access to the slopes.
The neighborhood also has restaurants where you can grab a bite to eat, hiking trails, and more that your group can enjoy. Below are a few of our favorite properties for groups.
Scenic Winter Getaway 2BR
Warrior's Mark
Groups love the scenic setting that is Warrior's Mark neighborhood. It's great for groups who want a convenient setting at a good value. It sits back against Peak 10 with its black diamond terrain, and many properties have great views of the area. The slopes can be accessed from several points in the neighborhood and the area is serviced by the Falcon SuperChair.
The area also has plenty of hiking and biking trails that explore White River National Forest. For groups that want a relaxed and peaceful setting, this is the place to stay. There are a variety of homes that have a lot to offer groups, including several mentioned below.
River Park Lodge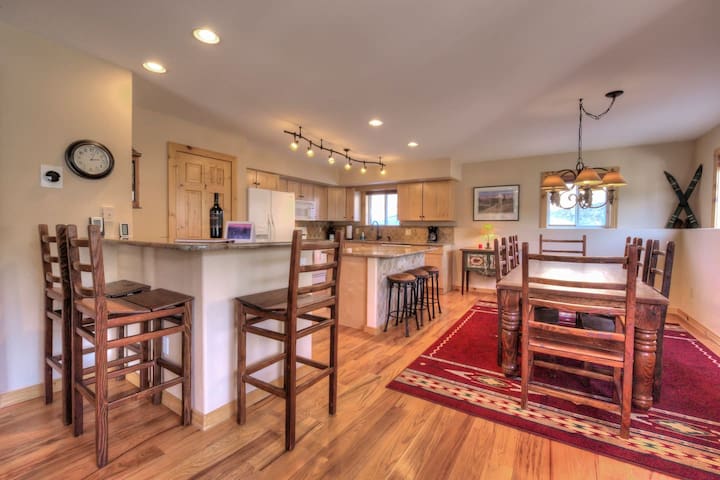 Lazy Fox Lodge
Secluded Downtown Home
Custom 3BR Cabin - Wildernest Point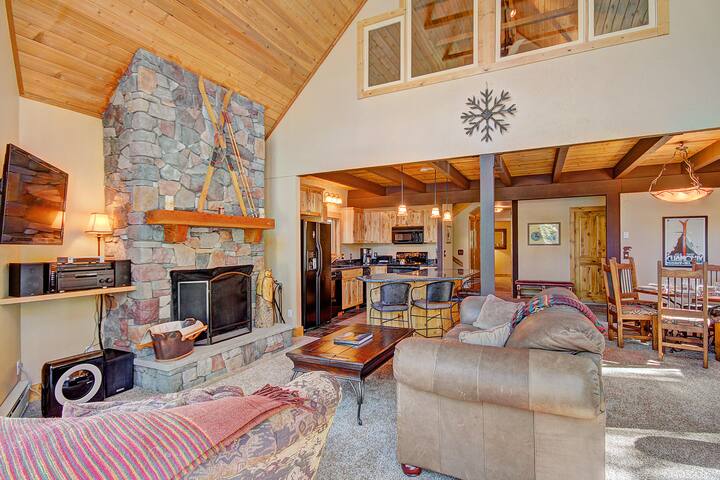 The Highlands
The Highlands area is to the north of downtown Breckenridge. This is a high end area with luxury homes and beautiful properties that are perfect for groups. The area is surrounded by the forested mountains and there are spectacular views of the nearby mountain ranges.
The neighborhood also has a 27 hole municipal golf course that's converted into a Nordic Ski Center during the winter months. The area has trails for hiking and mountain biking as well as lots of activities for visitors.
Many of the homes in the area have great amenities including hot tubs, game rooms, saunas, and much more. Several are described below.
Ullr Haus Cabin
Fletcher Lodge
Luxurious Home with Mountain Views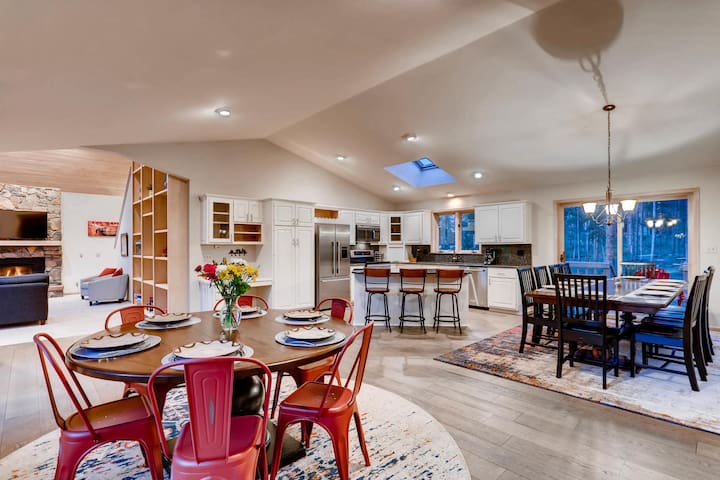 Happy Travels!
If you're interested in more accommodation options in Breckenridge, you should also see
The Best AirBnB Cabins and Condos for Families in Breckenridge
,
The Best Breckenridge Airbnb's for Couples
,
The Best Cabins and Condos on Airbnb for Couples in Copper Mountain
,
The Best Airbnbs for Groups in Copper Mountain: Cabins and Places to Stay
, and
The Best Family-Friendly Airbnbs in Copper Mountain
.