Had a great stay at this hostel. All of the staff are super friendly and helpful. Free breakfast every morning in the cafe was excellent. I also loved having dinner with the staff for only 6 euros. - Alex
What sets them apart?
Shelter Jordan is a Christian hostel that provides a calm and peaceful retreat for your stay in Amsterdam. This is a drug and alcohol free establishment that focuses on comfort and security.
Hostel Personality
Who's staying here?
This hostel welcomes guests who want to enjoy a safe, secure, and peaceful stay in Amsterdam. It's a welcoming environment where you can meet other guests who are in town to enjoy the sights.
Insider Tip
Grab a meal in the cafe. It's cheaper than any restaurants you'll find around Amsterdam.
Shelter Jordan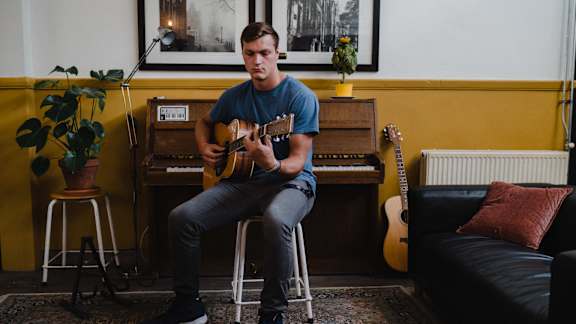 Shelter Jordan is a very welcoming Christian hostel that offers a safe retreat during your stay in Amsterdam. It's a drug and alcohol free establishment and is staffed by Christian volunteers from around the world. The hostel is friendly and welcoming with a quiet but warm atmosphere.
Meals are available for a very reasonable price in the cafe, and many guests enjoy dining with the staff and getting to know everyone. In general this is a quiet hostel though so the social atmosphere isn't always great for meeting other guests.
The Facilities
Dorms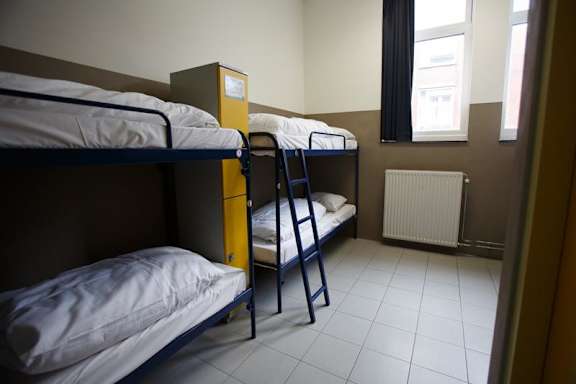 This hostel has dorm rooms that sleep between 4 and 18, with everything in between available. The rooms have bunk beds and include bed linens, security lockers, and reading lights. The rooms are all split by gender with men on their own floor and women on separate floors.
Bathrooms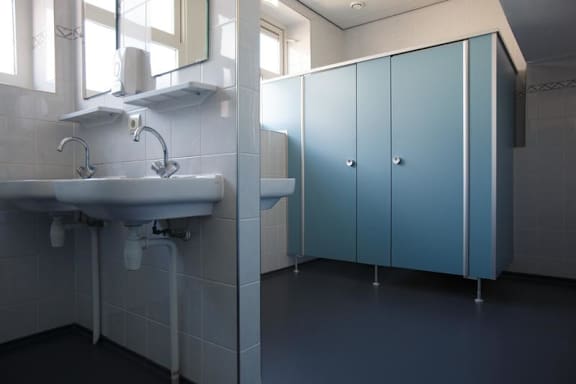 Dorm rooms use shared bathrooms. The female only rooms have their own shared bathrooms on their own separate floor. You can rent a towel for a small fee if you need one and hairdryers are provided free of charge.
Restaurant
The hostel has a nice on-site cafe where you can grab a meal for a very cheap price. It's perfect if you want a quick dinner without spending as much as you would in an Amsterdam restaurant. Many of the volunteers in the cafe as well, and they enjoy getting to know the guests. They also provide free breakfast in the cafe every morning. It's a great breakfast and you can choose between options such as pancakes or eggs.
Common Areas
Despite being a quiet hostel, there's plenty of common space where you can hang out. There are lounges with seating and tables, an outside courtyard for when the weather's nice, and the cafe which serves free breakfast every morning.
The Location
Jordaan District
What's Nearby?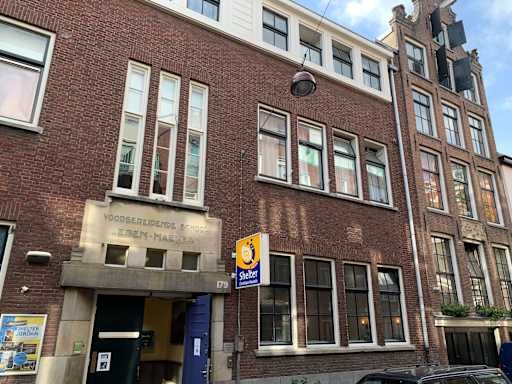 Shelter Jordan is located right in the middle of Amsterdam. It's less than a 30 minute walk from most of the city's top attractions including Dam Square, the Anne Frank House, and the Royal Palace. If you go a little further you'll find the Flower Market just over a mile away and Rijksmuseum almost 1.5 miles away.
The surrounding neighborhood has many local markets and a diverse choice of cafes. It's the perfect place to experience the diverse side of Amsterdam.
Nearby Transportation
Many sights and attractions are walking distance away. It's also easy to reach the hostel from the airport because it's just a 30 minute bus ride away. To reach the hostel from Centraal Station you can take a tram to Marnixstraat stop. The entire trip takes less than 15 minutes.
Amenities
This hostel has an excellent free breakfast that's served every morning in the cafe. You can choose between things like pancakes and eggs. The hostel also has travel information available, security lockers, vending machines, and bike rental. There's a microwave and refrigerator, but not a full kitchen available.
Staff
This is a Christian hostel and it's staffed by Christian volunteers from around the world. They can give you all kinds of travel tips and they'll welcome you with warm hospitality. They're also available 24 hours a day to makes sure things go smoothly during your stay.
Heads Up
This hostel does strictly enforce their drug and alcohol free policy. It's a quiet hostel and it can be a bit difficult to meet other guests. Also, there's not a full kitchen, just a microwave and refrigerator.
Shelter Jordan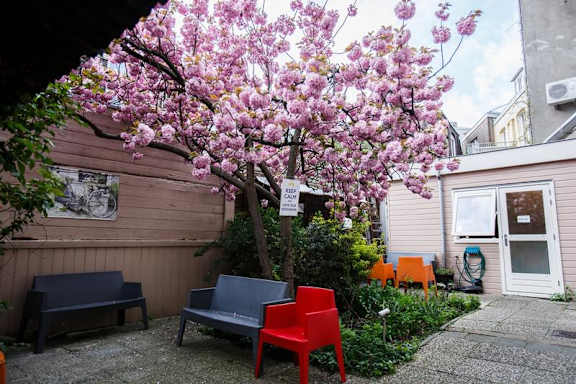 Do you have a favorite hostel that you would like to review? Let us know!