Hunan On a Budget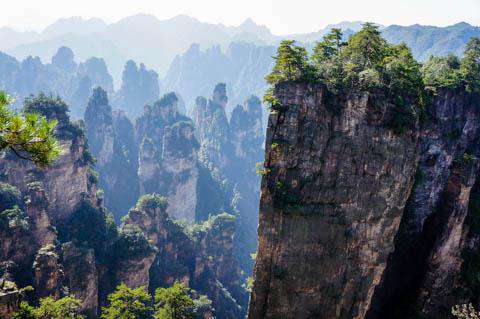 The Hunan Province, China is a large, mountainous, land locked province on the eastern side of the country. Hunan is most famous for being the Province where Mao Zedong was born in 1893 and for their incredibly beautiful Wulingyuan Scenic Area. There are many different dialects, though the most common is the Changsha dialect that stretches from the cities of Chnagsha to Xiangtan.
The climate in the Hunan Province is generally very hot and humid in the summers, with temperatures in the 90's Fahrenheit from June to September. Spring and winter can get into the low 30's with some snow in the winter. Autumn is the best time to visit, from October to November, as temperatures are cool and there is not much rain.
Sights
One of the more popular sights in Hunan is the birth place of Mao Zedong in the village of Shaoshan. You can visit his ancestral family home, see the Mao statue I the center of town, and tour the museum dedicated to him. In Hengyang, you'll find Mount Heng, one of China's Five Sacred Mountains. Spend a day exploring the mountain then head over to Dongzhou Island for to relax in a peaceful atmosphere while taking in stunning views.
In Changde, you'll find the famous Poem Wall which stretches for miles along the river bank and is especially beautiful at night when it is lit up with multicolored lights. The city of Fenghuang is a beautifully preserved ancient city where you can explore the stunning Hong Rainbow Bridge, the ancient East Gate Tower, and the traditional stilt houses. You can purchase a "through ticket" which is essentially a pass to get you into each attraction. There are three different price levels for the passes, with the cheapest getting you into the smaller attractions and the most expensive including every site in the city, and even some outside of it.
Regions
The capital city of the Hunan Province is Changsha, a lively city where Mao Zedong began his political career. Changsha is a fantastic place to begin your exploration of the province as you get a mix of both urban and natural landscapes. Hengyang is the second largest city in Hunan with a lengthy history dating back six thousand years and a lot of natural landscape.
Fenghuang is a beautiful city with plenty of well-preserved ancient sights to see, including the Southern Great Wall. Shaoshan is a small town famous for being the birthplace of Mao Zedong, hence the dozens of buildings and monuments dedicated to him. Changde is a large city known for their high fashion walking street called Buxingjie.
Activities
One of the most popular activities is exploring Wulingyuan Scenic Area, located inside the Zhangjiajie National Park. You can hike one of the many trails or even take a cable car up to the look out spots for some truly breathtaking views. Continue enjoying the natural beauty of Hunan by taking a relaxing boat ride on the river in Fenghuang where you will get beautiful views of the city from the water.
If you're around in September, check out the Orange Isle Music Festival which features bands mostly from China or Taiwan during a two-day long music extravaganza. While in Changde, definitely check out Bin Lake Park which is home to a variety of carnival games and rides, including bumper cars and paddle boats.
Food and Dining
Hunan is famous for their spicy food, adding a kick to everything from their grilled meats to fried potatoes. For a combination of local and international fare, head to Changsha which has options ranging from street food vendors to five star restaurants. Specialties across the province include: stick tofu, spicy freshwater snails, and fish head stewed with tofu.
Changsha is also a hot spot for night life, with Jifang West Road being the spot for nightclubs while Taiping Street has more relaxed bars. Fenghuang is also a fun spot for nightlife, with the streets along the river coming to life at night as the karaoke bars open.
Transportation
It is important to note that there are only domestic airports in this province, although international airports are, for the most part, within an hour's drive to major cities in Hunan. You can also get in by train or bus, the trains can be extremely efficient and often very low cost.
Getting around each city varies depending on its size. For the most part, walking and taking taxis are the easiest options. When taking a taxi, try to have the address written in Chinese so that the driver knows exactly where to go. Public transport is often readily available, although buses do become extremely crowded, so do prepare for limited breathing room!
Related:
Looking for a
hostel in China
?
Traveling alone to
Beijing
or
Hong Kong
or want to party in
Shanghai
?