Xi'an On a Budget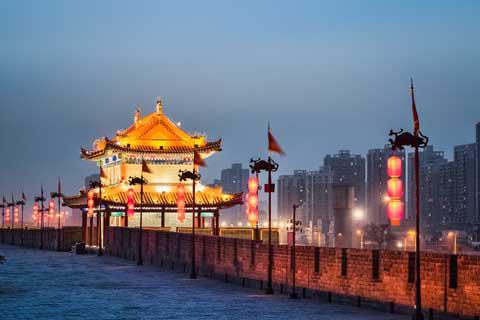 Xi'an is an ancient city in the Shaanxi Province in China. Today it is most notable as the location of the Terracotta Warriors, but for visitors who choose to linger, there is so much more to see and do in the area. The city itself is more than 3,000 years old and for about one thousand years, through 13 dynasties and 73 emperors, it was the capital. Because of its rich history there are many historical ruins and a strong culture in the city. Today the city is a pleasant place to visit, although much of it's influence and power has dwindled. The city has both cosmopolitan and modern areas as well as historic and culturally rich areas. The neighborhoods are diverse and by exploring the city in depth you can learn a little more about what China really has to offer.
Xi'an has a temperate climate with hot and humid summers and cold and dry winters. The city gets most of its rain between the months of July and October. Snow falls occasionally but it usually does not last long. Thunderstorms are not uncommon in the summer months.
Sights
Xi'an has been put on the tourist map because of a discovery made by a local farmer in 1974. He stumbled into the burial site of the first Qin Emperor, dating back to 210 BC. In this tomb are the
Terracotta Warriors
, thousands of statues standing guard, each with its on distinct face and expression. Tourists flock to these grounds to see these impressive warriors, and they aren't disappointed. The sight is still under excavation, telling you exactly how vast this grave really is.
In addition to the Terracotta Warriors, there are a good number of other
things to do in Xi'an
that are worth exploring. In particular, it's worth going to the
Shaanxi Historic Museum
, the
Forest of Steles
, Wolong Temple, Big Goose Pagoda, Little Goose Pagoda, the Bell Towers, the Grand Mosque, the Eight Immortals Temple, DaMing Palace and Park, and Shaanxi Intanglibe Cultural Heritage Museum. Outside of town there are a good number of historic sights as well. In addition to the Terracotta Warriors, you can visit Qin ShiHuang Mausoleum, Huaqing Palace, the Banpo Village Ruins, Famen Temple, and many more notable sights.
Neighborhoods
The historic city of Xi'an is surrounded by a city wall with the Bell Tower in the middle. There are four main streets that spread out from the tower in each direction. Beidajie goes north, Dongdajie goes east, Nandajie goes south, and Xidajie goes west. Some guidebooks have different names for these four streets, so it is easy to get confused. Most people divide the city into those areas inside the walls and everything that is outside the walls. The southern areas outside the walls have the most shopping streets, bars and nightlife.
Even though most visitors come to Xi'an for the Terracotta Warriors, they are surprised to find a pleasant city in and of itself. Once you get to Xi'an, plan to stay for a while. There's more to the city than the Terracotta Warriors. Make sure you spend an evening in the Muslim Quarter sampling some street food. This neighborhood comes to life at night when everybody is out and about.
Activities
There are a variety of fun activities that you can enjoy while you're in Xi'an. Most visitors take a walk on Xi'an's old city walls for an impressive view. You can also wander through some of the city's neighborhoods and soak up the atmosphere. There is also the Tang Dynasty Dancing Show, and local tours that you can enjoy. Xi'an may have been made famous by the Terracotta Warriors, but it has so much more to offer and those who give it enough time will be well rewarded.
Food and Dining
Food is excellent in Xi'an. There is an abundance of street food that is typically available after the sun sets. Options include noodle soup, dumplings, hot pots, grilled meats, and more. You'll find a wide range of
options in the Muslim Quarter
and the nearby streets. Prices are very reasonable and the experience is not to be missed. Also in the Muslim Quarter, close to the Drum Tower, you'll find many restaurants that have great food and snacks. Prices are competitive and bargaining generally isn't necessary.
If you need a break from Chinese food then there are a decent number of western fast food restaurants in town. McDonalds, Pizza Hut, and KFC are all available. There are also some local cafes that have burgers or European dishes available, but prices are significantly higher than you would pay for local Chinese cuisine, and the food is not as good.
Transportation
You'll likely depend on buses to travel around Xi'an. The system is easy enough, but buses can get quite crowded and backlogged at some points. Plan ahead and allow yourself plenty of time to reach your destination. You can take a public bus from town to the Terracotta Warriors as well. Bus 306 departs from the main parking lot in front of the train station and will drop you off at the museum. It does make several stops first so confirm with the driver that you are at your destination. The trip takes approximately an hour or ninety minutes if there is traffic.
There is also a subway with two lines that run north and south or east and west. It connects to the Xi'an North Train Station. There are plans to open a third line in the near future that will run in the northeast and southwest directions.
Taxis are abundant but be careful of the price and travel route you take. Taxis are not heavily regulated and it is not uncommon for drivers to take a long route to your destination or mark up the price significantly.
Related:
Looking for a
hostel in China
?
Traveling alone to
Beijing
or
Hong Kong
or want to party in
Shanghai
?